Noah Crawford, 17, knows something about reaching for the very top.
An avid rock-climber, the senior at Omaha North High School aspires to open his own rock-climbing gym.
Meantime, he's scaled an academic Mount Everest.
Crawford earned a perfect 36 composite score on the ACT college entrance exam, one of a state-record 44 Nebraska 2019 high school graduates to pull off the rare feat.
That number doubles the previous record of 22 last year, and it might readily be dismissed as an anomaly if not for another fact.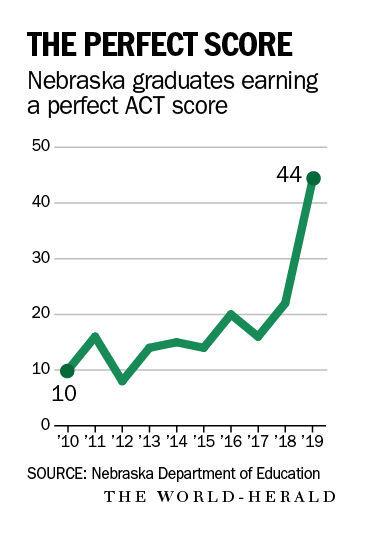 Crawford and his fellow 36ers are not alone at the top.
Near-perfect and very good scores by Nebraska kids are surging, too.
The number of students scoring 32 or better, the level required for a Regents Scholarship to the University of Nebraska-Lincoln, increased 48.3% between 2013 and 2018.
The number earning 35s rose nearly 93%.
The trend in improved scores is centered on high-scorers and is not being seen in the middle- and lower-score ranges.
For comparison, the number receiving a 20 or better during the same period increased 8.3 percent.
High scores increased even as the state's average ACT score dipped. And the rise is so big it can't be attributed solely to enrollment increases over that period or more kids taking the test.
What's going on in Nebraska reflects a national trend, ACT spokesman Ed Colby said, although officials with the Iowa testing giant don't know the cause.
But here in Nebraska there are some prime suspects:
More students using, and more schools offering, ACT-preparation courses and materials.
Greater awareness among budget-strapped parents and students that high scores bring in scholarship money to defray high college costs.
More schools teaching what's on the test after the Nebraska State Board of Education adopted the ACT in 2016 as the junior-year state assessment.
More students enrolling in tough core classes like Advanced Placement courses, which ACT links to higher scores.
The score surge enhances opportunity for hundreds of students, who may find that the college of their dreams is now within reach.
However, they may also find more competition for those scholarships, which means that the rest of their academic résumé — their GPA, coursework, activities, community involvement — may need to be stellar as well.
Nebraska Commissioner of Education Matt Blomstedt said he is pleased with the gains, but he's concerned about state schools narrowing their curriculum offerings to teach what's on the test.
"That's something we have to continue to watch and defend against," Blomstedt said.
Even before the state adopted the exam and started publishing scores for state accountability, the ACT was the most popular college entrance exam for Nebraska kids.
The test gauges college readiness in four subject areas: English, math, reading and science. Juniors took the ACT as their state assessment for the first time in the spring of 2017.
Prior to state adoption, about 88% of the state's graduates, particularly those aspiring to attend college, took it on their own. Now every junior takes it, even the students who are not on a college trajectory.
Scores for the 2018 Nebraska graduating class dipped a bit when all the junior-year scores were folded into the total.
Colby said the surge in high scores doesn't mean the test is getting easier. The exam is designed to measure a student's preparation for success in first-year college courses, he said, so the surge means more kids are better prepared.
If the test questions were getting easier, then the national average would reflect that, he said. Instead, it has remained relatively constant since 2014, ticking up and down between 20.8 and 21.0.
Nebraska's statewide average composite score has dipped every year since 2014, settling at 20.1 last year. That's due largely to all juniors taking it now.
Colby said it could be that students who five or 10 years ago would have been satisfied with a 30 are simply aiming higher.
"Maybe there's more students now who are just determined — I want the top score," he said.
Crawford got his perfect score during state testing. It was his third try after scoring 23 in seventh grade and 26 in his freshman year, he said.
He credits the Advanced Placement physics, calculus and English language composition courses he took in North High's engineering program for improving his critical thinking.
"I didn't do any test prep," he said. "I think my critical thinking skills just developed a lot in that time."
The ACT organization has for years pointed to a correlation between course rigor and test scores.
The number of Nebraska students taking Advanced Placement courses has more than doubled over the last decade to 8,888 in 2018, according to the College Board.
Although Crawford took no formal test prep, he said that by his third try he was familiar with the test format and how to approach it.
Eight of the state's perfect scores were achieved by seniors at Lincoln East High School, the most ever for the school, said Sue Cassata, principal.
Lincoln Public Schools were part of the pilot program when the state was deciding whether to use the ACT for statewide assessment. The district has tested all juniors since 2012.
School officials have had a lot of opportunity to hone their administration of the test, she said. The school also offers some ACT prep and has reworked some curriculum offerings.
"We've flipped the teaching of certain math components," she said. "We've increased chemistry as a requirement for students because of what's on the ACT."
The test prep helps students become familiar with the kind of test questions they'll encounter, she said.
The prep teaches, for instance, how to read a question, look for the key components of a question and be able to discern by process of elimination, if not by knowledge, which of the answers are least likely to be correct, she said.
She doesn't know, however, if those practices were actually helpful to the current 36ers.
People looking for explanations shouldn't overlook the fact that the kids getting high scores are good students who work hard, she said.
"They're bright kids," she said. "They're able to discern questions in a complex fashion and are able to then select the most appropriate answer in a way that makes me envious, to be honest."
Seven perfect scores were turned in by Millard North High School seniors. Millard began testing all juniors in the 2013-14 school year, aiming to create what district officials call an "ACT culture."
Some of the improvement can be attributed to simply more families and students becoming aware of the test and its importance in college admissions and scholarships, said Heather Phipps, Millard's associate superintendent of educational services.
"Don't underestimate the power of that awareness," she said. "When you're focused on something, and it's important to you, you put more energy into it. I think that's a big piece of this."
Some Millard English, math and science teachers take old, retired ACT exams to get a better idea what's on the test to better prepare students.
Millard has offered test prep through John Baylor's "On to College" program and through Naviance, an online education service.
Baylor, called by a reporter, exclaimed "Kaboom" when told about the Nebraska surge.
Baylor said his company has been working with more schools after the state mandated the junior year ACT.
He attributes the score rise to greater effort.
"I've seen in the last 10 years a dramatic increase in the effort exerted by more students," he said. "A higher percentage of students are really going after this."
That's not only because schools and the state are valuing it more, but because the stakes are higher, he said.
"When I went to college, UNL was about 4,500 bucks a year, everything included," he said. "I could pretty much fund that myself, if my parents didn't help me. Now it's $21,000 a year. And the fastest way to make UNL truly affordable is to get a high ACT score and free tuition."
He preaches to students that higher scores and higher grades "are the best-paying jobs they'll have in high school."
Sign up for World-Herald news alerts
Be the first to know when news happens. Get the latest breaking headlines sent straight to your inbox.
Until the market solves the problem of prohibitive college costs, he said, students have to focus on what they control: grades, test scores, extracurricular activities and being savvy college shoppers.
Part of his preparation program focuses on motivating students, he said.
"I promise them no regrets if they give it their best effort. And I also tell them average score jump in the class is better than two points, so that's a nice score track record as well that they can trust," he said.
Baylor noted that the national surge has not reached everyone.
"The lower-end scores are not going up like they should," he said. "Figure out how to reach more kids, not just the higher-end kids but all kids, then we're going to see all scores going up, not just this nice jump at the high end."
Part of the challenge, he said, is to get kids to realize the transformative effect, the joy and practical importance of education.
"In a world with AI and robots and inexpensive foreign labor, automation and outsourcing, education is more important than ever," he said.
Omaha-area high schools ranked by 2018 ACT scores
We collected 2018 ACT scores from 19 of the biggest schools in the Omaha area. Take a look to see if your school is on the list and where it fell.