The members of the Burke High School marching band had a trick up their sleeves — or rather, across their chests — Saturday afternoon.
At the end of their performance, they revealed a surprise costume change: yellow sashes with a name printed on them.
"(The sashes) reveal the name of that person that helped them get to where they are," said Alicia Barna, president of the band booster club.
The band's 2019 show, "Helpers," was inspired by a Mr. Rogers quote:
"When I was a boy and I would see scary things in the news, my mother would say to me, 'Look for the helpers. You will always find people who are helping.' "
One band member listed a grandmother. Another listed a music teacher. Yet another listed an uncle.
Burke was among the 19 marching bands that competed Saturday at the Nebraska State Band Association competition at Millard South High School.
The state competition also included sites in Lincoln, with 26 bands, and in Kearney, with 22 bands.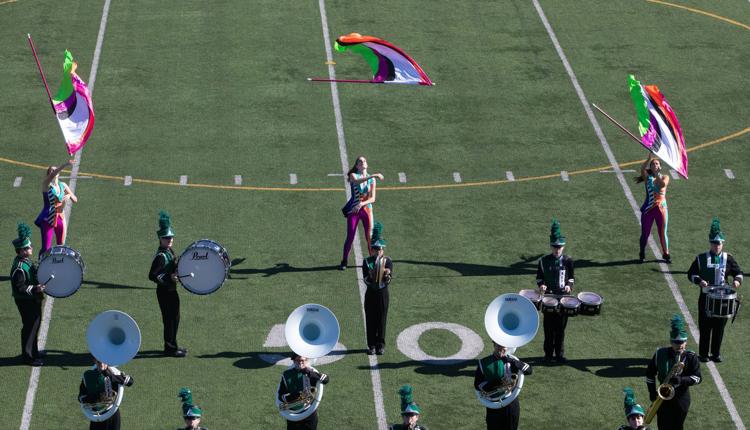 The competition, typically held in late October, marks the final performance for many bands after months of rehearsals.
For self-described "band mom" Gina Hostetler, it's a chance to admire her sophomore flute-playing daughter's growth over the season.
Hostetler said she's attended all of the Millard North band performances to cheer her on.
"I have loved seeing development in my daughter — that grit and teamwork and musicianship and a strive for excellence, that's just awesome," she said.
Just getting to the performance was a journey.
Burke's marching band started Saturday with a rehearsal at 9 a.m. at Burke, Barna said. After eating lunch, band members boarded a bus for Millard South and were in their uniforms by 3 p.m.
Burke's director of instrumental music, Kyle Brubaker, led the wind instrument players through marching exercises as he kept time.
"Low heels! Toes up! Straight legs!" Brubaker called.
For Westside High School drum major Elsie McCabe, marching band is about more than competitions.
She said marching band feels like a home and family. She met a lot of friends through the band her freshman year and has watched them grow over the past couple years.
It's the first time Westside's band has performed at the competitive Omaha site of the state band competition, rather than the unranked festival site in Lincoln, McCabe said.
Even so, she wasn't too worried about the competition.
"Our band director said earlier it's the kind of performance where you perform and get on the bus and leave because it's the best we've performed all season," McCabe said.
Burke's band director gave a similar pep talk to the wind instrument players after their warmup in a field away from the stadium.
"This is one of my favorite shows because of the sashes. Because we are recognizing people in our lives who got us where we are," Brubaker said. "I want you to be proud of yourselves and the product you put out."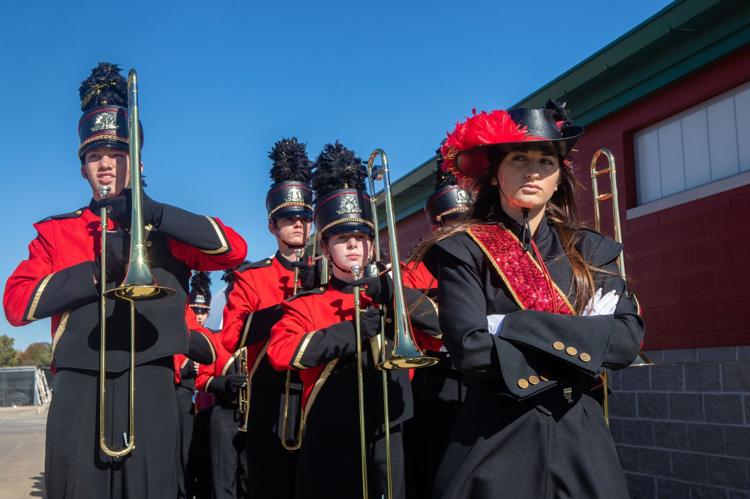 At long last, 7½ hours after their rehearsal began Saturday morning, the Burke marching band members took their places on the field.
One audience member yelled, "Go Rebecca!" as the band of more than 70 members went onto the field for their 15-minute performance.
The show began with soft percussion and a flute solo. From there, the ensemble moved through an opener, a ballad, a percussion feature and finally the name-revealing closer.
Every solo and big musical moment was met with claps and cheers.
As the Burke band began to exit the stadium, finished with their 2019 season, another high school band — with countless practice hours of their own under their belts — lined up to take their place on the field.
Omaha-area school results from competition held at Millard South: 
5. Papillion-La Vista South
Other results 
Best Guard: Papillion-LaVista South
Best General Effect: Bellevue West
Best Visual: Millard West
Class AA Champion: Millard North
Omaha-area school results from competition held in Lincoln: