There may be safety in numbers, but a budget can produce an unsettling variety of interpretations.
And so the seriousness of the University of Nebraska system's budget challenges is a matter of perspective.
Gov. Pete Ricketts says NU has been comparatively well-funded in recent years and must endure a period of austerity while state revenues slump. Ricketts points to a national study that indicates Nebraska has had one of the most generously state- and locally supported systems of higher education in the nation over a 10-year stretch.
NU President Hank Bounds describes Ricketts' proposed budget cuts to the NU system as crippling not only to the university, but also to the state's effort to fuel the economy and workforce.
At issue is whether the NU system, and public higher education across the state, should take a cut in state money during an economic downturn. The Republican governor says it must. The NU system says it's the spark that can help the state get over the slump.
The argument has taken place in many states, especially since the recession 10 years ago. If Nebraska has funded higher education well at a time when other states haven't, that's a plus for Nebraska, said Thomas Harnisch of the American Association of State Colleges and Universities.
[More: Truth in numbers? Two ways to look at higher ed funding]
"This is a competitive advantage to build off of, not something to walk way from," Harnisch said. "These cuts would be a step backward for Nebraska's economy."
The report that shows Nebraska did fairly well in funding higher education from 2008 to 2017 says the recession of the late 2000s has damaged colleges for the long term.
"The funding decline has contributed to higher tuition and reduced quality on campuses as colleges have had to balance budgets by reducing faculty, limiting course offerings and in some cases closing campuses," the report says. "At a time when the benefit of a college education has never been greater, state policymakers have made going to college less affordable and less accessible to the students most in need."
But Jenna Robinson of the conservative James G. Martin Center for Academic Renewal in North Carolina said there's been an explosion of midlevel administrators that has bloated college budgets.
These include vice provosts, associate deans, student services administrators and diversity managers, she said. There also has been "an arms race between universities" to build gyms, restaurants and other things that have little to do with academics, Robinson said.
"In general, we've seen administrative growth and budget growth from every source for 25 years," she said.
The Governor's Office produced statistics indicating that state expenditures on administrative and managerial positions at NU rose far more over three years ending in 2017 than those on state employees.
Chris Kabourek, NU's budget director, said much of the system's growth involves public-private partnerships such as the Buffett Early Childhood Institute, Nebraska Innovation Campus, Kearney Health Science Center and the UNO Biomechanics Center. Additions in advising, counseling, behavioral health and other elements also have been necessary, Kabourek said.
"In short, there are very good reasons for this growth, but if we adjust for these factors, there has been little to no growth in state-aided non-faculty," he said.
He said NU has been creative in living within its means. Through budget-reduction teams, NU leaders say they have cut millions of dollars from human relations, purchasing, information technology, printing, travel and other support services.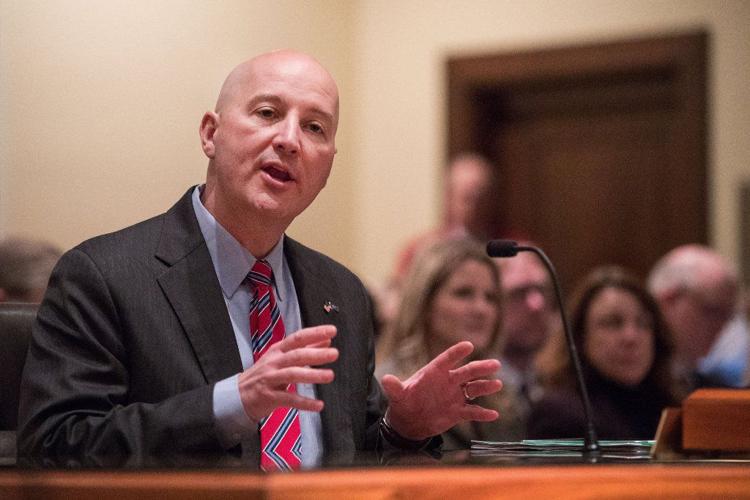 Last week NU said that to accommodate Ricketts' new proposal, geography and art history at the University of Nebraska-Lincoln would have to go, among many other consolidations and cuts in the NU system.
Nebraska's Republican governor says NU must sacrifice like other state agencies until Nebraska's economy booms again. "The State of Nebraska has been very generous" over time to NU and public higher education, Ricketts said.
The state gave operating increases to NU of 3.9 percent in 2015 and 3.4 percent in 2016, Ricketts said last week in an interview. "So when we've had the dollars available, the university's been very well-treated," he said.
Kabourek said that "most of the increases to our base funding in 2015 and 2016 will be lost" under Ricketts' proposed cuts.
The state has reduced its workforce by 500 full-time-equivalent jobs over 15 months, Ricketts said, and NU should use this time as a chance to be more efficient and live within constraints. He aims to "reduce the size and scope of government" and not raise taxes, he said.
NU has a $2.6 billion budget, he said, and the trims currently recommended — $11.4 million now and $23.3 million to the base budget in 2018-19 — should be doable, the governor contends.
Bounds said much of that $2.6 billion is directed to certain endeavors and can't be spent elsewhere. That includes donor support for capital projects and scholarships, federal research money, and housing and parking revenues, which must replenish the services from which they came.
Ricketts' office likes to refer to the 2017 study by the Center on Budget and Policy Priorities that found Nebraska performed well — fourth-best in the nation — when state spending per public college student from 2008 to 2017 was compared.
The study's theme was largely that the recession of about 10 years ago wounded public funding of colleges. When adjusted for inflation, most states hadn't returned to the funding level they were at per student in 2008. Nebraska was one of five states that had shown a slight improvement over that time. Iowa was 15th-worst funded, according to the report.
NU administrators say the Center on Budget report includes property-tax revenues, and that is a source of funding that goes to community colleges, not four-year colleges, in Nebraska.
Jim Palmer, a professor in Illinois State University's Center for the Study of Education Policy, said 30 states use local taxes to help fund higher education, and most of those go to community colleges.
Another report, this one done by the Illinois State University Center for the Study of Education Policy, compared only state funding to public higher education. It didn't include local taxes. Nebraska, over a five-year period, finished in the middle of the pack, and Iowa was in the bottom third.
Bounds has struck back at Ricketts' proposal. In a legislative hearing last week, Bounds said that "if we want to be a place where our children and grandchildren will live and work and raise a family ... we have to invest in one of the primary economic drivers our state has. And that is the University of Nebraska."
Including Bounds, 32 speakers — farm, business and industry leaders from across the state, students and a cancer survivor — asked the Appropriations Committee to hold NU's state funding steady. Not one speaker favored cuts, although some said they would accept some trimming.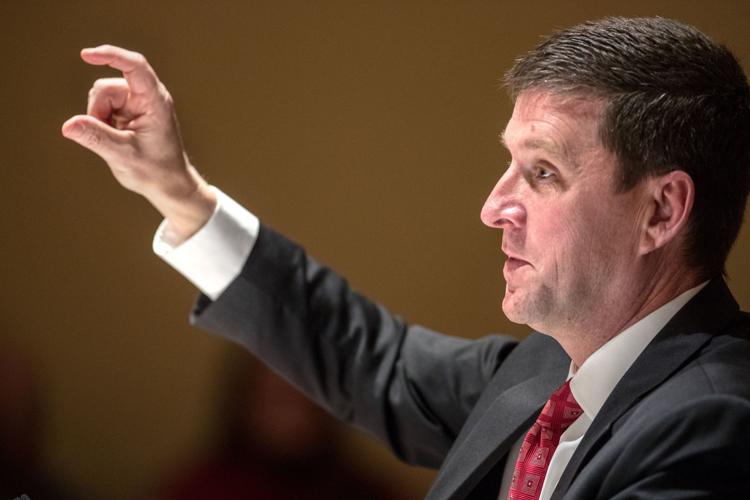 NU expected to raise tuition by 3.2 percent for resident undergraduates in 2018-19. But administrators have said they might call for greater tuition increases if state money is diminished.
"Oh, goodness," said Amelia Cooper, an advertising-public relations and multimedia major from McCook, Nebraska. "If they raised it even more, I can't afford it."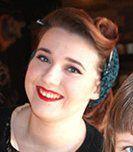 Cooper, a 21-year-old single mother of two, said she would probably pick up a second job, ask for her parents' help or take out more in student loans. As it is, she expects to graduate in 15 months from the University of Nebraska at Kearney $15,000 in debt, which she said is low compared to many students.
She has worked her way through college. She bartended while attending community college in McCook. Now she has a paid internship at the United Way. She pays about $700 a month for day care, she said.
"It's hard, but I'm doing it so I have a better future," she said.
The NU system has low tuition compared with its peer schools — a group of similar universities selected by the Board of Regents for such purposes.
UNK has the lowest undergraduate resident tuition and fees among its 11-member group. UNL has the lowest in the Big 10 and second-lowest among its official comparison group, with only Iowa State being less. And the University of Nebraska at Omaha has the next-to-lowest resident tuition and fees in its 10-school peer group.
Kabourek, NU's budget director, said the university system has managed to keep tuition low in part because of "stable support from the state."
"Sometimes we are asked why we don't just raise tuition to generate more revenue," Kabourek said through an email. "We don't think that would be in keeping with the values of the University of Nebraska. Higher education should be accessible to all Nebraskans, not just some."