Volunteers combed city parks and residential streets Friday, searching for any sign of an Omaha mother missing since Easter night.
A volunteer search party of about 40 fanned out Friday evening from St. Matthew Evangelical Lutheran Church near 60th and Walnut, a few blocks north of Center Street, in search of the missing woman, Camisha Hollis.
"Ideally, I think what we all want is closure and answers," said Dana Donlan, a friend of Hollis' sister Caprice Hollis and organizer of the search party.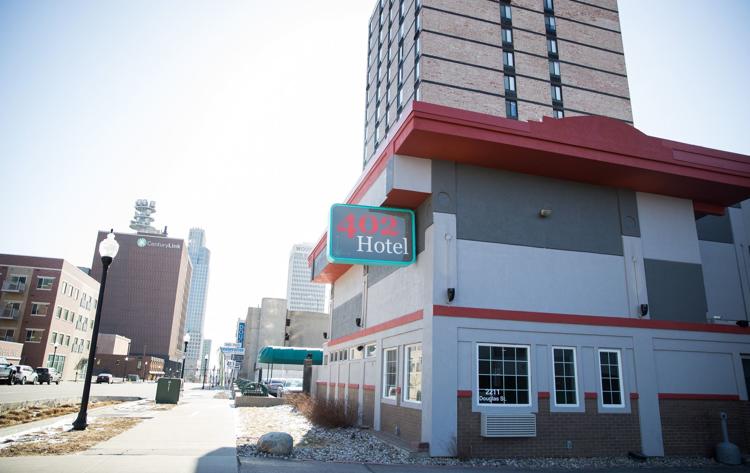 Omaha police said they found Hollis' car Thursday evening in the parking lot of the 402 Hotel, at 2211 Douglas St. They're now looking for video of any movements in the area in recent days.
Donlan advised volunteers if they found Hollis' body to immediately call 911 and take pictures of the scene from a distance. After briefing the group, Donlan dispatched the search party to places across the region that the Hollis family hoped to have covered. A list of locations included Hummel Park in Omaha and Big Lake Park in Council Bluffs.
Hollis last was seen at her home near 57th Street and Hartman Avenue on Sunday night and has not contacted family or gone to work.
Kayla Swain, an acquaintance of Hollis, and friend Chris Brammer left missing person flyers at homes near 60th and Spaulding Streets. Swain said she met Hollis a couple of times at the YMCA.
"She always seemed really friendly and talkative. Nice to be around," Swain said.
Trinnetta Williams and her family climbed through low branches and underbrush in Levi Carter Park in Carter Lake, Iowa, periodically calling out Hollis' name. Williams' brother is dating Hollis' sister.
Before searching, Williams joined hands with her boyfriend, Willie Howard, her daughter, 15-year-old Ebonie Lindsey and Lindsey's cousin, 14-year-old Jaliyah Cass.
"Father God, you know what we're here for tonight. We ask that you just give us courage and strength to make it through," Williams prayed.
The search party on Friday night was the second organized by friends of the Hollis family. The first search, on Wednesday, drew about 30 people.
"Camisha is a really wonderful person," Donlan said, "and I really, really hope she gets the peace and the justice she deserves."
Police still hope to find Hollis alive, but "we are worried the worst has occurred," Omaha Police Capt. Michele Bang said Thursday.
Hollis' boyfriend, Marvin L. Young, 36, appeared in court Thursday and was ordered held on $500,000 bail. Though not charged in connection with Hollis' disappearance, Young has been charged with neglecting the couple's three children and resisting arrest.
World-Herald photographer Rebecca S. Gratz contributed to this report.