Camisha Hollis and Marvin Young had been together for nearly two decades, but law enforcement officials say abuse and domestic violence plagued the relationship.
Hollis had audio recordings on her phone from 2015 of Marvin Young threatening to kill everyone in the house and photos of her bloody lip, purportedly caused by Young.
She told police in December 2017 that Young had beaten her unconscious six months before — she had woken up in a tub with cold water running.
Hollis also wrote a draft email on July 9, 2017, explaining that if anything happened to her, it was Young who did it.
Sign up for World-Herald news alerts
Be the first to know when news happens. Get the latest breaking headlines sent straight to your inbox.
In a court hearing Tuesday, Chief Deputy Douglas County Attorney Brenda Beadle pointed to those examples as evidence that she said links Young to Hollis' disappearance and presumed slaying in April 2018.
Public defender Tom Riley said the evidence presented Tuesday doesn't prove that a homicide had occurred or that there was any premeditation if Hollis has been killed.
He also questioned why Omaha police arrested Young on a first-degree murder charge more than a year after the incident.
"This is a very weak case and should be dismissed at this point," Riley said of the murder charge.
But Douglas County Judge John Huber ruled that the evidence pointed to probable cause of first-degree murder.
Hollis had told her mother that she had given Young a deadline of April 1, 2018, to move out of the home. She had asked her landlord if she could keep the lease on the home without Young's name on it.
Martha Hollis frantically called police about noon April 2, 2018, after she had visited her daughter's workplace and made numerous calls to her daughter's cellphone that had gone unanswered. Martha Hollis reported that her daughter was missing and that she believed Hollis was in danger.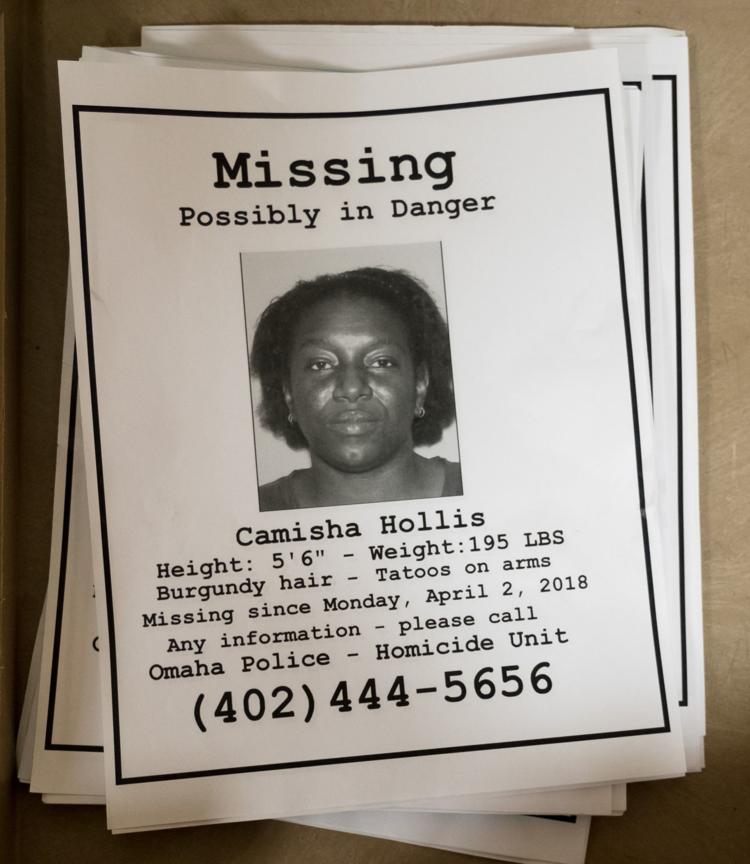 Later on April 2, Martha Hollis and authorities went to the couple's home at 5604 N. 57th Ave. and found their three daughters, ages 10, 8 and 6, home alone on a school day. Officers in the Omaha Police Department's domestic violence unit began investigating. They later turned the case over to homicide detectives after finding five shell casings, two live bullet rounds and drops of Hollis' dried blood in the garage and basement.
Omaha police had been at the home just hours before prosecutors think Hollis was killed — about 12:30 a.m. April 2 — because Young had called 911, saying he was worried about being assaulted by Martha Hollis.
Omaha Police Detective Aneta Nelson testified Tuesday that officers spoke to the couple at the front door and didn't notice any injuries to either Young or Hollis. Nelson said Camisha Hollis didn't understand why the police were there.
Officers left, Nelson said, when Young said he thought Martha Hollis had gone out the garage door. Upon hearing that story in court, Martha Hollis shook her head.
Camisha Hollis last was seen at her home at 1:57 a.m. April 2, according to a video security camera in the living room that showed Hollis on the couch holding a phone, Nelson said. The camera would take several photos when either the front door or the door to the basement was opened — it wasn't always recording, she said.
Earlier that night, Young gave the couple's three daughters sleep-aid medicine, the girls later told authorities. The oldest girl fought to stay awake and heard a loud argument, her mom screaming "Stop" and "Ouch," and hitting noises.
Young took the girl's cellphone, which could be used only to call 911. Then he returned and asked the girl if she wanted to go get ice cream. At 2:35 a.m., the two went for a drive of about 45 minutes, but they never stopped to get ice cream, according to cell tower records and the girl's interview with police, Nelson testified.
At 3:47 a.m., the security camera was turned face down. At 4:07 a.m., an alert shows the basement door had opened, but no images from the home were captured because of the camera's position. The basement has an access door to the garage, Nelson said.
The GPS on Young's phone showed that Young left the home about 5:11 a.m. and went to Walnut, Iowa, returned to Omaha and then headed south to Schilling Wildlife Management Area on the Missouri River near Plattsmouth. Hollis' red 2018 Hyundai Elantra, which prosecutors think Young was driving, was seen entering the wildlife management area just before 1 p.m. and leaving about 1:30 p.m.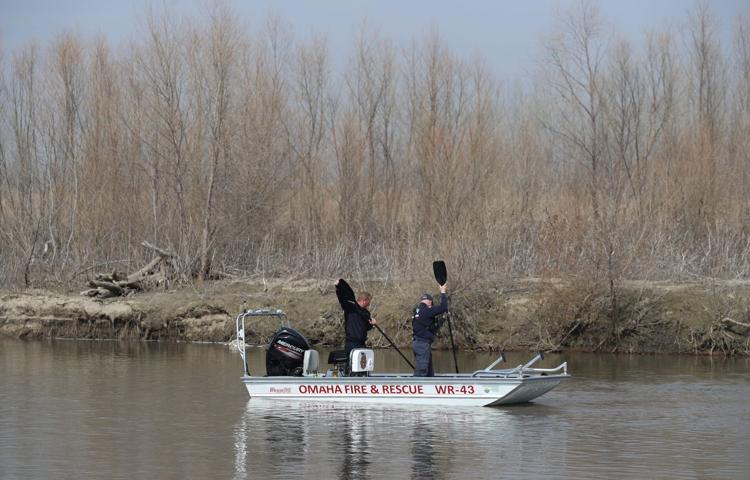 Hollis' body has not been found, but Nelson said a cadaver dog "indicated" a smell of decomposition near the embankment of the Missouri River.
Young next was seen at the 402 Hotel near 24th and Douglas Streets, parking Hollis' car in a carport, Nelson said. He put Hollis' purse in the trunk and walked away with a plastic bag. Another hotel surveillance camera showed him walking away from the car, wearing slippers.
Nelson and Detective Wendi Dye found the car while passing by the hotel a few days later. The back seat was soaking wet, and officers recovered evidence of Hollis' blood from the back seat and a seat belt.
Officers reached Young by phone about 4 p.m. April 2. He said he had been near 24th and Evans Streets looking for Hollis.
In a police interview, Nelson said, Young said Hollis could afford to lose him, but he couldn't afford to lose her.
Nelson said Hollis had been seeing another man for a few months before she disappeared. About 2:20 a.m. April 2, just minutes after she had been recorded on the living room security camera looking at her phone, her Facebook account showed a search for the other man's name, Nelson said.
An hour before that, Nelson said, Hollis posted an "upset" emoji on her Facebook page. Friends and family said that was unusual because she shared only public videos and posts, nothing personal. The man Hollis was seeing and other friends reached out to ask what was wrong.