When Matthew Lesley's wife tried to hand him divorce papers last month, he allegedly told her that he would "kill himself in front of (her)" so that she would have to live with the guilt.
Kristina Lesley outlined that threat in a protection order requested Thursday — Valentine's Day — against her estranged husband. It was a stark warning of what was to come.
Shortly after noon on Friday, Matthew Lesley went to Uta Halee Academy, where Kristina Lesley is listed as a program director on the academy's website, and fatally shot himself.
The Douglas County Sheriff's Office said the 37-year-old man's actions were "directed at a staff member who was possibly in an estranged relationship." Authorities said that person, who was not identified, was not at the school Friday.
No Uta Halee residents or staff members were harmed, according to Tanya Martin, the school's principal, and the Sheriff's Office said the shooter did not go to the cottages where students stay.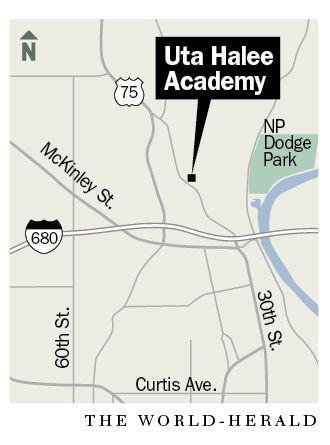 Uta Halee is a residential treatment center for young women who have dealt with abuse, neglect, trauma and mental illness. The campus is at 10625 Calhoun Road in the Ponca Hills neighborhood north of Interstate 680 and west of NP Dodge Park.
The Sheriff's Office said dispatchers received a call at 12:36 p.m. Friday about a possible "active shooter" at the academy. Officers arrived at 12:44 p.m. and found that the front door to the administrative building had been breached. Upon entering, they found one person dead with an apparent gunshot wound.
In requesting the protection order on Thursday, Kristina Lesley wrote that her estranged husband had a history of anger management problems and a mental health condition. The documents indicate that the two were legally married, though she had filed for divorce on Jan. 3.
"When Matt becomes angry it is usually exhibited by doing dangerous and/or violent things such as driving erratically with myself or my kids in the car, slamming doors or pushing his way through doors, throwing items, breaking items, yelling/screaming, name calling and making threats," she wrote.
Court records indicate that she filed for a separate protection order on Oct. 12 that was dismissed three days later by the Douglas County District Court. In that filing, she wrote that her husband "has a history of verbally abusing and on occasion physically harming women in his past relationships to where they got protection orders."
After the shooting on Friday, law enforcement officers searched Matthew Lesley's car and planned to search his house, said Capt. Steve Glandt of the Sheriff's Office.
Ponca Elementary School, which is less than a mile north of Uta Halee, was placed in lockout mode, which means that exterior doors are locked and no one is allowed in or out of the building. Classes proceeded normally.
The lockout was lifted after about 45 minutes when school officials got the all-clear.
Rite of Passage, a Nevada-based youth services provider, opened the academy on the wooded campus in December 2013. It had been vacant for almost three years.
The former occupant of the campus, Uta Halee Girls Village, had struggled financially as state referrals of children slowed dramatically under new Medicaid rules.
Rite of Passage began in 1984 as a program offering an alternative to incarceration for a handful of teenage boys in Nevada. In 2014, it operated 23 residential and nonresidential programs in eight states. They range from community-based treatment to secure facilities.
Rite of Passage bought the main portion of the Uta Halee property in 2013, paying $1.75 million for 27 acres and nine buildings. It added the remaining 11 acres in January 2014 at a cost of $300,000.
Multiple agencies responded to the shooting, including the Omaha Police Department; the Nebraska State Patrol; the Bureau of Alcohol, Tobacco, Firearms and Explosives; and the FBI.
Sign up for World-Herald news alerts
Be the first to know when news happens. Get the latest breaking headlines sent straight to your inbox.