"REMEMBERING A STOLEN ANGEL"
Most of Buffy Bush's tributes to murder victims begin with those words. The messages, posted on her group's Facebook page, mark either the date a loved one was killed or commemorate the dead person's birthday.
Some of the homicides, such as the 2011 slaying of Bush's sister, remain unsolved. But in a growing number of cases, the suspected killers have been taken off the streets.
The Omaha Police Department has drastically improved its homicide clearance rates since 2013, and the department has been able to sustain the high numbers.
From 2007 through 2012, the clearance rate for all Omaha homicides was 55 percent, according to data compiled by the Washington Post. From 2013 through 2017, the rate, as calculated from the Post's numbers, improved to more than 69 percent. The numbers take into account arrests or outstanding circumstances, including the death of a suspect.
Most stark was that the rate of cases solved has nearly doubled in the northeast precinct — east of 42nd Street and north of Dodge Street — where about half of the city's homicides occurred and where police have worked to build rapport with the community.
The clearance rate in that area was about 32 percent from 2007 through 2012, but it jumped to 59 percent from 2013 through 2017. In the rest of the city, homicides are solved more than three-fourths of the time.
Even with the progress across the city, work remains: 159 homicide cases in Omaha from 2007 through 2017 still are unsolved.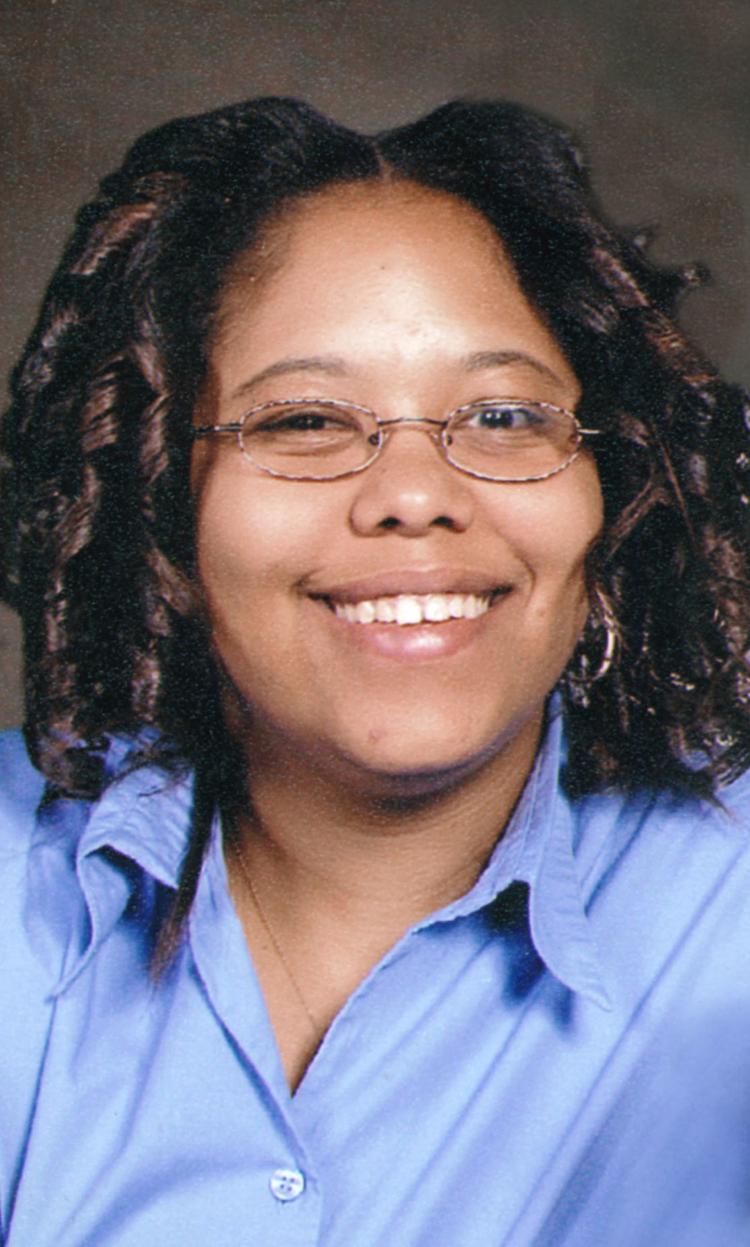 Bush started her organization, FOTS — Families of the Stolen — after her sister Jameila Hesseltine and Jameila's boyfriend Carl J. Reed were fatally shot at their apartment near Florence Boulevard and Ames Avenue.
"About six months after my sister was murdered, I realized all the stories about her stopped," Bush said. "The phone calls from the detectives stopped. Basically, it was like nothing had ever happened.
"It made me realize that I bet I was not the only one."
Bush said her relationship with the Omaha Police Department was "cold and indirect" until she met with Police Chief Todd Schmaderer, who reassured her.
"It made me feel like he was going to go the extra mile to get her murder solved," she said, although she's still frustrated that her sister's killer walks free.
Schmaderer credits community policing, dogged detective work and local partnerships for solving more homicides.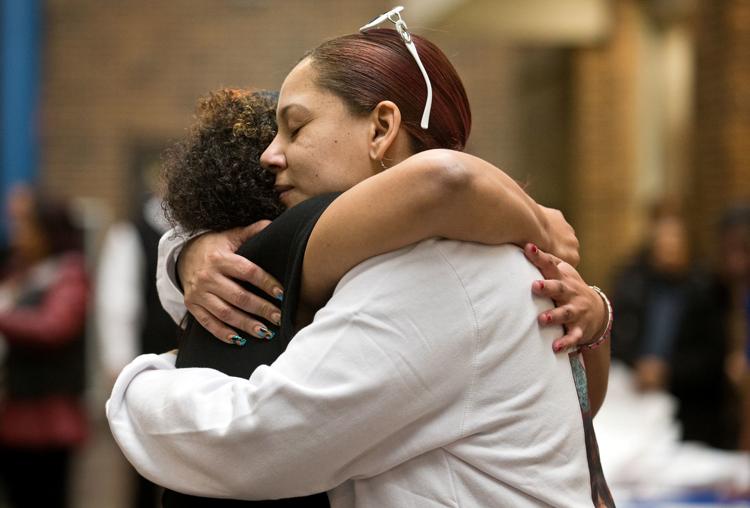 "We felt all along, if we can work with the community better, our clearance rate will go up," Schmaderer said. "Things have come a long way."
Officers and police commanders attend weekly Omaha 360 meetings, started by Willie Barney and members of the Empowerment Network a decade ago. At the meetings, police provide updates on recent crimes, and attendees are encouraged to ask questions.
"Eleven years ago, there were some people in the community that weren't comfortable with the police being involved in the community and police saying it wasn't productive," Barney said. Today, he said, "we have a police department that has moved further and further to that prevention and intervention (side) more so than just enforcement."
Schmaderer, who was sworn in as chief in August 2012, highlights 2014 as a year the tide turned. Officers worked with federal agencies to arrest violent gang members. The department reorganized its homicide and gang units. And Crime Stoppers increased the reward for tips that lead to an arrest in a homicide from $1,000 to $25,000.
Other outreach and community events expanded. Thousands of kids play sports with the free Police Athletics for Community Engagement (PACE) program, founded by an Omaha gang unit officer. Residents can meet officers over a cup of coffee or at dozens of other such events throughout the year.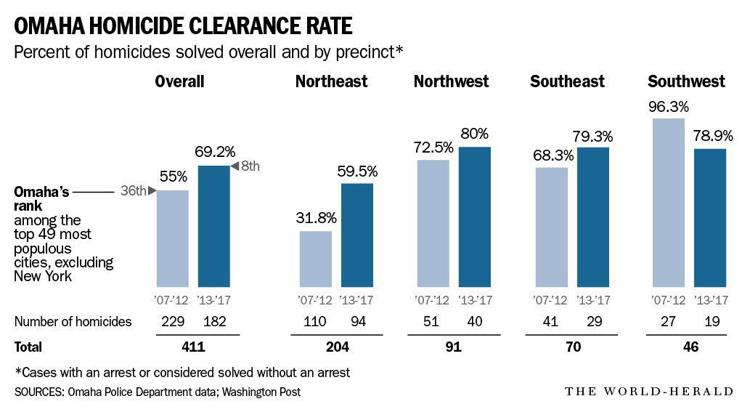 Economic factors also come into play, Schmaderer said. Poverty and joblessness have decreased among African-Americans in the past 10 years, while education levels have risen, according to census data. The Empowerment Network's Step Up Omaha! program, which provides summer jobs to teens, has more than quadrupled the number of participants, reaching 700 this summer.
The Washington Post recently looked at the homicide arrest rates in big-city neighborhoods across the country, including in Omaha. Two areas with low arrest rates were a 1.5-mile area from Locust to Fort Streets and 14th to 25th Streets, and about a 1-mile-square area from Ohio to Sprague Streets and 37th Street to 45th Avenue.
"Every major city is going to have that pocket where they're going to have unsolved murders," Deputy Omaha Police Chief Kerry Neumann said. "But we're making a hell of a lot of progress."
Among the 49 most populous cities in the United States, excluding New York, Omaha ranks eighth for its homicide clearance rate based on the last five years of data obtained by the Post from police departments nationwide. That's a leap from 36th place, in the period from 2007 through 2012.
Cold-case unit officers have been using advanced technologies such as DNA testing and cellphone data to further old investigations that have reached dead ends.
With skilled detectives and forensic investigators, Neumann said, the department has shown it can sustain the high clearance rate, and police officials strive to improve on it.
The Omaha Police Department calculates figures slightly differently than the way the Post did. Omaha and other cities, following FBI guidelines, count how many homicide cases are solved in a year, regardless of when the slayings occurred. The Post counted the number of killings from a given year that were solved.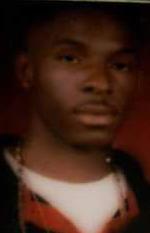 Since 2013, Omaha's yearly homicide clearance rate, according to the department's reporting guidelines, has been more than 70 percent, peaking at 86 percent in 2016.
In May, Aida Rush found out that Richodd Mackins had been arrested in the slaying of her fiancé, Marcus Johnson. Johnson was shot in 2008 outside a barbershop and in front of his son, who was then 3 years old.
"When they made an arrest, I was speechless, but I was happy," she said. "My body didn't know how to react. I (told the detective), 'I love you.' It was the best news."
She initially didn't have a great relationship with police. Soon after the shooting, a detective who interviewed Rush told her everything was fine when she asked how Johnson was doing. He later told her he knew at the time that Johnson had died.
The night of Johnson's death, Rush went to a relative's house and learned that some people had heard rumors about who the shooter was. They found a photo of Mackins on Myspace and pulled it up on the computer. Rush's 3-year-old son, who was getting his hair cut just before the shooting, pointed at Mackins and said, "That's a bad guy." Rush said she immediately called a detective with the information but felt like the tip was dismissed.
Neumann, who was the lieutenant in the homicide unit at that time, said Mackins was a suspect from the beginning, but he wasn't arrested until a decade later because officers had to secure additional evidence that would help prosecutors convict him.
"Unfortunately, we're sometimes not at liberty to share information with family members because we're working diligently to try to build a case on someone," he said.
Rush said her relationship with the police improved when Detective Chris Spencer began working on the case a few years later.
"If he wasn't calling me, I was calling him on a monthly basis. I really appreciated that," she said. "I wanted them to solve this case and I wanted them to know I'm still here and I'm going to continue to reach out so this can get taken care of."
Now, Rush is hoping for a conviction. Mackins is awaiting trial, charged with first-degree murder in Johnson's slaying.
Rush tells others who are waiting for arrests in the slayings of their loved ones to keep the faith.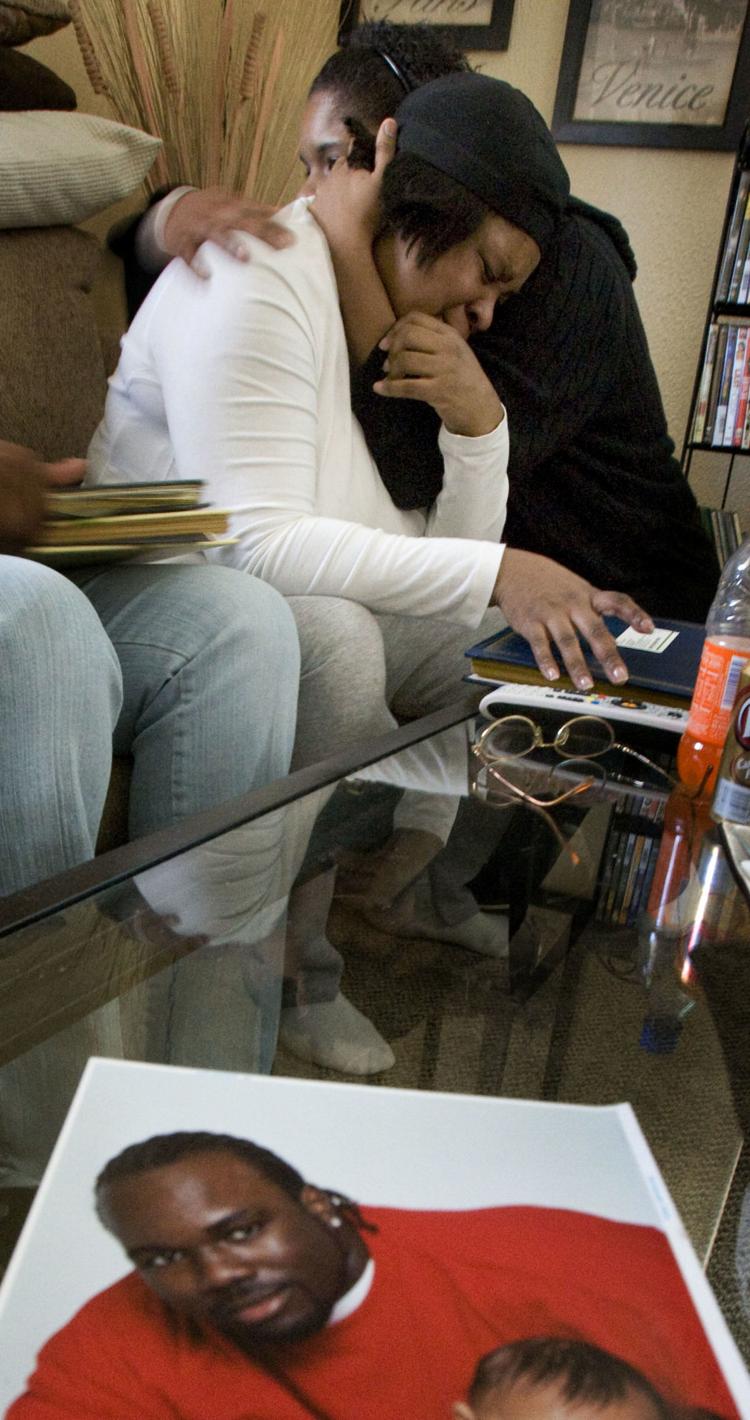 Theresa Middlebrooks still puts happy-birthday notices in The World-Herald for her 24-year-old son, Dylan Middlebrooks, who was shot and killed on March 2, 2008, in a house near 19th and Locust Streets."The days breeze by, the nights fly as if swept on the wings of an eagle," she wrote in 2011. "And through it all, you are missed."
No one has been arrested in the case. Middlebrooks said she feels frustrated that detectives never asked her about her son and who he hung out with, which may have provided additional leads.
"Maybe you can't give me the details, but I'd like to know how far did you take the investigation?" she said. "I may not be here still on the earth to see it take place, but I think that maybe eventually, hopefully, justice will be served."
Middlebrooks said she knows that Schmaderer is trying to reach out to the community. But she said she understands why someone with information about a homicide might not want to come forward: "I don't want these individuals to become victims as well."
Bush, who posts the online tributes to homicide victims, urges people who know something about a case to call Crime Stoppers' anonymous hotline, to "break the silence."
"The police department can't do it on their own. I get that," she said. "Somebody has to speak up. It takes a community and the police department."
World-Herald staff reporter Jeffrey Robb contributed to this report.
An earlier version of this article referred to Step Up Omaha!, an initiative of the Empowerment Network, as a city program.