The dust has long settled on the rubble of what used to be Wardrobe Spa, a dry-cleaning business near 168th and Harrison Streets.
Almost 10 months have passed since the State Fire Marshal's Office determined that arson was the cause of the damage — which was estimated at at least $350,000. Yet the investigation continues, and no charges have been filed in connection with the explosion, according to authorities.
In response to emailed questions about the length of the investigation and potential criminal conduct, Alyssa Sanders, a deputy state fire marshal and a spokeswoman for the office, said recently that the investigation is ongoing and that no new details could be released.
Upon completion of the investigation, the Sarpy County Attorney's Office would be responsible for bringing potential charges.
"We hope to have a report from (the Fire Marshal's Office) in August and review it for any potential crimes," Deputy Sarpy County Attorney Ben Perlman said. "Right now, we don't want to prejudge anything until their report's complete."
Witnesses encountered Wardrobe Spa's owner, Michael McKernan, outside the building after the explosion. He appeared shaken and told them that he was trimming bushes when the explosion occurred.
In the days after the explosion, McKernan reported two crimes against him, one involving a home invasion and another involving vandalism at his storage unit. Police have said there was no evidence of either.
Sign up for The World-Herald's afternoon updates
Receive a summary of the day's popular and trending stories from Omaha.com.
Another law enforcement agency is waiting for the arson and insurance fraud investigations involving Wardrobe Spa to wrap up before it continues with a misdemeanor case involving McKernan and the alleged home invasion.
In a phone call with The World-Herald this week, McKernan answered "yes" when asked if he has been actively working with law enforcement.
The damaged building and debris won't be removed until the completion of the fire marshal's investigation.
The investigation must also be completed before McKernan's insurance company moves forward on his claim.
No one was injured in the explosion and subsequent fire, which occurred just before noon on Oct. 7 at 16869 Audrey St. The building was consumed by flames and eventually collapsed.
Investigators at the time found evidence of tampering with the natural gas system. The investigation determined that the cause of the explosion was not related to the utility operator, Metropolitan Utilities District.
Two days after the blast, McKernan reported damage in his unit at a rental storage facility near 300th Street and West Reichmuth Road. There was writing on a wall in black marker: "Spa No Mas Rebild No Optshun."
Chief Deputy Douglas County Sheriff Tom Wheeler said in October that nothing appeared to be missing from the unit and that there were "some inconsistencies" with the scene and McKernan's statements.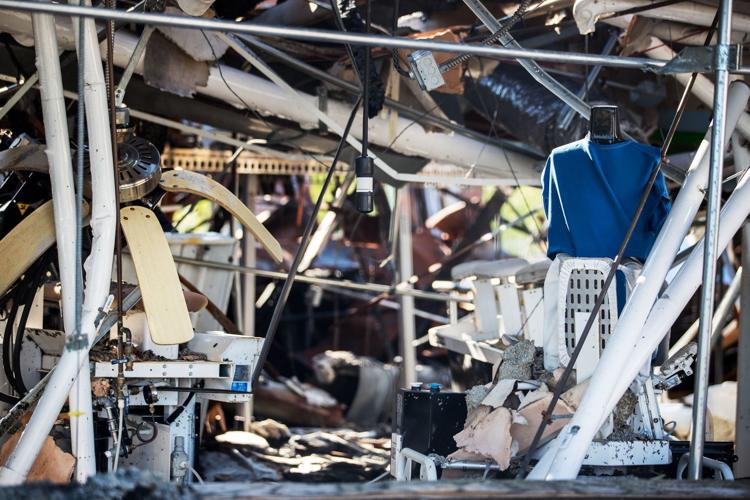 Four days after the explosion, McKernan called authorities to report that he had encountered three Hispanic men at his Ginger Cove home who allegedly forced him at gunpoint to tie himself to a pole.
Valley Police Chief Brett Smith has said that only three parts of the burglary story were true: that McKernan called 911, that he placed the call at 1:11 a.m. and that McKernan told police that he tied himself to the pole.
"Everything else is bull****," Smith said in October. "Everything that we have does not add up to what he's telling us."
Smith said his department expects to move forward with a misdemeanor false reporting citation in connection with the alleged break-in.
The statute of limitations for misdemeanors is 18 months, according to state law.
As of now, Omaha City Prosecutor Matthew Kuhse said there's no movement in his office in regard to potential false reporting charges.
He said McKernan is listed as a victim of criminal mischief in relation to the report of storage unit vandalism to the Douglas County Sheriff's Office.
But the Douglas County Sheriff's Office deemed that report "unfounded" and closed the case a few days after.
Lt. William Rinn said a detective challenged McKernan about his assertions that someone foreign-born committed the burglary, based on the writing on the wall with incorrect English grammar and spelling. Then McKernan made the home invasion report, and the Douglas County detective went to interview him with a Valley police detective. McKernan then asked for an attorney.
"Even though he's reporting as a victim, he didn't want to answer any difficult questions based on that," Rinn said in a July interview. "We don't believe anything happened, so we didn't really do any more follow-up work after it was reported."
Rinn said that a false reporting citation could be possible but that those cases are hard to prove unless the person admits that they lied.
"Even though it looks fishy and is fishy, it has to be clear and convincing that it's a false report," Rinn said. "That typically requires a person to afterward admit that it was not true or an overwhelming amount of evidence proving that it wasn't true."