LINCOLN — Nightmares, panic attacks, an inability to work and a tenfold increase in his post-traumatic stress symptoms.
That is what a former Nebraska prison inmate says he suffered after living through a riot three years ago at the Tecumseh State Prison that left two other inmates dead and millions of dollars of damage.
John Wizinsky took the stand Monday in his civil lawsuit, testifying that he feared for his life as other inmates took over a housing unit from prison guards, starting fires and attacking inmates with whom they had scores to settle.
In the chaos, some inmates from general population entered the protective custody wing where Wizinsky and others were housed for protection from other prisoners. Threats of violence, he said, were shouted at him. One protective custody inmate was nearly beaten to death by four inmates because that inmate's testimony had sent a man to prison, said Wizinsky, who testified that he dragged the bloody inmate away from his attackers and was punched in the back of his head.
"If a riot happens, PC (protective custody) are the first ones to be killed," he testified Monday. "I was real specific (with other PC inmates) ... if we don't stick together, we're all going to die."
A judge began taking testimony on Monday in Wizinsky's civil trial, in which he alleges that the state was negligent in failing to provide reasonable protection for inmates during the Mother's Day riot at the Tecumseh prison in 2015.
An attorney for the state, Assistant Nebraska Attorney General Stephanie Caldwell, disputed that in her opening arguments.
Caldwell said that the rural prison was fully staffed on the day of the riot, and that officials followed correct protocol in responding. Fellow inmates, and not the Nebraska Department of Corrections, were responsible for any injuries Wizinsky might have suffered.
"Even with the best preparation, training and interventions, riots, disturbances and inmate violence does happen," Caldwell said.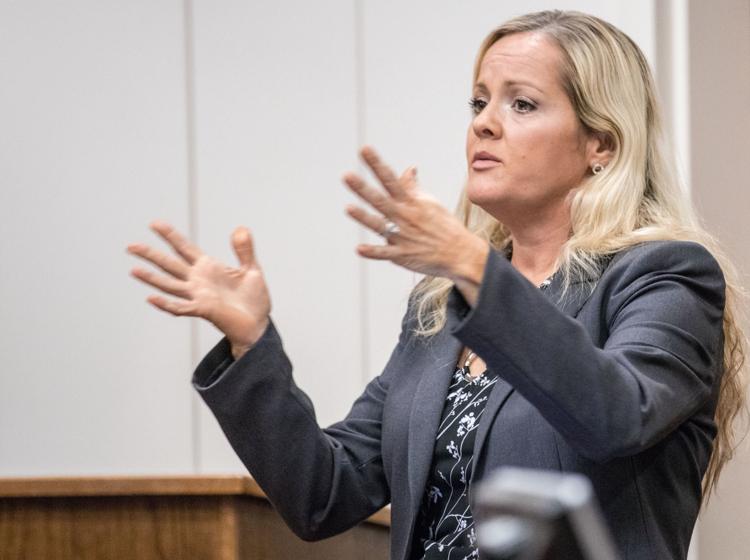 Prison personnel, she said, abandoned their posts only after being attacked by inmates. Some workers were taken hostage, others threatened with makeshift weapons. A warning shot, Caldwell said, served only to incite inmates.
"The field of corrections is a tough business," she said.
Under cross-examination, Wizinsky acknowledged that he had been diagnosed with PTSD before the May 2015 riot, but he said his symptoms had increased tenfold since the riot, and that he has nightly nightmares and frequent panic attacks.
The trial, before Lancaster County District Judge John Colborn, is the first civil case to be heard in connection with the 2015 riot, which was followed by another riot at the Tecumseh prison in March 2017 that also left two inmates dead. Testimony is expected to continue most of the week.
A similar civil lawsuit filed in federal court by another protective custody inmate, Robert Clayborne, was dismissed before trial in 2016. U.S. District Judge Richard Kopf ruled that prison staff were protected from liability if it was determined that they had not violated an inmate's constitutional or statutory rights.
A criminal trial against an inmate accused in the death of one of the prisoners during the 2017 riot ended in a mistrial in August. A new trial date has been set for that inmate, Eric Ramos. No murder charges have been filed in connection with the 2015 riot, though state prosecutors have said that such charges are planned.
Wizinsky's lawyer, Joy Shiffermiller of Lincoln, told the judge that Tecumseh prison officials erred when they let too many inmates out of their cells to obtain medications, and should have prevented general population inmates from mixing with those in protective custody.
Wizinsky, who was released from prison in 2016 after serving out a drug sentence, said he asked to be placed in protective custody because he feared that other inmates would learn that he had testified against two men in a Washington, D.C., murder case. Inmates in the same gang, he feared, would retaliate against him.
But Caldwell said that Wizinsky's mental health issues were not labeled problematic by prison doctors, and that he spent part of the time during the riot playing cards with other inmates. Wizinsky said he only played cards for 30 minutes or so, and was killing time to see if the food he ate had quelled his diabetes.
The Tecumseh prison, because of its rural location, has struggled with staffing issues for years. The deadly Mother's Day riot was the worst in the state for at least a half-century, causing more than $2 million in fire and vandalism damage.