Instead, he had to meet with an insurance adjuster and talk with Bluffs police officers and news reporters.
Early last Saturday, a masked 18-year-old came to the downtown church and broke out five windows, two of which were stained glass, at the church and rectory.
Bluffs police officials said a young man came onto church property two different times that morning, wearing different masks each time.
Kottas, who lives in the church rectory, said he heard the doorbell ring at 5:30 a.m. that day. It was raining and storming at the time, he said, and he figured that lightning must have set it off.
It apparently was the 18-year-old.
The church's surveillance cameras captured images of the teen, as did the camera of a neighboring building. A person in that building recognized the masked person as someone who lived nearby, and police arrested him.
"It's not just the windows being knocked out," Kottas said Friday. "It's all the time it steals from us. … It's just one of those hassles."
Bluffs police officers brought the 18-year-old to the church on Tuesday to apologize. The teen said he was "mad at God and mad at the church." Kottas told the young man that he gladly would have talked to him about his issues had he asked.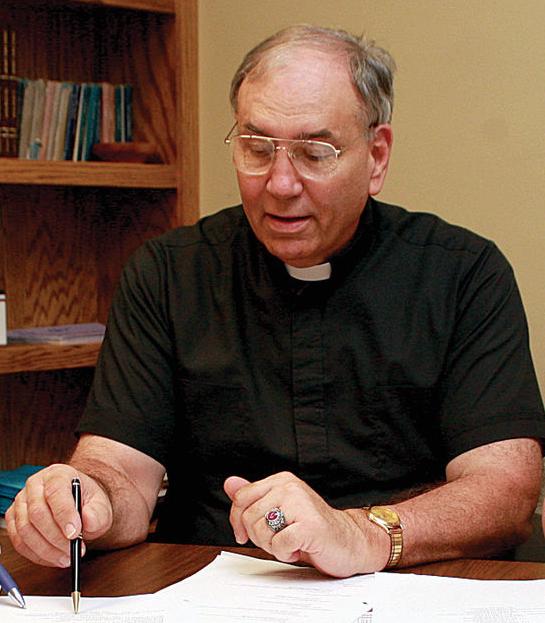 Kottas, who has started his 24th year at the church, said the teen had been in a fifth grade class that Kottas taught at St. Albert Catholic Schools, the pre-K through 12th grade school supported by the church. The teen said he had even been to parties at the church, and he'd had fun at them.
"And now you're busting out my windows?" Kottas said he thought.
Kottas gave the teen a prayer book and told him, "Why don't you start praying these prayers. They will help you more than anything else."
The teen has been booked into the Pottawattamie County Jail on one count of second-degree criminal mischief (causing damage greater than $1,500 but less than $10,000). The crime is punishable by up to five years in prison and a $7,500 fine.
The masks and clothing worn during the incident were recovered inside the teen's home, Bluffs police said.
Kottas, who was born in Lincoln and grew up in Milligan, Nebraska, has turned his attention to Sunday's celebration, which is from 11 a.m. to 3 p.m. at St. Albert High School, 400 Gleason Ave. The event includes a country store, a crafts bazaar, a carnival and raffles.
"We serve over 1,000 people," he said. "It's just a wonderful weekend for us."
Probably better than last weekend.