Two weeks before her wedding, LaVon Stennis-Williams' 24-year-old cousin was gunned down at a car wash near downtown Omaha.
Twenty-one years later, no one has been arrested in connection with Tremayne Vasser's slaying.
His photo is featured along with those of more than a dozen other people whose homicides are unsolved on billboards that will be going up in Omaha this summer.
"Who killed me?" the billboards read. "Break the silence."
Also prominent on the sign is the anonymous Omaha Crime Stoppers number, 402-444-STOP, and the $25,000 potential reward for a tip leading to a homicide arrest.
Stennis-Williams hopes people will call and share what they know.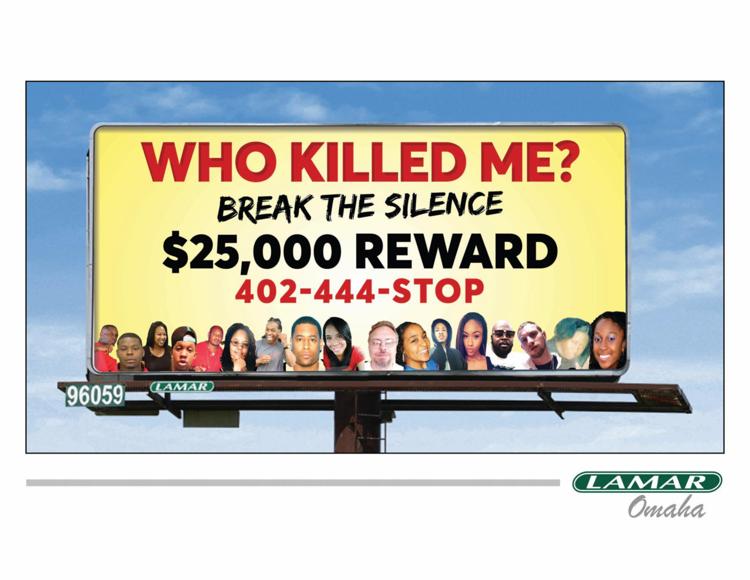 "I think by us periodically bringing these cases up, it will make the killer out there know that we're not forgetting about this," she said. "And it may trigger somebody to come forward."
It's the third year in a row that Stennis-Williams, the executive director of ReConnect Inc., has purchased billboard space to highlight some of the city's unsolved homicides. The idea was created after U.S. Army Sgt. Kyle LeFlore, also related to Stennis-Williams, was fatally shot in January 2018 as he was robbed of cash and his gold chain.
Stennis-Williams said the people featured are representative of all who have lost their lives to violence.
"We tried to make it diverse in terms of gender, race and ethnicity, age," she said. "All lives matter."
The billboards will be at four different locations from May 25 to early July — 30th and Spaulding Streets, 60th Street and Ames Avenue and both directions on the Northwest Radial.
The billboards still were planned despite the coronavirus pandemic, but Stennis-Williams thinks the pandemic has shifted the way people think, and the signs may prompt people to speak up.
"People are being more reflective in their lives," she said, noting that "$25,000 might get people to come forward."