J'Tavion Smith sat in an orange Douglas County Corrections jumpsuit in Courtroom 501, waiting on this dreary day to hear how much of his future would be behind bars.
This was a moment of reckoning for a 19-year-old with a rap sheet that until now had been handled in the softer, gentler juvenile court system.
J'Tavion had messed up and gotten breaks. He'd messed up and gotten help. He'd messed up and helped himself, graduating from high school and planning to enter Iowa Western Community College in the fall.
Now, after being accused of shooting and injuring a 13-year-old boy, J'Tavion was in adult court. Having pleaded guilty to two felonies in connection with the shooting, he was waiting to be sentenced. And he was facing a judge who appeared to be in no mood for mercy.
Judge Gregory Schatz had just handed jail sentences to two inmates in hearings preceding J'Tavion's. One young woman, a nonviolent drug offender, begged to go to her father's funeral the next day. Schatz gave her 191 more days in jail. Schatz gave three years to a man asking for probation. Then the judge, stone-faced with a gravelly voice, even snapped at a baby.
"Out!" he growled, after the infant made a soft cry. "Don't want 'em in here."
Onlookers froze as two young women hustled infant carriers out of the courtroom.
The abrupt command foreshadowed the bad news to come. And it signaled the end of one chapter of a sad story about a shooting on an Omaha street.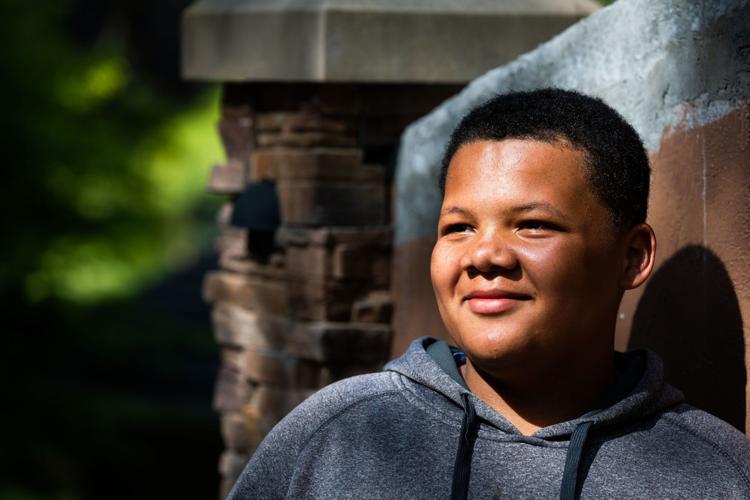 Omaha police were able to quickly piece together what happened after 13-year-old R.J. Eckhardt was shot outside a family friend's north Omaha home in March. The shooting followed a Friday night youth basketball tournament at Benson High School.
By that Monday, police announced that five suspects had been arrested in connection with the shooting that miraculously hadn't killed the boy.
Because the boy didn't die, because police made arrests, because there are so many shootings in Omaha, this particular shooting scarcely registered with the public. Then came the mug shots of the offenders with their wide-eyed stares and baby faces.
What had led the suspects, teenagers themselves, to this dramatic moment, a shooting that would have been a homicide were it not for poor aim or dumb luck? Were these young people, who had mistaken the victim's father for a gang member, somehow victims, too? What was it about a random shooting we could learn?
The World-Herald's attempt to answer those questions resulted in a three-day series that ran in June. The result: A shooting — even one that doesn't severely injure a person — carries a giant toll. The hospital bill. The cost of emergency response from police and paramedics. The cost of public defenders or court-appointed attorneys (four, in this case) and prosecutors and court time. Jail time, prison time and the lost time of someone's life. J'Tavion's.
Sign up for World-Herald news alerts
Be the first to know when news happens. Get the latest breaking headlines sent straight to your inbox.
J'Tavion had been in and out of trouble before the March 29 shooting of R.J.
But until that night, his run-ins with the law had been handled in juvenile court. The Douglas County Juvenile Court is supposed to be a reform court for delinquent youths, a place for second chances, a way to hold parents and children and other helpers around them accountable. Ideally, when the court system works and its charges do what they're supposed to, this should be a court of hope.
Adult court, on the other hand, is governed by different rules with much steeper consequences.
What lands you in one versus the other is your age, the seriousness of the charge and your criminal history. Under Nebraska law, the juvenile court system has jurisdiction over lawbreakers who are between ages 11 and 19, and prosecutors have discretion on which court is most appropriate.
J'Tavion was about three months shy of his 19th birthday when the shooting happened. Given his history, the seriousness of the charges and time until he turned 19, his case went to adult court.
He was charged with five felonies: two counts of use of a firearm to commit a felony and one count apiece of second-degree assault; discharging a firearm near a building or vehicle; and criminal conspiracy.
Police and court records show a troubled past for J'Tavion that included a stint in foster care because of his mother's abusive boyfriend when he was 14 and felony and misdemeanor charges when he was 17. The felony accessory charge was dropped, but the misdemeanor, obstructing a peace officer, sent J'Tavion to the Youth Rehabilitation and Treatment Center-Kearney. He later went to an Arizona youth treatment center, where he graduated and earned certificates in welding and landscaping.
In interviews last week, J'Tavion's mother, TyKeeva, said she loved her son and did the best she could for him under the circumstances but felt undercut by the Douglas County Juvenile Court system, which she said lacked follow-through.
She said her son was "not a bad kid" but got caught up in the wrong crowd. The first red flag was skipping school. And when his behaviors grew out of her control, she complained that the system did not apply enough structure, consequence or time for her son to succeed.
For instance, J'Tavion was allowed visits home but would run away. One time, he went missing for two weeks. TyKeeva said that when she tried to get help, her son was moved to other relatives with looser rules and gang ties.
She would complain to his probation officer and others but felt helpless and ignored. She said she filed a missing person report at one point and worried about the welfare of her son and two younger children at home.
"We don't get help until it gets worse," she said. "(At) first they say, 'Oh he's not a criminal. But then he (gets accused) and he's now a 'monster.' "
TyKeeva said she lived with the fear of "police coming to my door, telling me to identify the body of my child." Or police coming to tell her that J'Tavion was involved in a serious crime.
So what happened the night of March 29?
A recap of police and court records, plus interviews with R.J. and his parents, lays out this story:
R.J.'s family had gone to a basketball tournament at Benson High that Friday night. Opposing gangs had shown up.
Renard Estima, R.J. Eckhardt's father, said in an interview that a gun was being passed in the bleachers, that he sensed trouble and reported it but didn't see anyone taking action and didn't feel safe. He decided to leave, and about 9 p.m., he told his kids — two teenage daughters, a 13-year-old stepson and R.J. — to go home.
Meanwhile, a group of teenagers was in a car in the parking lot, waiting, police said, to settle a score. Driving the car was a 16-year-old girl. Passengers included: Kheana Notoua, an 18-year-old high school senior, an honors student with college prospects and no criminal record; Jaqueris Allen, an 18-year-old with a long juvenile court history; Jaquez Turley, a 19-year-old with former known gang ties; and J'Tavion, then 18.
Estima pulled out of the parking lot, heading for his daughters' home a mile away near Fontenelle Park. The teens drove behind them as they headed to 48th and Spaulding Streets. Estima pulled onto Spaulding Street. He heard pop-pop noises and turned around to tell the boys who were exiting the car that this was not the time or place to pull fireworks.
That's when he said he saw the figure of a shooter — standing in the street — the car full of teens, and his son, bleeding from his arm.
What happened next was chaotic. R.J. ran into the house. The teens fled. Someone called 911. Estima tied a tourniquet around R.J.'s arm; he was falling in and out of consciousness and bleeding so much that relatives later said the house looked like a murder scene.
Police said it was a case of mistaken identity; the suspects had followed the wrong car and shot at the wrong people.
By Monday, they had arrested all five of them.
Violence begets violence.
That's what Dr. Charity Evans, a trauma surgeon at the Nebraska Medical Center who developed a violence prevention program, said.
She said it's much cheaper and better to treat gun violence like a disease and work toward prevention. Prevention works, she said.
Certainly, gun violence appears to be trending downward in Omaha. Nonfatal shootings and gun-related homicides are down. My columns explored some possible reasons why as the Omaha community and police beef up the front-end prevention work.
Just being in proximity to a shooting can place one at risk, not only of physical harm, but also of psychological problems, Evans said. Direct experience with violence can make one more prone to being a victim or perpetrator of it.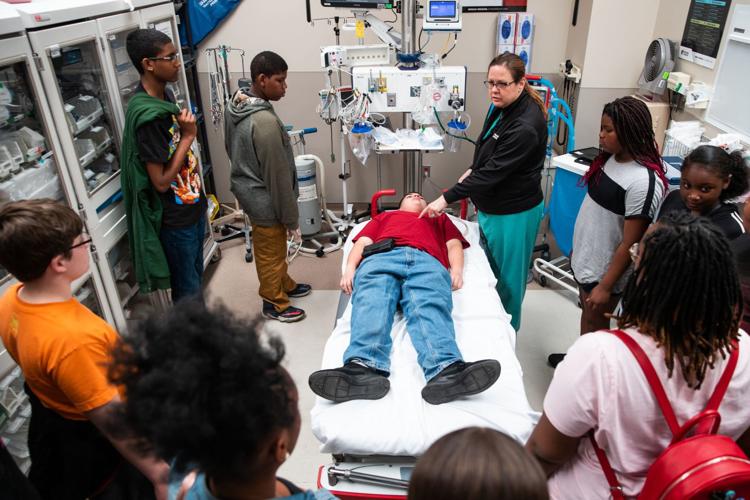 How did the case wind up?
R.J. healed pretty quickly. Dr. Evans described his wound as "a through-and-through injury." The bullet missed bone. R.J. did not lose much blood, thanks to his father's fast thinking. He's an eighth grader now and turns 14 next month.
Four of the five teens arrested are out of jail.
The driver, who was 16 in March, is now 17. She is living at home in Omaha but is under the watch of the Juvenile Court. Her next hearing is right before Christmas, and she could be released from probation then. If that happens, her juvenile court record will be sealed. That's why we're not naming her here.
Kheana, 18, had no prior criminal record. Her felony was traded for a misdemeanor. She pleaded no contest to a reduced charge of false reporting because she hadn't been upfront with police right away, said her attorney, Glenn Shapiro.
But Kheana is not in college as she had planned.
"We were hopeful she'd go and follow scholarship opportunities," Shapiro said. "These events and other issues put her on hold. She's working and figuring out her course of life."
Shapiro said his client and her family declined to comment.
Jaqueris, 19, had a lengthy juvenile court record — some of which was sealed during the reporting of this story. He pleaded no contest to conspiracy to commit a felony, which is a felony. He got out of the Douglas County Jail after serving six months. He was released Oct. 2 and placed on four years of probation. He has to pay probation fees totaling $1,610.50.
As a convicted felon, Jaqueris lost his right to vote. And getting a job and a place to live are now that much harder because of his criminal history.
Jaquez's case wound up the same way. The 19-year-old pleaded guilty to conspiracy to commit a felony for being in the car that night. He, too, was sentenced to four years of probation and the probation fees of $1,610.50. Jaquez, who police said had gang affiliations but a lesser criminal past than Jaqueris and J'Tavion, is now a convicted felon.
Attorneys for Jaquez and Jaqueris declined to comment.
So what about J'Tavion? Police said he was the shooter. Originally charged with five felonies, he pleaded guilty to two — second-degree assault and discharging a firearm at an inhabited house, occupied building or motor vehicle.
Despite the plea deal, he still faced prison time.
And that's what brought him to Courtroom 501 on Tuesday.
J'Tavion wore glasses and had gotten a new haircut. He sat straight up at the defense table as his public defender, Jessica West, gave a measured, forceful statement on his behalf.
"This is obviously a very serious matter," she began.
West asked the judge to consider "mitigating factors" like J'Tavion's age, pointing out that neurological research shows that the teenage brain is impulse-driven, risk-inclined and not fully formed. She pointed out the relatively light consequences for the four co-defendants. She referenced J'Tavion's challenging background. She cited a statement from J'Tavion saying he takes "full responsibility," as evidenced by his guilty pleas. She said he asks for no pity and has no resentment "toward his upbringing or the system." She said he understands "the gravity of the situation."
Then West added this: J'Tavion had recently become a father. A baby was born in October. This has made him especially aware of "the emotional and physical toll" the shooting took on R.J. and his family. It also makes him more motivated to turn his life around.
Which brought West to her request: J'Tavion knows he's going to prison. But please, she asked Schatz, offer a "wide" sentence range to give this new father an incentive and hope behind bars so that "making something of himself (isn't) snuffed out by the court."
Schatz asked J'Tavion if he had anything to say.
"No, sir," J'Tavion answered.
Then came the prosecution's turn. R.J. and his parents, who were present, were invited to make a statement but declined. Instead, prosecutor Ryan Lindberg went through the facts of the case: how J'Tavion and his friends "lay in wait," how he "purposefully shot at a residential area," how it was extremely lucky that no one was killed.
The judge took over. Flipping through the case file, Schatz said "the defendant and his cohorts" followed the victim's father and unloaded a .40-caliber handgun, firing six shots at the family as they entered the home.
"I've got a duty to impose a sentence based on the seriousness of the offense," the judge said.
Count one? 10 to 15 years. Count two? 20 to 25. Consecutively. Nebraska sentences are automatically cut in half, and the judge gave credit for the 220 days J'Tavion had already been behind bars.
The math boiled down to this: 16½ years before J'Tavion can be eligible for parole. The 19-year-old new father would be almost 36 before he gets out. His new baby would be of legal driving age.
Some family members began to sob. His mother and younger brother and sister called out, "Love you!"
J'Tavion glanced back and then, as deputies led him out, he glared at the judge and called him a name.
"What did he say?" the judge asked.
Outside Courtroom 501, a group of J'Tavion's supporters walked slowly toward the elevators.
TyKeeva Smith said she believes that her son wasn't the gunman but was pressured into a plea deal. No matter what, she stands by him. It could be worse, she said. She could be visiting him in a graveyard instead of a prison.
Then R.J.'s father, Renard Estima, walked heavily out of the courtroom. The 43-year-old said he once was a troubled teenager who spent time at Boys Town and felt for J'Tavion and his family.
"Another family lost," he said.
Estima tried to make sense of it. He appreciated that J'Tavion hadn't blamed someone else. He pledged to write J'Tavion in jail.
But then J'Tavion snapped at the judge on his way out the door, calling him a "cracker," a derogatory reference to the white judge's race.
Was J'Tavion sincere in his apology? Estima didn't know.
He did know that R.J. was OK, and for that he was grateful. He did know that his son could have been killed, that the event itself was horrible and scary, and that he isn't sure how his son is dealing with it now. Is R.J.'s new moodiness a result of being an eighth grader? Or is it an aftereffect of the trauma?
Estima couldn't shake the fate of his son's shooter.
"If it was my choice, I wouldn't have given him years like that," he said. "At the end of the day, nobody wins. No happiness in it."
Notable crime news of 2019
Read about some of the biggest and strangest crime stories in Nebraska and western Iowa.