Two hours after shooting and killing a tobacco store clerk, prosecutors allege, an Omaha teen tried to rob another teen before firing several shots at him outside a house near Northwest High School.
Sensing that Jacobi Terry, 17, was trying to lure him to a car, the teen had grabbed his little sister and ran away.
Terry fired three times — missing the teen and his sister, Chief Deputy Douglas County Attorney Brenda Beadle said during a court hearing Friday. But those shots traveled into a house on Hartman Avenue near 75th Street and hit 27-year-old Jared Sedlacek, causing partial paralysis in one of his legs.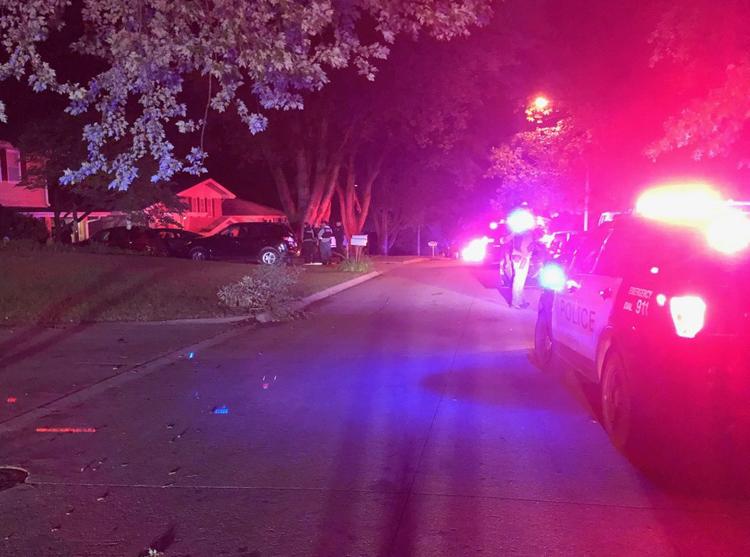 Altairi's father owns the shop, and Terry lives nearby.
Prosecutors have said Terry used a rifle to shoot Altairi in the chest.
A witness said Terry toppled a stand holding the cash register, grabbed a handgun and left the store.
In the shooting that left Sedlacek paralyzed, Beadle said, Terry and an accomplice, Marshaun Box, had intended to rob a handgun from a teen they knew.
Beadle said Omaha police, who have worked tirelessly on the case, are piecing together why Terry and Box were trying to steal handguns.
As for why Terry opened fire on Altairi, Beadle said: "When you have a juvenile with a gun, nothing good can ever happen with that. It's just a chilling, terrible, horrific murder."
Asked if there could have been two deaths that night, Beadle said: "Easily."
Terry, a junior at Central High School, and Box, 16, a junior at Northwest High School, have been charged in both shootings. Beadle said Box conspired with Terry to commit the robberies and drove Terry's car during the shootings.
Terry has been charged with first-degree murder, first-degree assault and two weapons counts.
On Friday, Douglas County Judge Stephanie Shearer ordered Terry to be held without bail. Box must pay 10% of $500,000 to get out of the Douglas County Youth Center.
Terry, wearing a blue jumpsuit and glasses, shook his head throughout Beadle's recitations of the allegations against him.
Beadle connected the dots between the two crimes during the hearing.
According to the prosecutor and a sworn affidavit of an Omaha police detective:
Terry, Box and possibly another person had been planning to rob people of guns on Oct. 2.
About 7:30 p.m., someone fitting Terry's description burst into Tobacco and Vape near 32nd and L Streets.
Within seconds, he shot Altairi once in the chest, killing him.
About 9:30 p.m., Terry, Box and a third person went to meet with a teen outside a house at 75th Street and Hartman Avenue near Northwest High School.
The teen, who was with his little sister, had planned to sell a gun to Terry and Box. During the course of the transaction, the teen said, he saw the two people who were going to buy the gun flash a look at each other. He immediately feared that they were going to try to rob him. The two wanted the teen to go back to their car with him. He refused.
When they arrived at the car, a "suspect bent down behind the car," and the teen saw him pull out a "small-caliber rifle" with no rifle butt, according to the affidavit.
The teen grabbed his little sister and "pushed her into the house through a door that connects the garage to the interior of the house."
Terry pointed the rifle at them and fired three times, Beadle alleged. One of the bullets traveled through a wooden garage door and an interior door, striking Sedlacek in the back.
Sedlacek is expected to survive. But he has been hospitalized with serious injuries, including a loss of feeling and movement in his left leg.
The shooting happened two days before Sedlacek's 27th birthday. In a Facebook post, Ami Dixon called Sedlacek the "most amazing dad and hubby." She wrote that the shooting was "my worst nightmare" and described how Sedlacek was merely in "the wrong place at the wrong time" and how "all hell broke loose" afterward.
A GoFundMe page — Jared's Marathon — charts his progress. "His recovery will be a long battle," the page says.
Altairi, meanwhile, didn't have a chance. Beadle called the sudden shooting of Altairi "chilling."
Omaha resident Eric Widtfeldt, who occasionally stopped in the shop, said Altairi was a "really personable, funny kid."
He was quick with a greeting and would chat up anyone.
Altairi ran the store with his father. The two had security cameras installed after a robbery about a year ago.
One of those surveillance cameras captured Terry shooting Altairi, Beadle said.
"It's a damn shame," Widtfeldt said.