Before he was sentenced to life in prison for his involvement in the death of an Omaha Army sergeant, Jason Devers told a prosecutor she was going to hell, told the judge he forgave him and told the courtroom he would become a millionaire.
Not much of it made any more sense than his actions on Jan. 6, 2018, when, a jury found, he told his cousin to rob Kyle LeFlore at gunpoint and take his jewelry.
The 27-year-old LeFlore, home during a break from the Army, was shot and killed.
"I forgive the court for the apprehension and conviction of the wrong man," Devers said Tuesday. "We're honoring Mr. LeFlore's sacrifice to this country by sending the wrong man to prison. ... It's all right. May God forgive you. And I do, too."
Against that backdrop — after the defendant had said his piece, at various points cursing and, oddly, applauding his life sentence — Kay LeFlore, 66, slowly strode to the front of the courtroom.
Wearing one of the suits that he sells from his fine clothing store, Kay LeFlore took courtroom observers on a brief journey through the life of Kyle LeFlore. It was a tale that went beyond what many Omahans already know about the younger LeFlore — that he served tours in Iraq, Kuwait and Afghanistan, only to be gunned down on the streets of his hometown.
Kay LeFlore had those gathered in tears, then giggles, then tears.
And so instead of the usual back and forth of a sentencing hearing — the pleas from attorneys, the admonitions from the judge and the occasional nonsense that attaches to a high-profile case — let's let a father speak. About his son.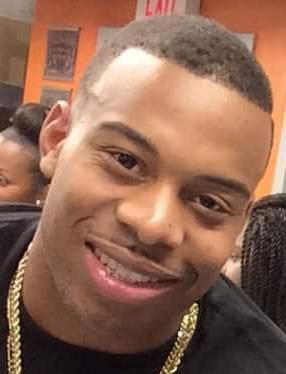 Kay LeFlore told the court that Kyle was an oops baby. He and his wife, Monica, were in their 30s, and they weren't planning to add to their already-bustling home. "It was a surprise," he said.
A pleasant one. Kyle became the typical youngest child, relentless in his pursuit of his older brothers and sisters.
"He could harass you to the point that you would just have to laugh," Kay said. "I would watch him torture his brother. He would fire off so many cracks, I would finally be like, 'Stop it, Kyle. Stop it.' "
From the back of the courtroom, family members chuckled.
"I used to call him my funny-looking kid because he had these raccoon eyes. It was so funny. As he grew up, he grew up to be an outstanding son. And I always used to say he grew into his looks."
More laughter. Kay LeFlore said he used to spot Kyle's high school textbooks at home. None of them appeared to have been cracked.
"His books were just like brand new," he said. "I'd say, 'Kyle, did you do your homework?' He said, 'Yeah, I did it.' He hadn't done it."
Instead, the father said, Kyle relied on his quick wit and sharp mind.
"He had a great memory. He heard a song on the radio a couple times, he could do the lyrics," Kay LeFlore said. "I was like, 'Wow, you know the lyrics to that? I can't even hear them.' "
In time, Kyle LeFlore became more and more athletic. He loved martial arts and training for matches — "Never lost a fight," Dad said.
Post high school, LeFlore joined the Army. He served in Iraq a few times, Afghanistan, Kuwait. Married his wife, LaTasha. Two years later, they had a son, Kyle Jr.
Eighteen months ago, LeFlore came to Omaha on a two-week leave from his base in South Korea. He was getting ready to relocate his family to Arizona for his next stint in the Army.
That Friday night, he had dressed to the nines, wearing a small-brimmed fedora to the Reign Lounge off 30th Street, just south of Interstate 680. Surveillance video showed him talking to friends, buying them drinks, occasionally swaying to the music. Mostly keeping to himself.
About 1:30 a.m., he was found shot to death in the parking lot, next to his SUV. His hat was in the front seat, indicating that he probably had opened his door when he was confronted by a gunman.
"My son would never let anybody rob him," Kay LeFlore said. "That's just the way I built him. Somebody hit you at school? Tell the teacher — after you taught him a lesson with those hands."
Kay LeFlore was home with his grandson that night. Kay and Kyle Jr. spent the evening watching movies. Kyle Jr. wanted his dad.
"My grandson would come into the room," Kay said. "He'd call his (dad's) number on the phone. Call it and call it. 'Dad's not picking up. Dad's not picking up.' "
When the worst news hit, Kay LeFlore said, he couldn't bear to break it to his grandson. The LeFlores waited a week or so.
"It was devastating the day that we told him that his father — the greatest man that he ever knew — was dead," Kay LeFlore said. "And why he was dead."
From the back of the courtroom, family members began weeping. LeFlore's voice rose.
"He was dead because somebody who didn't think about what they were doing targeted him and gave a murderer a gun and said, 'Go get him, go get his money and his jewelry.' "
"Don't blame it on drugs," LeFlore said, directing his comments at Devers. "That hatred was in you. That hatred for another human being was in you. And it didn't have to be."
"Before it's over, I'd like somebody to get the needle and stop breathing," LeFlore said. "I don't want anyone who killed my son breathing air. Air is too good for them."
With that, Devers was sent to prison — muttering something about becoming a millionaire.
LeFlore's family members walked out, stopped and embraced near the door. Kyle's older brother, Gabe LeFlore, rushed past them, bent over a rotunda railing and sobbed.
Kay LeFlore gazed at Gabe, wiped away a tear and let out a deep breath.
"Has it changed me?' " Kay LeFlore asked. "Has it changed his son, his wife? My children, my wife? Has it changed my brothers and sisters, my nieces, my nephews. It's changed us all. This one act changed us all."