Vivian Tuttle stood behind the orange fencing in a parking lot outside the penitentiary, in the grass and away from the small crowd.
"I'm here to support the victims," Tuttle said. "That's the ones I have to stand for."
Tuttle's daughter, Evonne, was one of five people killed in a bank robbery in Norfolk on Sept. 26, 2002. Evonne Tuttle, a single mother, went to the bank in Norfolk to cash a $64 check.
Three gunmen from the robbery, Jose Sandoval, Jorge Galindo and Erick Vela, all are on death row.
"I think it's important that we have voices that still say it's important that we stand for the death penalty. And for the families of victims," Tuttle said.
Matthew Rehwaldt of Omaha arrived shortly after 9 a.m. with poster board in hand. He made a sign reading "Not in My Name." Rehwaldt said this was the fourth Nebraska execution he has protested.
"I was raised to believe that life was sacred," he said. "I object to what my tax dollars are paying for today."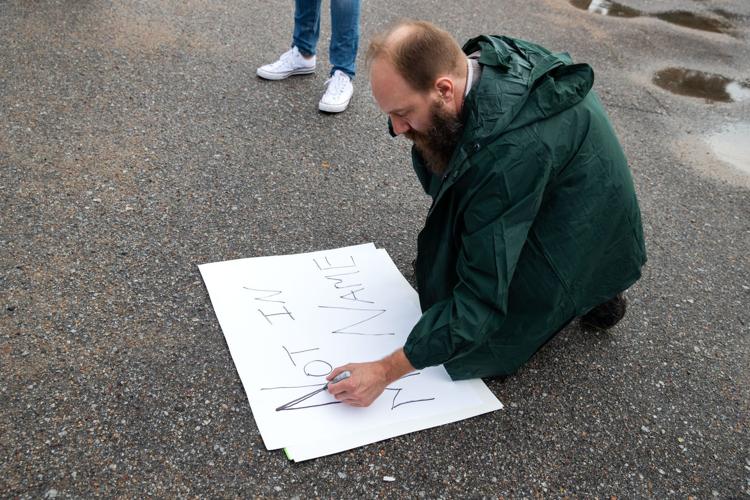 Terry Pace had the day off work because of the rain, so he showed up outside the penitentiary. The Lincoln man said he "came to watch someone who deserves to die" and to protest that it had taken nearly 40 years to get to that point.
Death penalty opponent Terry Werner of Lincoln said he had just talked with death row inmate John Lotter. He said Lotter reported that the mood was "pretty somber" there and that the other prisoners on death row supported Carey Dean Moore and understood his wish to die after 38 years.
In his own conversations with Moore, Werner said, the prisoner was calm and accepting about his impending death.
The Rev. Royal Carleton, chaplain at the Inclusive Life Center in Omaha, prayed tearfully in front of the penitentiary. He said he showed up because he believes executions are wrong. He said he respected Moore's decision not to fight the execution but regretted that he had gotten to that point.
"I'm sorry our state put him in this position," he said.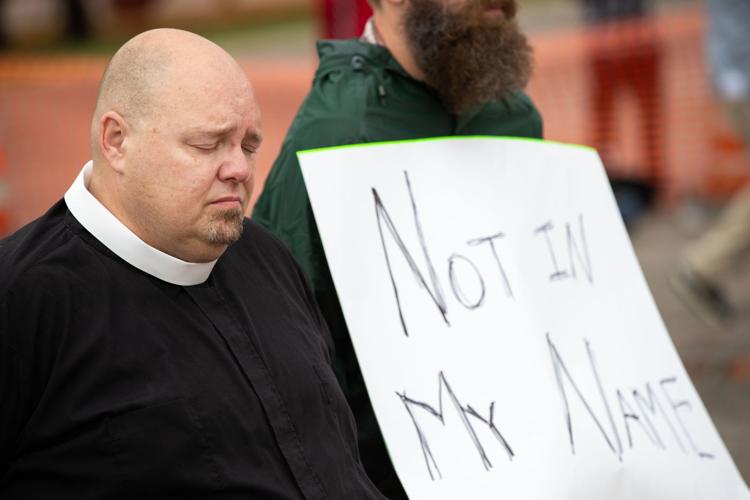 Matt Maly of Nebraskans for Alternatives to the Death Penalty was the first death penalty opponent at the prison and one of the last to leave.
Maly said many Nebraskans from all over the state are outraged about Tuesday's execution.
"We've given up so much to get to this execution," Maly said. "We've wasted millions of taxpayer dollars, we've drug victims' families through almost four decades of pain and suffering and we've given up Nebraska's commitment to open and transparent government."
Maly said his organization did not encourage people to show up at the prison and said that instead they would rally at the State Capitol at 5 p.m.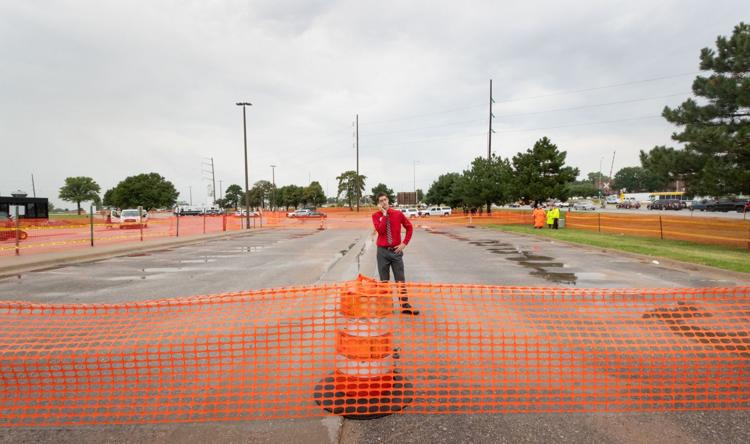 Most Tuesdays find the Rev. Justin Wylie, a priest at Cathedral of the Risen Christ and teacher at Pius X High School, praying the rosary outside of Planned Parenthood of the Heartland's Lincoln clinic, protesting against abortion.
This Tuesday he came to "the other place Lincoln does its killing." He said he was there to pray for mercy "for those who feel they have to take life and for their victims."
Hafeth Mourad of Lincoln joined the dozen or so death penalty protesters outside the prison because he "couldn't stand and let it be." He called the execution wrong and inhumane and questioned the need to execute Moore now, when 20 years had passed since the last execution.
After word came that Moore was dead, Tom Venzor, executive director of the Nebraska Catholic Conference, called it a somber morning.
"This doesn't serve justice," he said. "We've been in prayer here for the soul of Carey Dean Moore, for the people he killed, for their families and generally for an end to the death penalty."