This is the first in Dirk Chatelain's series examining the booming trend of college scholarship offers to 14- and 15-year-old girls. Today we feature volleyball.
Rylee Gray might have driven to her first college visit if only she had a license.
Two months after her 14th birthday, she walked out of Elkhorn Ridge Middle School on a Friday morning in November — long brown hair over a long-sleeve blue shirt — and found her parents in the parking lot.
Mom and dad were, too. But remember, they said, it's the coaches who have to win you over, not the other way around.
Her email itinerary for Nov. 4, 2016 — "Creighton University welcomes Rylee Gray" — showed a full slate of tours and meetings, starting at 1 p.m.
In some ways, Rylee was destined for this journey. Her parents met on a volleyball court. At fifth-grade graduation, Rylee was 5-foot-9. That was before a growth spurt. And yet … this was happening so fast. She'd played club volleyball for only three years.
Mom liked to call her an "old soul," but Rylee represented a new world in college athletics.
A decade ago, the idea of recruiting eighth-grade girls would've appalled college coaches. Now they swallow their angst and rush to the middle-school courts, worried that the costs of resistance would exceed the benefits.
"We don't like it," Creighton coach Kirsten Bernthal Booth said. "We don't think it's good for the athletes. We don't think it's good for our programs. However … if you don't start showing interest and giving them appropriate recruiting love and potentially putting offers out, you lose them."
Said Iowa State volleyball coach Christy Johnson: "It's an arms race to see how quickly you can secure players."
Sounds like something Nick Saban or Urban Meyer might say, right? But human biology generally pumps the brakes on their ambition. At 14 and 15, boys are a long way from physical maturity. Girls are closer to finished products, especially now that they're specializing in one sport earlier and — with the guidance of their clubs — training harder. Before they ever crack a biology book (or dissect a frog), Nebraska coach John Cook identifies future Big Ten stars.
"How many ninth-grade boys do you know are going to be studs?" Cook said.
Rylee Gray is a stud. Six-foot-2 and still growing. The kind of kid who can stuff block and chew gum at the same time. A 4.0 student who, according to her club coach, can "take crap as well as anybody" and hold serious conversations with adults, as if she's a peer.
But recruiting tests maturity. In eighth grade, Rylee consistently walked the line between being 14 and being a blue-chip prospect. She'd practice four hours a night and fight shin splints. She'd film home videos playing air guitar and make silly business cards. She'd open stacks of letters and get the princess treatment on college visits. She'd experience moments of stress and pride she'd never felt before. All before her first day of high school.
Much of it started that Friday last November, the day Rylee walked onto Creighton's campus.
She toured classrooms and dorms. She met with advisers. Everyone was so kind. The visit ended with a Creighton sweep of Butler, but the highlight came early.
Two assistants joined Rylee and her parents in the coach's office, where Booth was prepared to act against her better judgment.
We want to offer you a scholarship. We want you to be in the recruiting class of 2021.
You're too young to make a decision now, Booth said. Besides, you can't sign for another four years. But we want you to know how much we think of you.
Rylee beamed. That night, she told her mom that deep down she always wanted a scholarship offer before she started high school.
"Well," Deb said, "you did it."
Playing a new game
Football and boys basketball prospects still draw the biggest crowds Friday nights — and the majority of attention on Twitter and talk radio. But in the shadow of 16- and 17-year-old boys, a booming trend goes mostly unnoticed. Younger girls are facing the same college decisions.
"We tell people about it and they look at us like we're from Mars. My family was like, 'What?!? This is crazy.' We're like, 'Yeah, it is.' But this is the game we play and we have to play it."
Through the course of this series, we'll examine early recruiting in multiple girls sports. We'll feature phenoms, burnouts and late-bloomers. We'll look at club pipelines, the demise of multi-sport athletes and, in one case, the psychological scars of committing to Nebraska as a ninth-grader. Today we focus on the most prominent girls sport in the state: volleyball.
Per capita, Nebraska annually ranks No. 1 or 2 in Division I players. The Huskers own four national championships and lead the nation in all-time wins (1,276). Sixty miles up Interstate 80, Creighton is coming off its first regional final appearance. Collectively in 2016, NU and CU had 13 in-state players, most of whom received recruiting letters before they made a varsity team, most of whom would've rather waited.
This is the most puzzling part of the early recruiting trend: None of the actors wants a role. But they're sucked in by a force teenagers experience every day.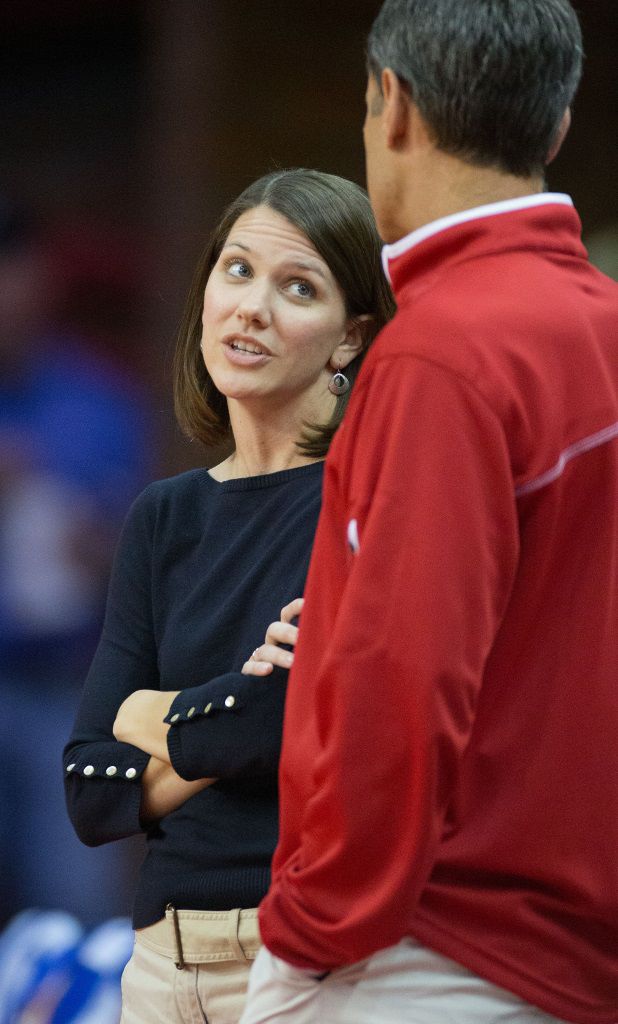 College coaches, armed with bigger contracts and more resources than ever, feel pressure to lock down recruiting classes. Club coaches feel pressure to help their players — and to compete with their rivals. Parents feel pressure to validate their four- and five-figure investments in club volleyball. Kids feel pressure to keep pace with their friends and teammates, knowing that scholarship offers have a shelf life. Wait too long and the coach will give it to someone else.
"It's a vicious cycle we can't escape," Penn State assistant Salima Rockwell said.
Consequences read like a laundry list. From planning headaches for coaches to pricey visits for families to the impact on transfers. But the biggest concern is the burden on kids, which occasionally boils over.
Early this month, Booth got a call from an incoming Creighton freshman, a 6-5 right-side hitter who committed in November 2014, just after her 10th-grade year at Papillion-La Vista. One year ago, she was ranked among the nation's top 100 prospects. Now she felt burned out.
Two days before her first college practice, she quit.
"You have two years of people saying, 'Oh, you're going to Creighton,' " Booth said. "Anxiety sets in."
Rylee Gray was going to feel those forces, too.
Growing up — sort of 
It's the kind of video that years from now will highlight her maid of honor's wedding toast.
It starts with Rylee in her bedroom playing air guitar to the opening beats of Gavin DeGraw's "I don't want to be." Now she switches over to air drums. ... Now the lip syncing begins.
She wipes hair from her face. She throws two blankets over her shoulder, then off her shoulder. Then she really gets after it.
She hops on the bed and bangs the drums and shreds the guitar and lip syncs with everything she has until — uh oh — she grabs her hamstring in pain and falls off the back of the bed, her white socks kicking in the air.
DeGraw keeps going, but Rylee is officially out with a leg cramp.
Most classmates don't know that girl. They know Rylee for stoicism, shyness and, of course, extreme height.
Her maternal grandfather, Bob Eickholt, was the 1959 World-Herald prep athlete of the year and a basketball player at Creighton. Mom played volleyball at UNO. Dad played basketball and football at Dana College — he's 6-10. Her parents met on the sand volleyball court, where Scott recruited Deb to join his team. She got pregnant during her reign as Mrs. Nebraska 2001.
Rylee, the oldest of two girls, got her first taste of sports in a first-grade church program. She tried cheerleading first but didn't like it — "I want to play."
In YMCA volleyball, her poor opponents cowered when she served. At 11, a friend invited her to a camp at Nebraska Elite, one of Omaha's top club programs. She was hooked.
When she was 12, coaches recognized her maturity as much as her skill. Rylee kept to herself, but you could tell she was processing things faster than most peers.
First contact with a college coach came after seventh grade. Rylee attended volleyball camp at Nebraska, where Cook called her over after autograph sessions with the Huskers. We want to keep talking to you, he said. Whenever you want to come to a match, let us know. A few weeks later, Rylee attended Creighton's camp. Same message.
Mom and dad always told her to be proud of her height. And she was. But volleyball boosted her confidence. First day of eighth grade, she stepped out to the porch for her annual back-to-school photo. Her three-inch black wedges boosted her to about 6-5.
"They just made me feel even more proud," she said. "I don't know, I just — I like my legs long."
A couple of months later, Rylee got a silly idea. Strangers were always asking the same questions, so she asked mom to print business cards.
Rylee (Tree) Gray. Yes, I'm very tall
6 feet 2 inches. Yes, I'm only 14
Yes, I play volleyball and basketball. No, I'm not a model, but I totally could be
The weather is fabulous up here
Keeping up with the Joneses
The whistles start at 8 a.m. and don't stop for 13 hours. They scream out like voices in a middle school lunchroom from all over the CenturyLink Center, where 40 temporary volleyball courts are squeezed together in perfect rows.
It's one of the biggest weekends on the club volleyball calendar and 431 teams (4,525 athletes) descend on Omaha for the 14th Annual Asics President's Day Classic.
Parents drop $25 for a weekend pass, standing because there is only one row of courtside chairs. Balls occasionally bounce into adjacent courts, interrupting play.
Rylee left home at 5:45 a.m. to get there early and get her shins taped. Her bigger weakness, though, is a tendency to play too nice. Her dad is working on that.
"I call Rylee 'beast,' " Scott Gray says during the second match of the day. "It gets her in the beast mode."
Moments later, Rylee smacks a kill.
"Beast!" shouts her towering father, dropping his voice as low as possible. "Nice swing, Ry-LEE. Good job, beast."
Along the walls, girls in braided ponytails and splashy uniforms — Six Pack, Premier, Dynasty — huddle on concrete floors with their backpacks, snacks and iPhones, waiting for their next match. The common denominator: the dream of playing college volleyball.
Hundreds of coaches flow between courts, standing on one end for a few minutes before moving on. Name a Division I program, there's a good chance it's represented. Not to mention dozens of non-Division I coaches. Every coach is wearing his or her school logo.
"You want people to know you're here," said Kyle Weindel, USC assistant. "I'm big. I'm a billboard."
Weindel parks his 6-8 frame on Court 40, where two 15-and-under teams — one from Minnesota, one from Iowa — open pool play. Weindel's colleague from Kentucky, standing next to him, may be evaluating potential, but Weindel works for a national powerhouse. He's shopping for "no-brainers."
There are about six at the Omaha tournament, he figures, and thanks to a phone app he's paid for, he knows exactly when and where they'll play this morning. Truth is, he has already seen all of them at previous tournaments, including the girl in front of him from Northern Lights. The ball sounds a little different coming off her hand.
"No-brainer," Weindel says.
What he's seeking isn't as complicated as you think. Height. Athleticism. Big hands. Long arms like Michael Phelps, he says, "No T-Rex arms." He seeks prospects who can touch the magical threshold of 10 feet — he can usually tell without a tape measure.
Tomorrow at this time, he'll be standing next to many of the same colleagues in Chicago scouting more 15-year-olds. During recruiting season, they see each other more than their own families.
"People get mad at us sometimes," Iowa coach Bond Shymansky said. "You're recruiting too young. I'm just keeping up with the Joneses."
Actually, it was the Huskers.
Jaw-dropping news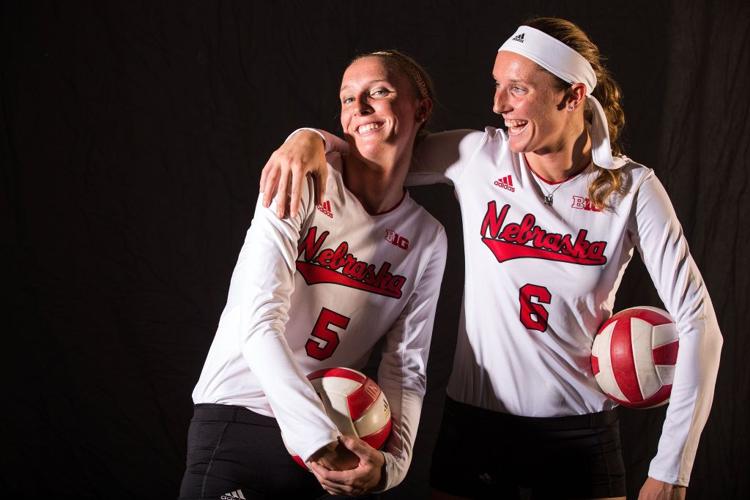 Ask coaches and experts from coast to coast where the trend of early recruiting originated and most point a few miles down the road. Papillion, Nebraska.
In June 2009, two months before their first day of high school, Amber and Kadie Rolfzen attended Nebraska volleyball camp, where Cook invited them into his NU Coliseum office after a night session. His message wasn't formal. Just that scholarships were waiting when the twins wanted them.
At the time, most prospects committed as high school seniors — the youngest commit in Nebraska history was Jordan Larson at the end of 10th grade. But Cook wasn't crazy; the Rolfzens were 6-2 and probably good enough to play Division I volleyball as 14-year-olds.
As Amber and Kadie walked back to the dorm, they called home. Their first exposure to Nebraska volleyball came in sixth grade, when they watched the 2006 national championship match at a friend's house. They dreamed of being Huskers ever since.
Now, they were telling their parents that the dream was coming true. Dad was so stunned that he called Cook to confirm the story.
"I told 'em, you don't need to commit," Cook said. "But they wanted to get it over with. 'Let's wait a year or two,' I said. Three days later, they showed up at my office."
The news traveled fast through the college volleyball world. This wasn't some upstart mid-major coach trying to generate publicity. This was Nebraska, one of the nation's top programs.
"There was so much controversy about it," said Rockwell, Penn State assistant. "Everyone had their opinion."
Looking back, the Rolfzens' decision makes sense to Rockwell. What doesn't make sense is the rush of early commitments since then. Why are eighth- and ninth-graders committing to programs to which they have no geographic or personal connections?
"If I were a parent," Penn State coach Russ Rose said, "I might say, 'Honey, if you're good enough to get an offer at 13, you'll be smarter at 15.' But it's easy to figure out how a kid comes in and gets blown away. They say, 'Oh, the players were really nice.' …
"The players on the team are going to be married with children by the time you get there."
Amber Rolfzen, two-time All-American and national champion, understands the criticism. But she also sees why middle schoolers make reservations. Committing early may intensify hype and pressure — strangers walk in the gym and recognize you as the D-I recruit — but it removes a burden of uncertainty.
"Once you finally decide where you want to go," Rolfzen said, "you don't have to deal with taking all the trips and doing well in club and making sure you play well when Coach A is there and Coach B is there.
"When you pick where you want to go, it's just one of those big stresses that is gone."
Getting the top 0.01 percent
Back at the CenturyLink Center, Johnson's feet hurt. The Iowa State coach says her FitBit will record eight or nine miles on a day like this.
"I'm getting old," says Johnson, an All-American on Nebraska's 1995 national champions who keeps a sheet of paper in her pocket rather than tracking prospects on her iPhone.
The tournament divisions are laid out by age. The farther north you walk, the younger the players.
"I try not to go to eighth grade," Johnson says. "If we have to, I make my assistants do it."
Johnson's in-state rival makes no such restrictions. Just after noon, Shymansky wanders north and stops at Court 9, where the 14-and-under Northern Lights team is playing.
Sometimes at events like these, the Hawkeye coach will shadow other coaches, just to see whom they're recruiting. And sometimes he stumbles on a prospect no one else sees.
"You sit down and hide," Shymansky says. "I'll stand two courts away if I really see a kid that I like and want to keep watching."
Northern Lights, the Minnesota club juggernaut, has produced five future Hawkeyes and Shymansky wants to keep the pipeline churning. But at the moment, he has his eye on the other side of the net — No. 7 in black. Shymansky has never seen her before. Within a few points, he knows she's special.
"Look at her," Shymansky says. "She's a woman amongst girls. Then watch her move. I watch her hit a ball and go, that kid's pretty good. This is what I say all the time: At our level, evaluating the top talent, anybody can do it. A grandpa can walk in and tell you who's the best kid on this court — it's 7."
As he's talking, his new target slides at the net and blocks a Northern Lights attack.
"I see that one time and go, yeah," Shymansky says. "The problem isn't evaluating, the problem is getting them."
To compete in the Big Ten, he needs better than the top 1 percent of club volleyball players. He needs the "top 0.01 percent." His conference peers, including an Ohio State assistant on this court, will all know about No. 7 in the next two months, Shymansky says.
Iowa has already offered three eighth-graders — "And I'm sure I'll offer this kid as soon as I can get to her."
Being the first to offer a scholarship doesn't assure anything. But it helps, Shymansky says, as No. 7 hammers another kill.
"Look around you. These are all 13- and 14-year-old kids. Who's got that? Long, athletic, agile. It's all potential. Then I look and find mom and dad. Look at their genetics."
Shymansky doesn't yet know who No. 7's parents are, he says. "But I'll find out." Imagine the look on his face when he discovers that the girl's father is 6-10.
The kid wants to be a kid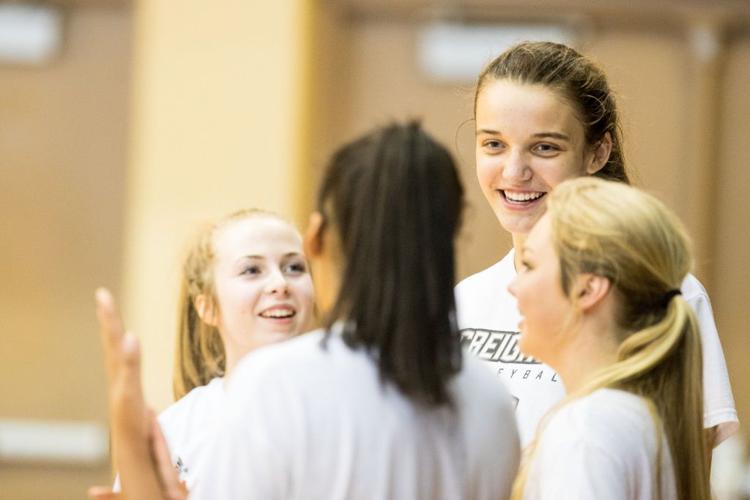 Take Monday nights. Rylee Gray goes from middle-school basketball practice (3:30 to 5 p.m.) to club volleyball (6 to 8 p.m.) to club basketball (8:15 to 9:45).
She doesn't want to focus on one sport yet, but on weekends she often has to choose which club coach she's going to disappoint.
"We're just trying to stay balanced," Deb Gray said. "Just be a kid, that's what we keep stressing. You don't want this to come back later on and say 'Oh, I didn't get to do this or do that.' "
But life was only getting more complicated.
In February, Rylee's orthopedic surgeon diagnosed Osgood Schlatter Disease, a bump on her shinbone. She started wearing shoe inserts and knee braces.
"When they said that her growth plates are open, I thought, 'Oh, my goodness,' " Deb said. "I thought she was going to be slowing down."
At the end of March, Rylee's team flew to Atlanta for the Big South tournament. There were 15,000 girls. Ninety-six courts just in her building. And hundreds of eyeballs on her.
Rylee doesn't scare easily. Typical teenage stressors — tests and boys — don't derail her. But in Atlanta, for the first time, her eyes wandered. Her brain wondered. Who were coaches watching? What were they thinking? The Beast wanted to be left alone.
"I felt like it was getting too much in my head," Rylee said.
When she returned to Omaha, every few days she received another questionnaire or another number to call. (College coaches can't contact her; their messages come through the club coach.) The thrill was wearing off.
Her club coach talked to a Stanford assistant, who offered to help Rylee through the process. For academic reasons, the Cardinal can't offer scholarships until a prospect is a sophomore. If you want to slow it down, she told Rylee, use Stanford as an excuse.
That's what she did. When West Virginia reached out, Rylee said "Not right now." She wanted to hit pause.
"This kid shouldn't have to worry about her future," says Steve Bymers, her Nebraska Elite coach. "This kid deserves to be an eighth-grader."
The club team had a week off before Easter and Rylee's mom told her to veg out. Read a book. Watch Netflix. Rylee complied for a couple of days. But when mom left to pick up Rylee's little sister from practice, Rylee volunteered to go, too.
Does the NCAA step in? 
Eventually, coaches say, the pendulum must swing back toward sanity. Order must be restored. But how?
One resolution: The system fixes itself. The risk of early recruiting eclipses the reward. Parents decide that kids have no business making life decisions in ninth grade. Coaches determine that late-bloomers on other teams are beating their phenoms. Transfers disrupt rosters beyond repair.
The second possibility: An external force intervenes.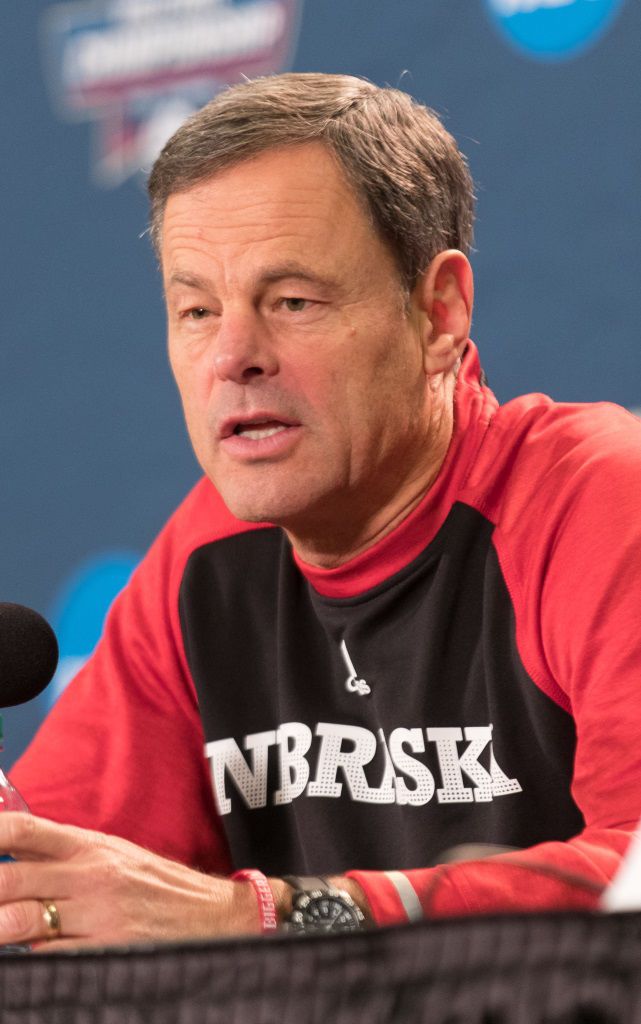 So far, the NCAA and its member schools have been slow to respond. Shymansky suggested a rule prohibiting offers until 11th grade. Cook suggested moving official visits up one year, to August of junior grade. If kids know they can take official visits — covered by the schools — they won't pay their own way as ninth- and 10th-graders.
"The only other way is to say you can't have contact," Cook said. "Well, we know that's not gonna work because it's so slimy with club coaches."
If college coaches can't communicate with prospects, Cook said, suddenly club coaches have more power to play matchmaker. Men's and women's lacrosse are giving the idea a chance. In April, the NCAA adopted a rule banning lacrosse coaches from communicating with prospective student-athletes until Sept. 1 of their 11th grade year — summer camps are an exception.
Volleyball coaches are watching, Booth said. The hope is that kids won't commit to a school without seeing it up close.
"The concern is that if we legislate rules on this, people will cheat," Creighton's coach said. "I know I won't cheat. I know a good portion of the coaches won't cheat. The question is, how many will try to find loopholes in the rules?"
For now, few loopholes are necessary.
Rolling out the red carpet
In June, one year after her first conversation with a college coach, the new graduate of Elkhorn Ridge Middle School returned to Nebraska for "attacking camp."
Cook spotted her and called out to an assistant: "Rylee Gray's in the house!"
She earned an MVP award that afternoon — and an invitation to return a month later for "Dream Team" camp. It was Cook's new idea to lure recruits.
Rylee spent two nights in the dorm, got a taste of cafeteria food and roomed with a 2018 commit. On the last day, July 11, Cook directed five incoming ninth-graders to Memorial Stadium, where they got a quick tour and ate lunch.
Then came Cook's recruiting pitch.
You guys are the future of Nebraska volleyball. I believe that we can win a couple national championships with all of you.
Back at the Devaney Center, Cook pulled Rylee aside. Come with me, he said. Nebraska facilities have changed dramatically since the Rolfzen twins stepped into his office eight years ago. So has Cook's presentation.
The coach led Rylee to the locker room, where all four national championship trophies were sitting in front of them, two on a bench, two on the floor. He opened a locker.
This could all be yours one day.
Rylee kept her cool, but afterward she saw mom in the hallway and her eyes lit up. "They offered me," she whispered.
In April, she decided that the recruiting hype was too heavy to bear. Now?
"I think I can handle it all," Rylee said. "I always knew I could, it was just so … I've never experienced this before. I was out of my comfort zone."
Two classmates at the "Dream Team" camp committed to Nebraska almost immediately, including Omaha Skutt's Lindsay Krause. Two more studs. Rylee still wants to wait on a college decision. You never know what's out there, she said. Her eyes are wide open.
In fifth grade, she was playing in the YMCA rec league. Now every college volleyball coach in the country knows about her. Sometime before 2021, she'll study all her options — Creighton, Nebraska, Iowa and dozens of other schools — and choose one.
But first comes her first varsity match for Elkhorn South. And her first homecoming dance. And her first car.
On Wednesday, Rylee visited the DMV and got her learner's permit — look out, neighborhood. On Thursday, she stepped out to the front porch — an inch taller than a year ago — squinted into the morning sun and smiled for her photo. First day of high school.
The Beast wore a flower-print romper and a few extra inches from mom's closet.