A strong tailwind — and stronger competition — pushed Jaidyn Garrett to a state record Thursday in the girls pole vault.
The junior from Columbus cleared 13-3¼ at the Nebraska Track and Field Festival to top the 13-3 by Grand Island Central Catholic's Jenny Green in 2003. Green was an All-American at Nebraska.
"It was a lot of fun," said Garrett, who crossed the bar with a surprised expression. "There was a good tailwind and a perfect environment.
Sign up for daily headlines from NEPrepZone
Get a daily roundup of game recaps, player features and more in your inbox.
"We had three girls over 12 feet, which never happens at a meet. It was so cool."
Runner-up Josie Puelz of Class C Lincoln Lutheran and Hannah Preissler of Class D Giltner stayed with her until dropping out at 12-4. Garrett cleared 12-10½ on her first try for the Class A record, which had been 12-10 by Natalie Willer of Elkhorn in 2007, then took down Green's mark on her second attempt. She failed to clear 13-6.
She said she never had cleared the record height in practice, although she had some good bungee jumps.
Garrett came into the season at No. 5 on the all-time chart at 12-5 and moved up to third with a 12-9 at the April 5 Kearney Invite prior to the third annual all-class meet at Papillion-La Vista Stadium.
Her event coach and father, Pat Garrett, said after two years of concentrating on runway work, the focus has shifted to moving the pole and inverting.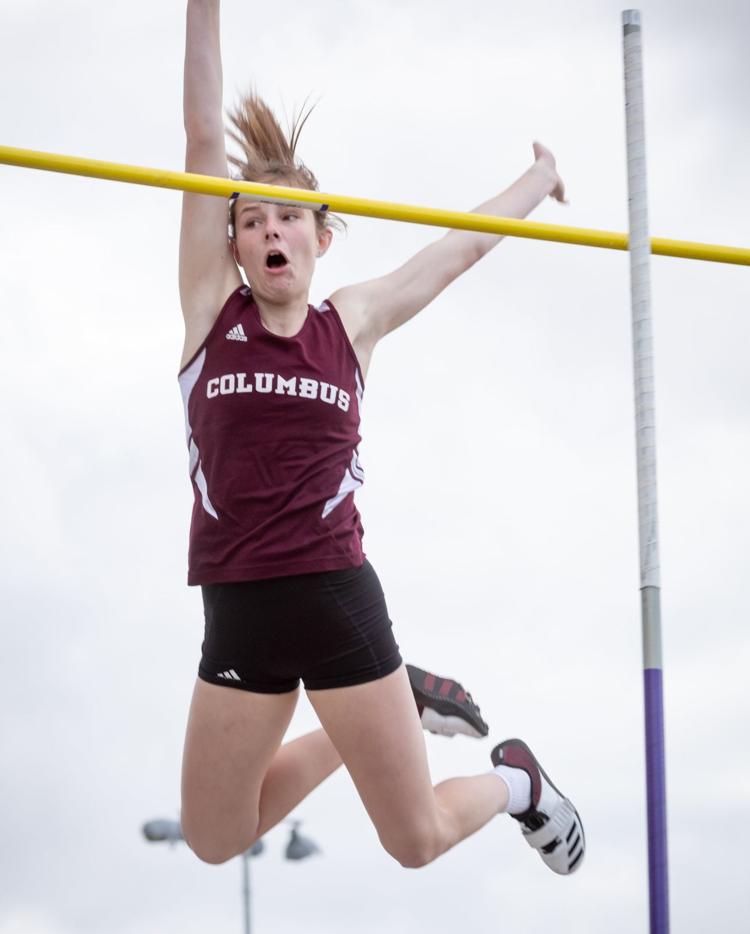 "A lot of that is coming around,'' the former Alliance and Doane University vaulter said.
He said he anticipated a good day for his daughter.
"At practice she was feeling really good, and when we got here this was the first great day to vault,'' he said. "She was really fired up, and having the other girls here made her that much better."
Garrett was named the outstanding girl athlete of the meet. The boys winner was Elliott Purdy of North Platte, who swept the throws with a 57-4 shot put and 176-4 discus.
More contenders for the girls award were Nya Diew of South Sioux City and Lincoln Southwest's Kate Dilsaver, Lindsey Blehm and Katelyn Thompson.
Diew tossed the discus 154-1 two days after taking the state lead and entering the all-time chart in 10th with a 159-10 at the Bennington Invitational.
Dilsaver ran the third-fastest electronic time in the girls 200 in state history, 24.42, as the tailwind led to a fast finish. Runner-up Tate Norblade of Papillion-La Vista South, like Dilsaver a sophomore, is tied for sixth on that chart after her 24.65. On the overall all-time chart, including hand-held times, Dilsaver is seventh.
Blehm swept the 1,600 and 3,200. Thompson doubled in the 100 highs and long jump.
Small-school athletes won four of the eight individual boys track events. Ty Hahn of Class D Johnson-Brock edged long-jump winner Zach Jarosz of Southwest in the 200, Marshall Chasek of Class B Minden took the 110 hurdles and Jack Drahota of Class C Ravenna won the 300 hurdles.
Southwest had two double winners — Jesse Lewis in the high and triple jumps and Jack Nolley in the 800 and 1,600.
BOYS WINNERS
100: Frankie Allen, Papio, 10.84. 200: Ty Hahn, Johnson-Brock, 22.17. 400: Brent Wetovick, Fullerton, 50.62. 800: Jack Nolley, Lincoln SW, 1:59.66. 1,600: Nolley, 4:37.73. 3,200: Tyler Boyle, Lincoln SW, 10:01.10. 110 hurdles: Marshall Chasek, Minden, 14.86. 300 hurdles: Jack Drahota, Ravenna, 41.70. 400 relay: Papio South (Mike McClanahan, Bradyn Pogue, Tony Nisotis, Luke Davis), 43.66. 1,600 relay: Papio South (Brian Clausen, Nisotis, Eddie Rosenthal, Ryan Winkler), 3:38.30. 3,200 relay: Papio South (Zack Jones, Clausen, Alex Pollett, Robert Price), 8:25.77. Shot put: Elliott Purdy, North Platte, 57-4. Discus: Purdy, 176-4. High jump: Jesse Lewis, Lincoln SW, 6-6. Long jump: Zach Jarosz, Lincoln SW, 22-2¼. Triple jump: Lewis, 45-11½ (meet record). Pole vault: Jack Hodge, Douglas County West, 14-0.
GIRLS WINNERS
100: Nina Cuevas, Papio South, 12.31 (meet record). 200: Kate Dilsaver, Lincoln SW, 24.42 (meet record). 400: Lauren Harris, Marian, 59.00. 800: Brianna Rinn, Lincoln SW, 2:24.23. 1,600: Lindsey Blehm, Lincoln SW, 5:27.75; 3,200: Blehm, 11:45.00. 100 hurdles: Katelyn Thompson, Lincoln SW, 14.68. 300 hurdles: Olivia Sattlefield, Papio South, 47.30. 400 relay: Elkhorn (Fidelis Neneman, Lexie Gilbert, Ella Dalton, Lizzie Schiefelbein), 51.25. 1,600 relay: Papio South (Ashlyn Dierks, Grace Charlesworth, Sattlefield, Norblade), 4:19.85. 3,200 relay: Papio South (Charlesworth, Deavion Deleon, Emma Jones, Olivia Rosenthal), 10:40.31 (only entry). Shot put: Milee Young, Arlington, 41-6¾. Discus: Nya Diew, South Sioux City, 154-1 (meet record). High jump: Jesse Moss, Syracuse, 5-2. Long jump: Thompson, Lincoln SW, 17-11¾. Triple jump: Sunday Thiyang, Papio South, 38-¾ (meet record). Pole vault: Jaidyn Garrett, Columbus, 13-3¼ (state record).
Photos: 2018 Nebraska high school track and field gallery of champions
See every all-class event winner from the 2018 Nebraska high school state track meet.