LINCOLN — An injury that kept Megan Carter off the board the past month couldn't keep the Omaha Marian sophomore from successfully defending her state diving championship.
Carter put together a solid program and took control of the 11-dive competition between the first and second cuts. Her 464.70 points Thursday were 1.85 lower than what she posted to win last year's title.
Millard West freshman Audrey Frohloff was second with 411.25 points while Carter's teammate Claire Hartley edged Omaha Duchesne's Anna Kwong 388.45-374.45 for third.
Carter's last meet was a quadrangular in mid-January. She withdrew from the Jan. 25 Omaha Westside Invitational with pain in her left leg so sharp she had to go to the doctor.
Sign up for daily headlines from NEPrepZone
Get a daily roundup of game recaps, player features and more in your inbox.
Becki Carter, Megan's mother and coach, said they first thought it was shin splints, a "hot spot" in Megan's left tibia. That kept Megan from practicing until Monday.
Megan said Thursday that her leg was "very sore" and it "hurt a little bit, not as much as it did." She also said she was a bit unsure at the start of the week how things might go.
If everything didn't go quite right, she knew she'd have to make a mental adjustment.
"I was definitely nervous, especially going back my first day," Carter said. "It was so hard to come back. I just wasn't as strong as I was four weeks ago. I'm a perfectionist, so I like when my dives are perfect.
"My dives were not going to be perfect this week, so that was the hardest part."
Becki Carter was confident her daughter would get through her program without a major mistake because of how she persevered the past month.
"Through all of the training she's had, trusting the training and all of the visualization she did for that month, I'm really proud of her," Becki Carter said. "She rested for a month, came back and showed her mental toughness."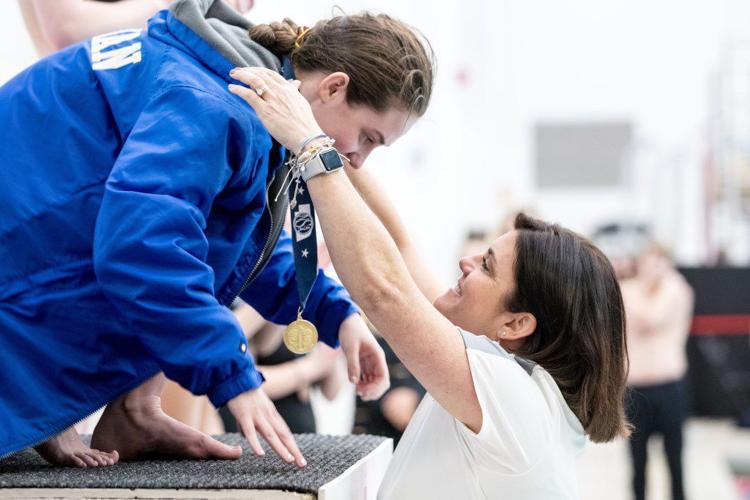 Daughter and mom agree the first part of Megan's program is the toughest to navigate. Megan called that group inconsistent. Becki said those dives are Megan's "least favorite."
But it turned out Megan's fourth dive — a reverse 1½ — was her best of the day.
"That dive, I either do it really well or not so well," Megan said. "I'm glad that I hit it today."
Becki Carter said nailing that dive set the tone for the rest of the program.
"When she hit that, I think it gave her the confidence to just let go and go for everything else," Becki Carter said. "When it comes down to it, a lot of this is very mental.
"She knows that she has the ability to do well. Even though she had to sit out for a bit, it paid off."
Individual medalists
1. Megan Carter, Omaha Marian, 464.70 points
2. Audrey Frohloff, Millard West, 411.25
3. Claire Hartley, Marian, 388.45
4. Anna Kwong, Omaha Duchesne, 374.75
5. Dahly Long, Omaha Central, 371.25
6. Kylie Grause, MW, 361.55
7. Aleni Stoakes, Lincoln Southwest, 355.75
8. Lainey Woodward, MW, 353.95
Photos: 2019 Nebraska state diving championships