LINCOLN — Teivis Tuioti pulled out his phone in February and looked up his soon-to-be home.
Where is Nebraska? Smack dab in the middle of the country. Teivis grew up in Hawaii — as far south and west as you can go in the U.S. He's lived in Las Vegas, Ohio, northern California and even Ann Arbor, Michigan, for one year.
The key to moving, Teivis said, is your attitude, your intentions. It helps to have a giant family, which Teivis does — three sisters and three brothers. And, of course, there's the football family attached to whatever team his dad, Tony, is coaching.
In February, that became Nebraska after the defensive line coach wowed Scott Frost and defensive coordinator Erik Chinander with an interview so strong that Frost said it was "obvious" Tony was the best fit.
So the Tuiotis prepared to move again. Teivis said it was the seventh move overall.
"I'm used to this by now — playing on different football teams, getting to know everyone," Teivis said. "There's good in every place we go."
The place now for Teivis and younger brother Teilor is Lincoln Southeast. At 6-foot-3, 285 pounds, Teivis immediately becomes a top defensive lineman for the Knights, and potentially one of the top defensive linemen in the state.
The 2020 graduate got an offer from Nevada this week. Fresno State, Arizona and Eastern Washington are interested, too. And, of course, there's Nebraska's Pipeline Camp on June 15, when Teivis will try out for the guy who's taught him the game — his dad.
"If he were to offer me, that'd be cool," Teivis said Friday during the Locker Room Camp at Lincoln Pius X. "He just teaches me. I just take that coaching from him. He teaches me well. He's taught me how to play every set from an offensive lineman.
"As long as I take his coaching in and work hard, I'll have a good football season."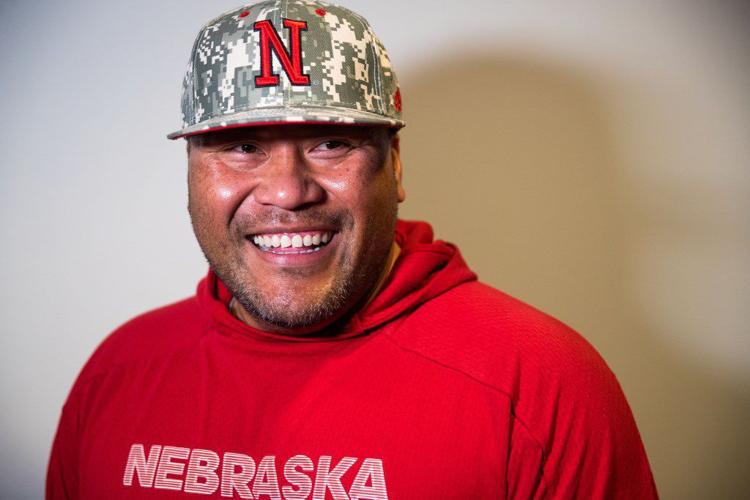 The addition of two Tuiotis helps an already strong Knights team that could be the best in Lincoln.
Safety Isaac Gifford — Southeast's top player — returns, and one of the state's best running backs last season, Nick Halleen, transferred from Lincoln Northeast. He rushed for 1,052 yards and 7 yards per carry last year.
Gifford, who was a part-time running back last season and has offers from Wyoming and Oregon State as an in-the-box safety, is thrilled with Halleen's arrival.
"It means I can take a breath on offense and go back out on defense without dying," Gifford said. "Nick's the real deal. He's a great running back."
Gifford and teammate Xavier Trevino also played a key role in landing the Tuioti family.
Once Tony Tuioti was named NU's defensive line coach, Gifford and Trevino reached out directly to Teivis on Twitter and recruited him.
"I sent him a (message) and said, 'Hey man, you want to transfer anywhere, you should think about coming to Southeast, it would be awesome,' " Gifford said. "That's where it started, then we got to know each other a little bit."
Their efforts earned them a defensive lineman who showed off a variety of skills Friday. He plugged double teams at the line of scrimmage. He pushed through a Lincoln High interior lineman to make a tackle for loss. He shoved a cut blocker to the ground and blew up another running play, forcing a Lincoln High ballcarrier into a linebacker.
He's the kind of addition who could take Southeast from a state quarterfinalist in 2018 to something better. The Knights lost four games last season — two to Omaha Burke, one to Omaha North and one to Omaha Westside. See the pattern?
"We're sick of seeing these Omaha schools win all the time," Gifford said. "We want to win. So that's our goal this year."
Teivis is on board with that.
It'd be a hard thing for some kids, moving just before their senior season of high school. Movies are made out of the experience. But the Tuiotis move together. Family first.
"Wherever my family is, we just have a good time, hang out with each other," Teivis said.
Gifford, meanwhile, plans on attending Nebraska's June 14 Friday Night Lights camp and working out at multiple positions, including linebacker and safety.
Gifford said he hasn't received much contact from Nebraska's staff recently, but inside linebackers coach Barrett Ruud, who also played at Southeast, has been in touch the most. The 6-1, 190-pound Gifford views himself as an inside-the-box safety similar to Nebraska's JoJo Domann.
"They don't know exactly where they want me," Gifford said. "Coach Ruud said they're going to move me around at camp at linebacker and safety."
He's at the top of the board at safety for both Wyoming and Oregon State. Trent Bray, who worked at Nebraska and is back with the Beavers, is recruiting Gifford. The Wyoming offer came at the Lindenwood University camp near St. Louis, where Gifford met Wyoming coach Craig Bohl.
Gifford said he's strongly considering a military academy, as well.
"I like Wyoming, I like Oregon State, and I like Army West Point," he said. "Crazy good school and it sets you up for life. That's definitely an option. You come out of college, you've got a job — a well-paying job."
Photos: Division I basketball and football recruits in Nebraska for the 2020 class
These are the basketball and football players from Nebraska in the 2020 class who have at least one Division I scholarship offer. Did we miss anyone? Let us know by sending an email to mike.sautter@owh.com