Ty Hahn will be one of the bigger in-state names to attend Nebraska's Friday Night Lights camp this week. The 6-foot-2, 187-pound athlete from Johnson-Brock could be the first in-state eight-man player to receive a power conference offer since 2013, when Nathan Bazata (Howells-Dodge) signed with Iowa.
It's been nearly 20 years since Nebraska offered an in-state eight-man player. The most recent was Steve Kriewald (North Loup-Scotia) in the Class of 2000.
Hahn put up staggering numbers for Class D-2 state champion Johnson-Brock last season. He had 62 receptions for 1,165 yards and 23 touchdowns, and as a safety he tied for second on the team in tackles (98), tackles for loss (9) and interceptions (4).
He received his first Division I offer March 20 from North Dakota to play safety. Since then, he's traveled the camp circuit and across the Midwest.
Hahn participated in Nebraska's 7-on-7 camp earlier this month and had a good conversation with NU coach Scott Frost and associate athletic director for football Matt Davison.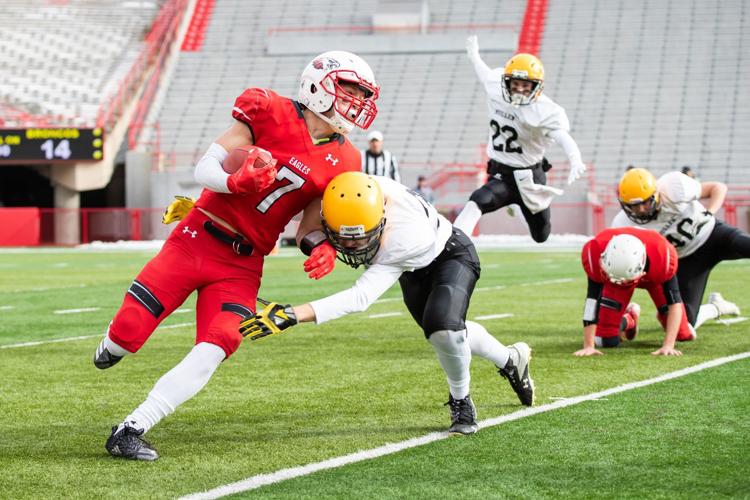 "Most of the conversation was regular talk about my high school season," Hahn said. "Frost said, 'I want you to know that we want you here. We aren't sure what quite yet.'"
No scholarship offer or preferred walk-on offer has been presented to Hahn, and Nebraska continues to softly recruit him.
"They just reiterated what they have told me in the last year and said that they will be in contact," Hahn said.
Before NU's 7-on-7 camp, Hahn camped at Northwestern (June 7) and Iowa State (June 8). He performed well at Northwestern, running a 4.54 hand-held 40-yard dash, recording a broad jump of 9 feet, 8 inches and finishing with a pro agility time of 4.28.
"It was good. Right when I walked into to the door, their defensive back coach came up and said hello along with their linebackers coach," Hahn said of Northwestern. "I worked back and forth between the two for a whole two hours. I went into one-on-ones and won almost every one of them."
After the camp Hahn had a meeting with coach Pat Fitzgerald, and he explained the Wildcats' scholarship situation clearly.
"They have a couple of kids that are going to make a decision soon. Depending on what they decide, that will decide what they do with me," Hahn said of his conversation with Fitzgerald. "Overall, we got pretty positive feedback, and I'm hoping things work out here in a week or two. I am kind of playing the waiting game. They said they would be in contact. They gave me a facilities tour, and the linebackers coach told me they see me as the No. 1 guy at their hybrid safety or SAM linebacker spot."
At Iowa State it was more of the same. He entered the camp as a wide receiver and competed as a wide receiver in agility drills. He then was moved to safety halfway through the camp.
"After camp the safeties coach said he was going to be in contact with me quite a bit," Hahn said of the feedback from Iowa State.
On Friday, he camped at Iowa as a wide receiver.
"It went good," Hahn said of his time in Iowa City. "They had me play strictly as a wide receiver."
He's attended a handful of camps in June. He suffered a hamstring injury at district track, and that held him out of the state track and field meet.
Sign up for daily headlines from NEPrepZone
Get a daily roundup of game recaps, player features and more in your inbox.
"We decided that coming back from the hamstring we were going to take it easy on the camp stuff," he said.
Other power conference schools are interested in Hahn. He holds six FCS offers (South Dakota State, South Dakota, North Dakota State, Northern Iowa, Western Illinois and North Dakota). Wyoming is his lone FBS level offer.
Along with Nebraska, Northwestern, Iowa and Iowa State, Baylor and Kansas State are the Power Five schools that have shown interest. He said he's still trying to figure out details on a date to visit K-State in the next few weeks.
Photos: Division I basketball and football recruits in Nebraska for the 2020 class
These are the basketball and football players from Nebraska in the 2020 class who have at least one Division I scholarship offer. Did we miss anyone? Let us know by sending an email to mike.sautter@owh.com