World-Herald prep recruiting specialist Mike Sautter was at the first Midwest Basketball Showcase. The showcase brought together 180 basketball players from six states (Nebraska, Iowa, Missouri, Kansas, Oklahoma and Arkansas). The 18 Nebraska players were nominated by their high school coaches and selected by a group of high school basketball coaches and athletic administrators from across the state.​​
Here are a few players that raised their recruiting profile at the two day event.
Sign up for daily headlines from NEPrepZone
Get a daily roundup of game recaps, player features and more in your inbox.
Max Murrell, F, Millard North (2020): Murrell showcased everything in his arsenal offensively and defensively. He can step out and make shots from beyond the 3-point line, and he can also catch lobs and finish with dunks around the rim. The 6-foot-9 forward's skill set is continuing to develop on the defensive end as well. He rebounded out of his area while blocking shots in man-to-man situations.
Justin Bubak, F, Lincoln Christian (2020): Bubak has an array of offensive talent. He has a pure stroke from beyond the 3-point line and the versatility to lead a break and finish at the rim with contact. Defensively, he guards the wing well. His strong play on Sunday raised his recruiting profile the most.
Latrell Wrightsell Jr., G, Omaha Central (2020): Wrightsell had a strong weekend defensively. He opened the weekend matched against a guard with power conference scholarship offers, and he was more than effective. His quick twitch movement is exactly what to look for in an elite defender. Offensively, he got it going from distance and showed a nice mid-range game along with a floater over taller defenders in the lane.
Zach LaFave, F, Elkhorn South (2020): He just plays hard until he can't go anymore. He blocked shots at the rim, deflected passes in transition and rebounded well on the defensive glass. Offensively, he cleaned up misses and showed he is more than capable of stretching the floor from beyond the 3-point line.
Jasen Green, F, Millard North (2022): Green didn't play on Sunday due to a stomach virus, but he played well enough Saturday to earn his first scholarship offer. A power conference offer from Nebraska. Green is an extremely versatile 6-foot-7 forward that has a soft jump shot. He can score from all three levels of the floor.
Hunter Sallis, G/F, Millard North (2021); Preston Murphy Jr., G, Elkhorn South (2021); Jaren Marshall, G, Omaha Burke (2021): The defensive effort the three had on Sunday was nothing short of impeccable. They hounded opposing teams into double digit turnovers.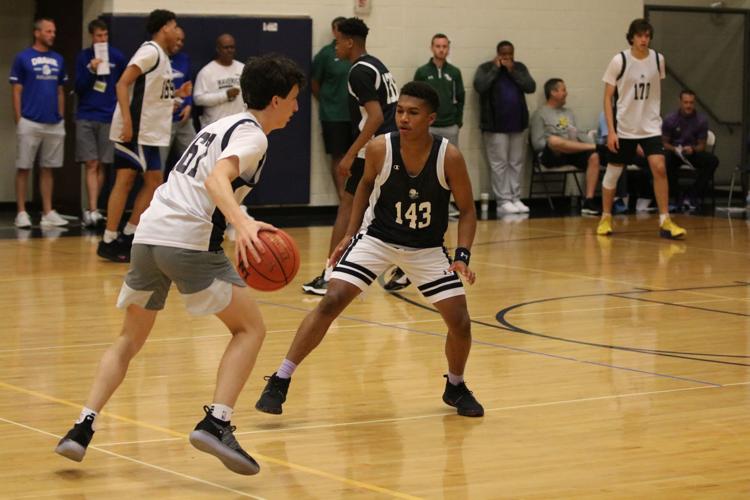 Players selected for showcase: Ashland-Greenwood: Cale Jacobsen. BRLD: Lucas Vogt. Elkhorn Mount Michael: Brad Bennett, Kaleb Brink. Elkhorn South: Zach LaFave, Preston Murphy Jr. Lincoln Christian: Justin Bubak. Lincoln Southeast: Ajantae Hogan. Lincoln Pius X: Kolbe Rada. Millard North: Jasen Green, Max Murrell, Hunter Sallis. Omaha Burke: Greg Brown, Jaren Marshall. Omaha Central: Max Polk, Latrell Wrightsell. Omaha Creighton Prep: Spencer Schomers. Omaha Skutt: Tyson Gordon.
Photos: Division I basketball and football recruits in Nebraska for the 2020 class
These are the basketball and football players from Nebraska in the 2020 class who have at least one Division I scholarship offer. Did we miss anyone? Let us know by sending an email to mike.sautter@owh.com