Chucky Hepburn has seen a lot of changes over the past year.
It was on May 29, 2018, that former Nebraska coach Tim Miles gave Hepburn a scholarship offer. It came after his freshman season at Bellevue West, where he averaged 13.6 points per game and made the All-Metro Conference third team.
Hepburn now looks at that offer as a life-changing moment, saying in March that "it boosted my confidence not only as a player but as a person."
Hepburn also changed physically between his freshman and sophomore seasons. He grew an inch to 6-foot-1 — despite cutting his trademark flattop during the first week of practice — and his work in the weight room transformed him into a much more explosive 190 pounds.
And his recruitment has changed, too. After Fred Hoiberg was hired by Nebraska to replace Miles, there was some uncertainty with where Hepburn's offer stood. But that concern has been alleviated.
"I talked to Hoiberg three or four weeks ago, and he said they are still high on me and my offer still stands," Hepburn said this week.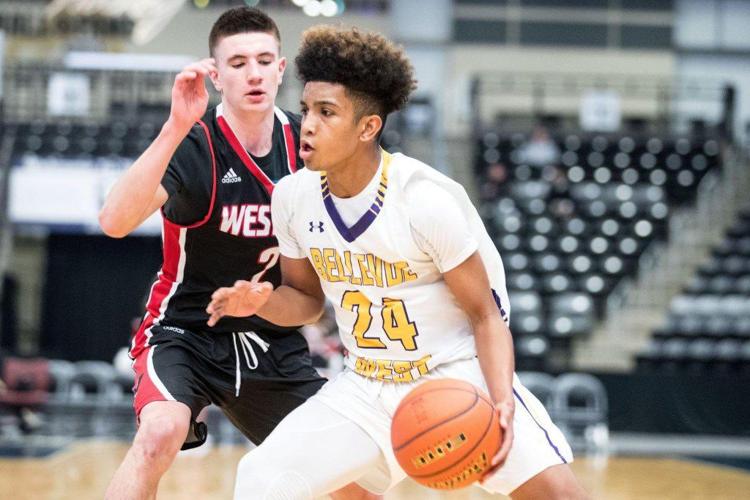 Now the next step is getting to meet the new Husker coach. Hepburn said Nebraska was in contact Monday with Bellevue West coach Doug Woodard about getting a visit scheduled. Hepburn and his family will head to Lincoln on June 15 for their first in-person meeting with Hoiberg.
Hepburn has been paying close attention to all the new additions to Nebraska's roster.
"If I were to attend Nebraska it would be good because a lot of the transfers would be gone already," Hepburn said. "It would leave space for me to come in and play right away."
But Nebraska isn't the only Big Ten school pursuing Hepburn.
He's set to take an unofficial visit to Wisconsin on June 7 before the Badgers hold an elite camp the next day. Hepburn visited Purdue last summer for a camp, and Iowa began contacting him this spring.
"I am trying to get something lined up with Purdue and Iowa to visit there," Hepburn said. "Minnesota, TCU, Arizona State and Virginia Tech have all contacted me in the last two weeks."
Creighton has also picked up the recruiting intensity. A pair of former Creighton stars — Josh Dotzler and Antoine Young — are Bellevue West alumni, and Hepburn said last year that Creighton was a school he dreamed of playing for.
"I've been to open gyms at Creighton and I talked to (assistant coach Paul) Lusk last week," Hepburn said. "They are starting to pick up interest now, which feels good because they haven't really recruited me that hard before this spring."
And there's another hometown school on his list, too. Hepburn plans to attend UNO's elite camp next month.
"They have been recruiting me since eighth grade or the summer before my freshman year," Hepburn said. "That is when I first attended their elite camp."