The Midwest Basketball Showcase was held at the CHI Health Convention Center in Downtown Omaha this weekend. The three-day tournament features 274 teams from Colorado, Iowa, Kansas, Minnesota, Missouri, Nebraska, North Dakota, Oklahoma, South Dakota and Texas.
Here are results from the featured games on Sunday.
CHAMPIONSHIPS
Omaha Elite 74, Team Factory 17U 58: Javen Kok (home schooled) led Omaha Elite with 14 on 6-of-9 shooting and three steals. Omaha South's Ty Griggs scored 13 points and had five steals, while Jay Saunders (Omaha South) and Skyler Wilson (Omaha South) each had 12. Team Factory was led by Bellevue West's Trey Hepburn with 14 points.
Team Factory Gold 60, Team Nebraska Express 31: Bellevue West guard Chucky Hepburn filled the state sheet leading Factory with 16 points. Hepburn also had six rebounds, five steals and four assists. Ryan Blum (Glenwood, Iowa) scored 15 points and had five rebounds. Omaha Burke's Greg Brown had 13 points and grabbed five rebounds. Marcus Shakeer (Omaha Benson) led TNE with 10 points.
Team Factory 65, Chauncey Billups Elite (Colorado) 53: In a highly anticipated matchup, Omaha Central wing PJ Davis set the tone early by scoring the game's first six points. Davis went on to finish with a team-high 18 points for Factory. Chandler Meeks (Omaha Westside) finished with 11 points, and Daniel Brocaille (Papillion-La Vista South) had 10.
Team Factory 2020 76, OSA Platinum Gauntlet 50: Lincoln High junior forward Kaysia Woods made four 3-pointers and led Factory with 24 points. Her Factory teammate Aanaya Harris (Omaha Burke) scored 22. Jenna Bohaty (Millard West) led OSA with 13.
Nebraska Lasers 16U Gold 61, Team Factory 2022 60: The last game of the tournament was the best game of the tournament. A back and forth game with high level coaches that made adjustments and high level players that made big plays. None of them more important than Weeping Water's Grace Cave's 3-pointer just before time ran out in regulation, sending the game into overtime. Lincoln East guard Olivia Kugler would sink a free throw in sudden death overtime to give Lasers the win. Lincoln Pius X's Alexis Markowski led the Lasers in scoring with 19 points. Cave was second on the team with 15 points. Taylor McCabe (Fremont) had a game-high 22 points for Factory. Mya Larson (Fremont) finished with 14 for Factory.
Iowa Select White 49, OSA 15U Gauntlet 37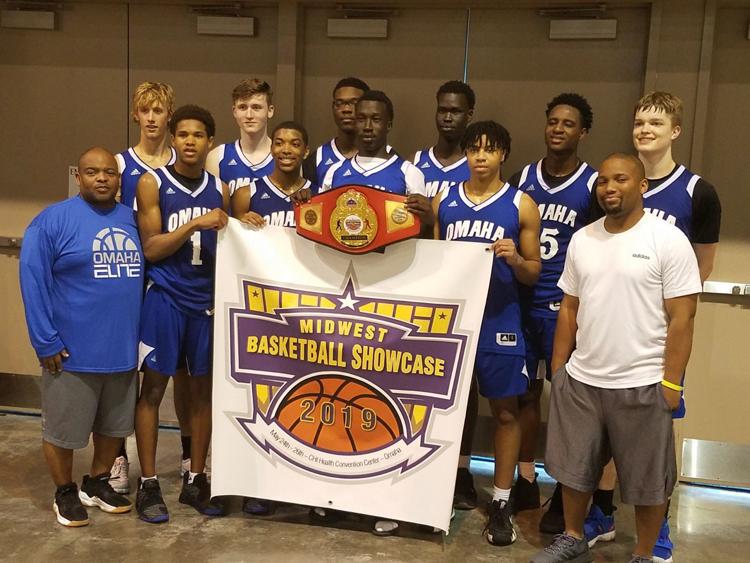 SEMIFINALS
Team Factory Gold 51, SD Network 31: Team Factory moved on to the 17U final thanks to its stifling defense, recording 19 steals and holding Network to 31 points. Millard North's Max Murrell knocked down a 3-pointer on one end, and then blocked another on other side at the two-minute mark to seal the game with the 20-point mercy rule. Jared Mattley (Papillion-La Vista South) led the way with 15 points and four steals, and Bellevue West's Louis Fidler chipped in 11 points on 5-of-7 shooting, four assists and four steals. The highlight of the game was a 360-degree dunk by Murrell on a breakaway early in the game.
Omaha Elite 71, Sioux City Bombers 51: Omaha South guard Skyler Wilson continued his strong weekend with a team-high 22 points for Omaha Elite. His Omaha South teammates Jay Saunders and Rashawn McNeal-Lee each scored 16. Ty Griggs (Omaha South) finished in double figures with 11.
Team Factory Gold 65, Powerhouse Hoops Nebraska Skierka 44: A short-handed Powerhouse team stuck with Factory into the second half thanks in part to a 2-3 zone that led to some poor outside shooting by Factory, but Factory used its size advantage on the offensive glass to pull away and punch its ticket to the final. Frankie Fidler (Bellevue West) led the way with 15 points and nine boards. Ryan Blum (Glenwood, Iowa) had 12 points and nine rebounds. Chucky Hepburn (Bellevue West) had 10 points, five rebounds, five assists, five steals and two blocks, and Livon Ramsey (Lincoln high) came off the bench to chip in 10 points. Lincoln North Star's Josh Brown led Powerhouse with 17 points on 6-of-11 shooting (3-of-6 from 3) and five rebounds.
TNE 73, Powerhouse Hoops Nebraska LaNoue 59: TNE pulled away down the stretch to advance to the title game. Curtis Ogba Jr. (Omaha North) and Marcus Shakeer (Omaha Benson) scored 19 points apiece, including a combined 22 in the second half. Ralston's Chaz Callum had 17 points for Powerhouse, and Airan Lopez (Elkhorn Mount Michael) and Dilan Krause (Elkhorn South) added 10 points apiece.
Team Factory Gold 60, South Dakota Venom 57: With the game tied at 57, Elkhorn South's Ashton Allison forced a turnover that Chandler Meeks (Omaha Westside) collected to score what would be the game-winning layup. Meeks led all scorers with 21. PJ Davis (Omaha Central) was the other Factory player in double figures with 12.
Nebraska Lasers 16U Gold 61, Northeast Nebraska Bullets 35: South Dakota State commit Alexis Markowski (Lincoln Pius X) led the Lasers with 18 points. Weeping Water's Grace Cave was the other Laser in double figures and finished with 11 points. Jordan Snyder (BRLD) led the Bullets with 16 points.
Team Factory 2022 63, Missouri Attack 47: Fremont guard Taylor McCabe scored 15 first-half points and finished with 22 points. Her Factory teammates Mya Larson (Fremont) finished with 12, and Megan Belt (Millard South) had 10.
Sign up for daily headlines from NEPrepZone
Get a daily roundup of game recaps, player features and more in your inbox.
Pool Play
Nebraska Lasers Gold 17U 46, NE Nebraska Bullets 17: Creighton commit Morgan Maly (Creighton) scored 10 points, had five rebounds and four steals to lead the Lasers. Millard South's Makenna Bray was second on the team in scoring with 9 points. Bray also contributed two steals and two blocked shots.
Unity Stars 49, Retro Hoops 45: The 2022 duo of Nataya Lockett (Omaha Benson) and Aaniya Webb (Omaha Central) led the Stars to a come-from-behind win. Locket led all scorers with 19 points and seven steals, while Webb added 15 points, five rebounds and two steals. Omaha Westside's Brooklyn James and Elkhorn's Kailee Lawrence led Retro with 12 points apiece, while Achol Agau (Omaha Gross) added eight points and seven rebounds.
OSA Platinum Gauntlet 68, Nebraska Lasers 17U Gold 59: Papillion-La Vista guard Olivia Boudreau connected on four 3-pointers and led OSA with 16 points. Emily Richards (Papillion-La Vista South) had three 3-pointers and finished with 14. Millard West's Jenna Bohaty scored 12 points in the OSA win. Creighton commit Morgan Maly led Lasers with 11 points.
Meet the five boys and five girls selected to The World-Herald's 2019 All-Nebraska basketball teams
​These players put their skills on display all high school season. Meet The World-Herald's 2019 All-Nebraska boys and girls basketball teams, captained by Omaha Central's John Tonje and South Sioux City's McKenna Sims.