Take it from the meet director or a South Dakota pastor who has missed just one in 50 years: Nothing is like the Nebraska state track meet.
"It's so unique, running boys and girls in all classes in two days," said the pastor, former Nebraskan Ted Bird, who now lives in Rapid City. "You get to see every great runner and every great performer. You can't do that in any other sport in Nebraska, not even basketball, except the state track and field meet."
Steve Eubanks of the Omaha Public Schools, which has been the meet's host at Burke Stadium since 1972, called it the greatest championship.
"It's a reunion and a celebration of the entire state," Eubanks said. "Urban, suburban, rural. North, south, east, west. Public and private. Male and female. Classes A, B, C and D."
Sign up for daily headlines from NEPrepZone
Get a daily roundup of game recaps, player features and more in your inbox.
The curtain lifts Friday morning on the 120th state meet. Athletes representing virtually every school in the state will roll into town in vans and buses with "Burke Bound" painted on side windows, each hoping to win a medal. Or perhaps be the best of the best with an all-class gold and wave from atop the awards stand Saturday afternoon to the 15,000 who spill onto the grassy hillsides.
The out-of-towners will spend more than $5 million in lodging, food and shopping.
It takes about 2,000 volunteers and officials to operate the meet.
Last year, more coffee than soda was sold.
This year, 25,000 paper cups have been ordered for the athletes' water tent — just for Friday.
While more than $2 million in meet revenues have been reinvested in facilities and meet operation, a gnawing issue is stadium facilities that haven't changed since the meet moved to Burke. More than four years have passed since an improvement plan was announced then expanded to include other athletic and activities facilities.
But a group of Burke alumni has scaled back its plans to focus on $2 million in privately funded stadium work. The new proposal would include restroom expansion, new concession and ticket areas and a new press box on the 8,000-seat stadium's west side.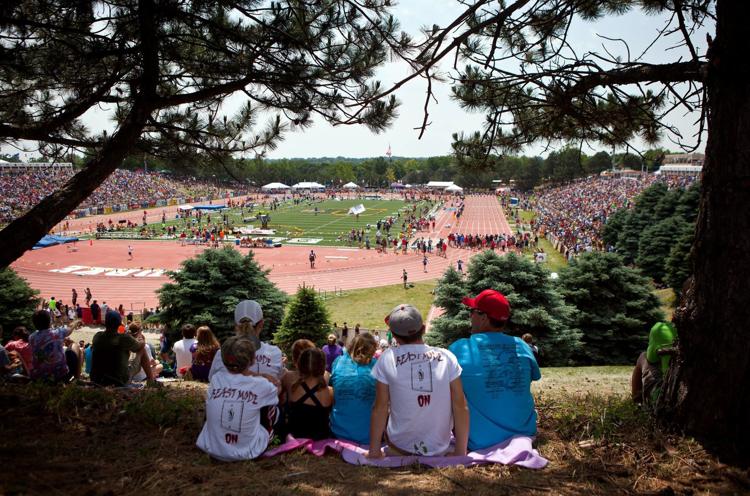 Lisa Carlson, a Burke alumna and parent, said the Burke Family of Champions campaign seeks to raise $600,000 from 100 new alumni donors by Oct. 31 to receive $300,000 in matching funds from sisters and Burke alumnae Amy Scott, Karen Dixon and Sandy Parker.
Carlson said the Sherwood Foundation also has pledged $1 million.
Some recent work around the stadium includes new stairs on the east side and removal of trees with new ones planted. The west parking lot is to be paved this summer — it was included in the latest OPS bond issue. The football field was resurfaced last summer, a year after a new track surface was installed.
New NSAA Executive Director Jay Bellar has attended the meet most recently as an NSAA board member from Battle Creek. He said until he goes through the meet in his new role, his wish list is limited. But better restrooms already are on it.
He said the NSAA views the meet as very healthy for attendance and overall quality. Because there are 2,400 qualifiers, the average two-day meet attendance of 25,000 puts Nebraska among the top five nationally.
"We worry that it is getting so big, parking and all that," Bellar said. "But what we're hearing from schools is they sure don't want to split the meet girls-boys or by class."
Burke has hosted the boys meet at its 8,000-seat stadium since 1972, with a joint boys-girls meet launched in 1981. It took Iowa almost 25 more years before its boys and girls associations united their meets in 2005.
The NSAA contract with OPS extends through 2020. If the state meet were to move, where could it go?
Kearney has a state-of-the-art facility at its new high school, but has seating for 2,000. Grand Island, which has begun a $17 million renovation of its Memorial Stadium that will expand seating to 5,100, could be a contender. Millard's Buell Stadium has more than 7,000 seats and the district is raising money for a $10 million renovation.
NU also could eye its 3,500-seat, unlighted Ed Weir Stadium for expansion of the Husker football facilities and build a replacement facility on the Innovation Campus.
Bellar said he's not looking to move: "Burke has treated us well."
Bird would agree. He's slept in cars outside the stadium and been inside a tent in a rainstorm not realizing no one was left in the stands.
The Arapahoe native ran on Giltner's 2-mile relay team in one of the meet's last years at UNK, but was hurt as a junior and senior and never got back to state. The only meet he's missed since was when he was attending a Bible college in North Dakota and couldn't afford to travel.
As many as 35 family members have met him in Omaha, he said. Family weddings have been rescheduled to avoid conflicts.
Said Bird: "I've told my mother and sister, when they've asked about why I always sit in the west stadium, 'See that eastern sky? When Jesus breaks that eastern sky open, that's when I won't be at the state meet.' "
Photos: 2018 Nebraska high school track and field gallery of champions
See every all-class event winner from the 2018 Nebraska high school state track meet.