DES MOINES — Through 25 minutes, Council Bluffs St. Albert couldn't have asked for much more.
Facing a Davenport Assumption team that has won seven of the last eight Class 1-A state titles and had outscored its opponents this season 115-5, it trailed just 1-0.
"St. Albert came out hard,'' Assumption coach Elizabeth Maus said.
The Saintes trailed 2-0 at the intermission, but the top-rated Knights put on a remarkable show of skill, speed and precision in the second half. They scored four goals in a span of 3 minutes, 26 seconds, and finished with eight in the second half en route to a 10-0 Class 1-A state quarterfinal victory over the No. 10 Saintes Thursday at Cownie Soccer Park.
The match was stopped with 10:58 remaining due to the mercy rule. Assumption (18-1) will meet No. 4 Gilbert (19-0) in Friday's 11 a.m. semifinal. St. Albert, making its ninth state appearance and still seeking its first win, closed at 14-8.
Carly King, a Duke track and field recruit, finished with three goals and five assists. She now has 99 goals for her career. Everything but one goal came after the intermission.
"Did she sit out the first half and I didn't notice her?'' St. Albert coach Chris Hughes said with a smile. "I don't think Assumption's 10 better than us, but they're really good.''
The Saintes coach said he could have ordered extra defenders into the box to try and contain the explosive Knights, but he didn't want to get away from who his team was throughout the season.
"I didn't want 10-0 by any means, but I said, 'I don't care if it's 6-0 or 2-0, we're going to try to score,''' he said. "I can't pack it in and feel good leaving 2-0. I play to win.''
King and fellow senior Livy Lansing each had hat tricks by the 48th minute. In that dizzying four-goal flurry early in the second half, they each had two of the goals with a dazzling display of offense.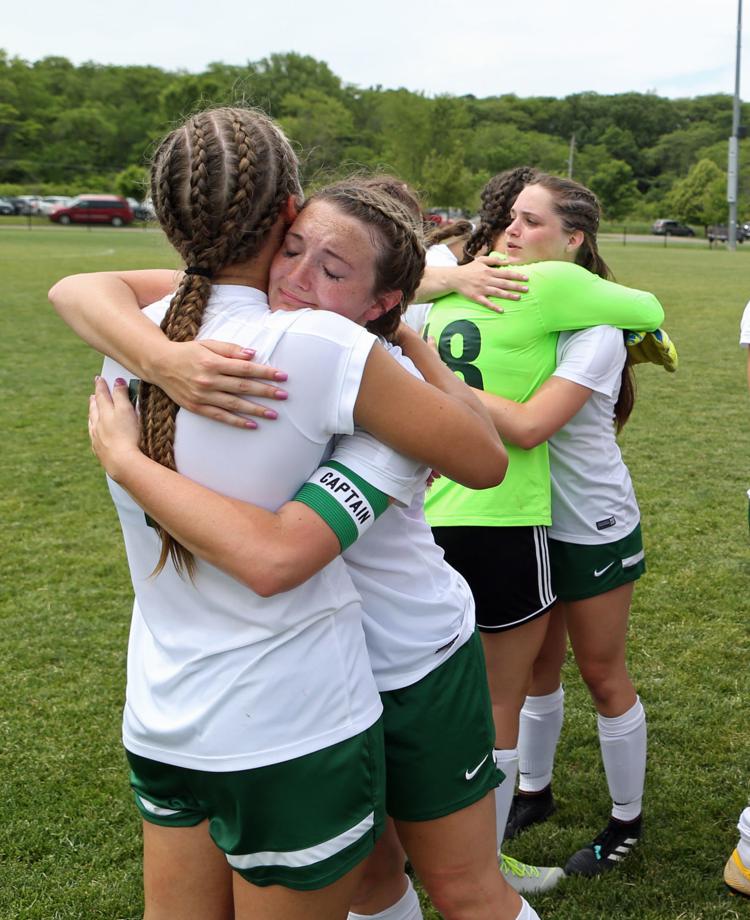 "The precedent has been set for them, so they understand there's expectations, and they're not afraid to work hard to set the bar for themselves,'' Maus said. "(St. Albert) came out full speed, and were ready to put a few in there, but the girls stepped up really well, especially in the second half.''
Unlike the regional final against Treynor, St. Albert came out strong against the Knights, settling in quickly with some solid passing and defense.
"The first five or six minutes we possessed the ball,'' Hughes said. "And I think we abandoned that. The first two goals were just lack of communication. In the second half, once we gave up one, we kind of let down for about a five-, six-, seven-minute stretch.''
The Saintes graduate six seniors: Teagan Blackburn, Maggie Wettengel, Emily Recher, Baylee Ratliff, Athena Arculeo and Bailee Cook.
"I'm so happy I played high school soccer at St. Albert,'' Wettengel said. "It's just a good environment to be in, and it was nice ending it here at state.
"We coached all the younger kids, and there's so much talent coming up. I think St. Albert soccer's going to be just fine.''
Hughes hoped his players would remember more about the season than the final score of the final game.
"We had a really, really good year,'' he said. "There's tons of teams on the western side of the state that would love to be playing today.
I just hope they had a good year and they enjoyed themselves.''
Sign up for daily headlines from NEPrepZone
Get a daily roundup of game recaps, player features and more in your inbox.
CB St. Albert (14-8).......................0 0—  0
Davenport Assumption (18-1).......2 8—10
Goals: Carly King 3, Livy Lansing 3, Elli Ivanic 2, Lauren Herrig, Morgan Jennings. Assists: King 5, Jade Jackson 2, Sully Kelly, Abbey Klostermann.
Photos: 2019 Nebraska state soccer girls title matches