For the first 40 minutes Monday night at Gale Wickersham stadium, the No. 9 ranked Johnston Dragons were utilizing their skill and the wind to put all kinds of pressure on the No. 5 ranked Council Bluffs Abraham Lincoln Lynx, forcing numerous corner kicks and putting the ball in dangerous, scoring positions.
But that wasn't unexpected to the A.L. coaching staff.
"We knew that first half was going to be all them, and we just hunkered down and were ready for it," Lynx coach Robbie Miller said. "We knew they were a super-attacking team. They are super fast up top, and they play a lot of balls over the top. And we knew we just had to hunker down and play very conservative, especially in the first half."
The Lynx defense more than held up against a Dragon attack led by speedy University of Northern Iowa basketball recruit, junior Maya McDermott (14 goals in nine games), and skilled senior Katherine Chapman (12 goals in nine games) to earn a 2-0 decision and a return trip to the state tournament.
Lynx senior keeper Rilee Filip, along with defenders Taren Newman, Paige Bracker, Brooke Wohlers, and Alexis Pomernackas repelled numerous opportunities from McDermott (who Miller called "Darby like"), Chapman and the rest of the Johnston attack.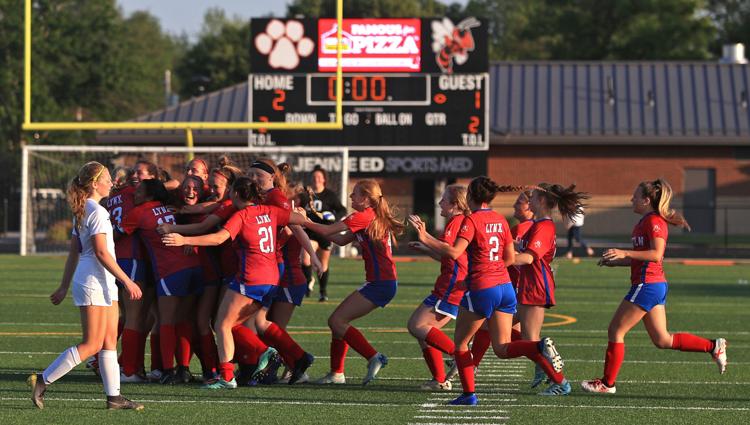 Tied 0-0 at the half, the Lynx — now playing with the wind — talked strategy about how to get their playmakers into position to do damage.
"We talked about, keep it on the ground and into feet. We really thought that if we could get it to Darby around the 30-yard-line, she could make some magic happen," Miller said.
Junior Peyton Kvammen heard her coach's halftime message loud and clear. "We talked at half time about just finding feet," she said. "When I knew I got the ball, just to find Darby's feet, and she did the rest."
Kvammen made a perfect pass to Thomas who made a deft touch into the box, followed by a masterful strike just inside the right post to break the scoreless tie with 25:21 to go in the game.
"Darby is a once in a generation player," Miller said of his senior striker who netted her 20th goal of the season. "There is such an electricity around her, whenever the ball even gets close to her. The whole team feels it."
A little less than two minutes after assisting on the first goal, Kvammen found the back of the net herself. The Lynx earned a free kick from the 30 yard line, and free kick specialist Taren Newman lofted a ball in the box and Kvammen finished it off, capitalizing on work they had done in practice the day before to give her team the decisive 2-0 advantage.
"That was actually the last thing we worked on in practice yesterday, was like timing our runs, and Peyton was one I focused on," Miller said. "I looked at her right before that and said 'Peyton, make a run' and she did it perfectly like we practiced."
Newman had a feeling something great was about to happen. "I would almost say it was planned," she said, "because I just looked up, and me and Peyton just looked right at each other, so I just served the ball in and she ran onto it."
Although she finished the play, Kvammen gave credit to her teammate. "Taren's balls are always so good. I just did exactly what we did at practice, and it hit my head and went in."
Miller added, "Taren put it right on her head and it was beautiful."
Johnston junior Brooke McKee headed in a rebound off of a Dragon free kick a couple minutes later, but they wouldn't get any closer as the Lynx ran out the final minutes, sending them back to the state tournament.
Johnston coach Matty Smith said, "We weren't good enough today. They deserved to win. They were good."
"It's so amazing," Kvammen said. Her teammate Newman, standing by her side, said, "I feel like it's well deserved though, too, because we've had a great season, and we just worked our butts off."
Miller knew his team had a chance to be even better than the team that made the state tournament last year. "I knew we were going to be really good early on. Things just kind of broke our way this year. The team knew (we could be pretty good) when we played Ankeny Centennial and Waukee (at the TJ Tournament) to one goal losses."
Newman knows this is an opportunity for the Lynx to get some "big redemption" from their last state appearance which resulted in a 7-0 loss to the same Ankeny Centennial team they played so tough earlier this year.
"I feel like we are going to go into it not scared," she said, "like we were last year. We were very nervous."
Miller has a simple message for his team before heading to for a 4:15 Thursday afternoon matchup with, you guessed it ... Ankenny Centennial.
"We want to stay a couple days," he said. "Last year was a new experience, we didn't know what to expect. This year, I think we are hungry. If things start to go our way a little bit, we could be state champs.
"That's how good this team is."
The Nebraska 100: Our greatest athletes
The Nebraska 100, originally selected in 2005 and then updated and re-ranked in 2015, came from a pool of nearly 500 names from the ranks of high school, college, amateur and professional sports from the past 140 years. Assistance came from a panel of veteran sports observers from across the state, with the newspaper's sports staff determining the final rankings.