KEARNEY, Neb. — Joseph Krause and Carter Terry are Class B quarterbacks who tried to deal fits to York and coach Glen Snodgrass the past three years.
They'll be the starters Saturday in the 61st Nebraska Shrine Bowl at UNK's Cope Stadium, and Snodgrass, the South's coach, is glad he finally has Krause on his side.
"I went to one of the Shrine dinners and I saw Joe," Snodgrass said. "I said, 'I see Carter Terry and Joseph Krause and if Baylor Scheierman shows up, I'm out of here.' Those three guys were in our district for three years.
"Joe Krause is a talented kid. He's kind of a natural leader. He can run, he can throw. I'm really happy to be able to coach him and not have him torching us."
Scheierman, the All-Nebraska quarterback from Aurora (2018 Class C-1 champions), is a South Dakota State basketball signee and has ended his football career.
Terry was added to the North team a couple of months ago when Lincoln High's Cedric Case was told he needed to report early to Texas State. The 7,000-yard career passer at Grand Island Northwest then moved up again in the pecking order when Tyler Chadwick of state champion Omaha Burke fell ill with mononucleosis.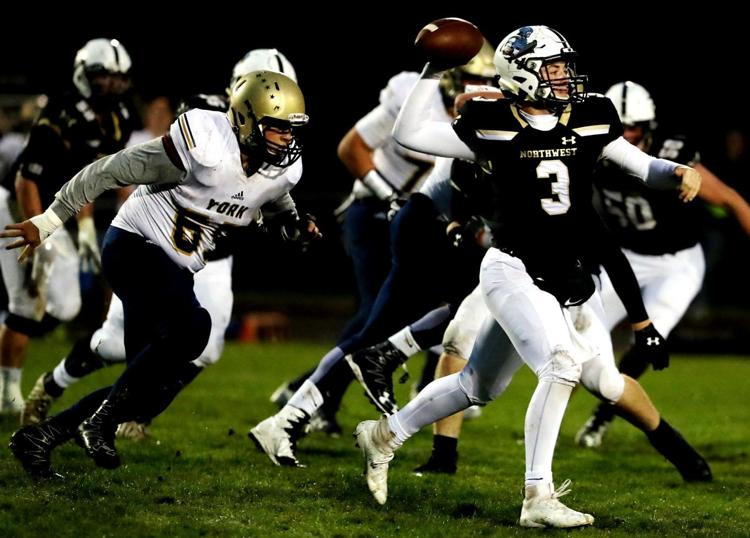 "I was really excited to be invited because I've watched this game for so long," Terry said. "It was a little disappointing (not to be on the original list), but I always kept hope because I know there always are some kids who drop out. So I was always ready in case."
Terry and Krause hooked up in 2018 for a double 400-yard game. Krause threw for 406 yards, but Terry racked up 420 and led his team to a 44-40 win over Seward.
"It will be fun to go against him one last time,'' said Terry, who signed with Chadron State. Krause is bound for Northwest Missouri State.
North Shrine Bowl coach Paul Limongi, from Burke, said his staff already had selected several players who had been quarterbacks for their high school teams but will play other positions in the game.
"Carter's been working great and picking up the offense,'' Limongi said. "I couldn't ask for a better team. It's 'Yes, Coach' and 'No, Coach.' What a high-character group, and from our scrimmage, they can hit you pretty good and we have some athletes."
Besides Krause, Snodgrass will use Kearney's Brayden Miller, a Nebraska walk-on, at quarterback. It's highly likely that NU signee Garrett Snodgrass, the coach's son who quarterbacked the Dukes as a senior, could slide into that position for special plays.
"We have actually three fantastic quarterbacks,'' Snodgrass said. "We're using two, with Garrett as a third option if we need him."
Sign up for daily headlines from NEPrepZone
Get a daily roundup of game recaps, player features and more in your inbox.
Photos: Where the 2018 All-Nebraska football team signed
Check out where the members of The World-Herald's 2018 All-Nebraska football team are headed after signing day.