WAVERLY, Neb. — Omaha Skutt's double-overtime win over Waverly was the most physical game Tyson Gordon said he's played in.
The North Dakota State pledge shook off a hard hit in the first overtime to come back with a clear head on the first play of the second overtime. He reversed field for a 10-yard touchdown, and the Skutt defense turned back the Vikings' subsequent possession Friday night to seal a 28-21 win by the defending Class B state champions.
"Some of our coaches were saying these are the games you live for in high school, and these are more fun than the games when you're up 30-, 40-to-nothing at halftime," said Gordon, who scored all four Skutt touchdowns. "These are the games you want to be a part of."
After Waverly scored in the first overtime on NU walk-on pledge Mason Nieman's 6-yard pass to Evan Canoyer, Gordon answered by scoring from the 2 after carrying the ball on all three plays. But Skutt still needed the extra point, and Gordon took himself out.
"I was a little shaken up and just wanted to make sure we had a healthy kicker in there to make it. It turned out for the best," the quarterback said. "I told my coach I wasn't coming out of the game on offense. I needed to be in there for my team."
The play call was for a pass to the tight end on a delay pattern, but Waverly had it covered.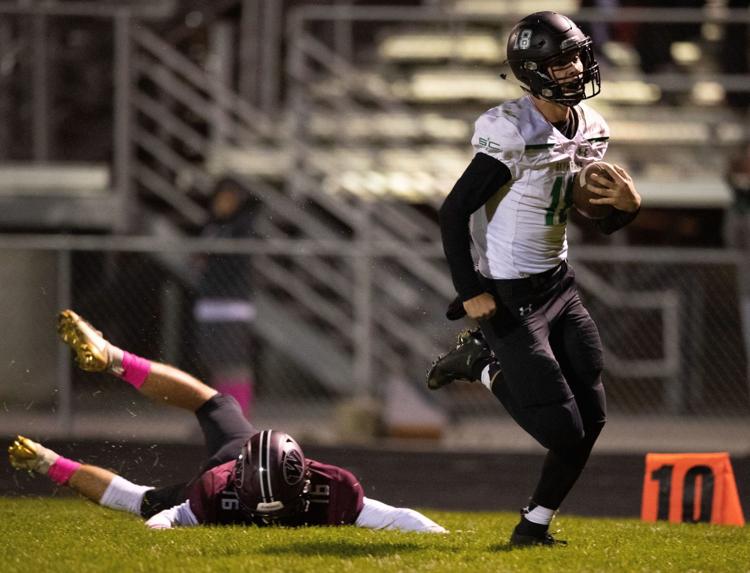 "When I saw the defender hooked on him, I looked at my other options and didn't like them," Gordon said. "I saw a lot of field on the other side, and luckily our lineman picked up the block on the backside so it allowed a wide-open touchdown."
Junior linebacker Nolan Connor, who was playing in overtime because starter Gunner Ott was cramping up, made two of the plays to stop Waverly from sending it to a third overtime. On first down, Connor sacked Nieman for a 3-yard loss and on fourth down he batted down a pass in the end zone.
Cramps also were an issue for Nieman, who sat out a critical series starting at the Skutt 18 early in the fourth quarter after Treyton Kozal's second fumble recovery of the second half. With junior Nolan Wiese taking snaps, Waverly faced fourth-and-2 from the 10 only to see Canoyer miss wide left on a 27-yard field goal.
"That's a tough, tough game to swallow," Waverly coach Reed Manstedt said. "The game lived up to its hype, let's put it that way. We knew that we weren't going to be able to shoot ourselves in the foot, and unfortunately we did that a few times there early in the football game. Luckily our boys responded."
Manstedt said the Class B No. 3 Vikings were playing young guys after losing their starting tight end, left guard and middle linebacker during the game and yet the team pushed the No. 1 team in its class like no one else during Skutt's 20-game winning streak.
Nieman, who popped for an 80-yard touchdown on Waverly's first play, led all rushers with 173 yards and got a second touchdown that tied the game early in the second half. Gordon led Skutt with 127. In an oddity, on consecutive plays in the first quarter Gordon intercepted Nieman's pass and Nieman intercepted Gordon's pass.
"He's a great player and Nebraska is getting to steal him as a walk-on," Gordon said. "I hope to know him more, I hope to talk to him more. I loved competing against him tonight."
Should we expect a rematch in the playoffs, like last year?
"No doubt about it, not a question," Gordon said. "Whether it's semis, whether it's final, we will see them again and it's going to be the same. It's going to be a hard-fought, four-quarter and more battle."
Omaha Skutt (7-0)..........7 7 0 0 7 7—28
At Waverly (6-1).............7 0 7 0 7 0—21
W: Mason Nieman 80 run (Evan Canoyer kick)
OS: Tyson Gordon 3 run (Gordon kick)
OS: Gordon 53 run (Gordon kick)
W: Nieman 6 run (Canoyer kick)
W: Canoyer 6 pass from Nieman (Canoyer kick)
OS: Gordon 2 run (Zach Hodge kick)
OS: Gordon 10 run (Hodge kick)
Rushing: OS, Gordon 24-127, Barret Liebentritt 3-11, Gunner Ott 12-58, Grant Diesing 4-minus 3. W, Nieman 25-173, Zach Schawang 5-19, Ethan Kastens 14-53, Noah Stoddard 4-25, Canoyer 6-11, Barrett Skrobecki 1-16, team 2-minus 4.
Passing: OS, Gordon 3-11-1 61, Michael Polcyn 0-1-0 0. W, Nieman 1-6-1 6.
Receiving: OS, Brinker 2-38, Ott 1-23. W, Canoyer 1-6.
Photos: Omaha Skutt football defeats Waverly