KEARNEY, Neb. — Alex Rodgers threw on a football jersey and laced his cleats one last time in Saturday's Nebraska Shrine Bowl.
It was a winning farewell.
Named the Blue Howell offensive player of the game, the All-Nebraska player from Omaha Roncalli helped the North squad to a 32-10 win at Cope Stadium.
He rushed for 78 yards on 17 carries, hauled in five passes for 43 yards and one score, and returned one kickoff for 26 yards.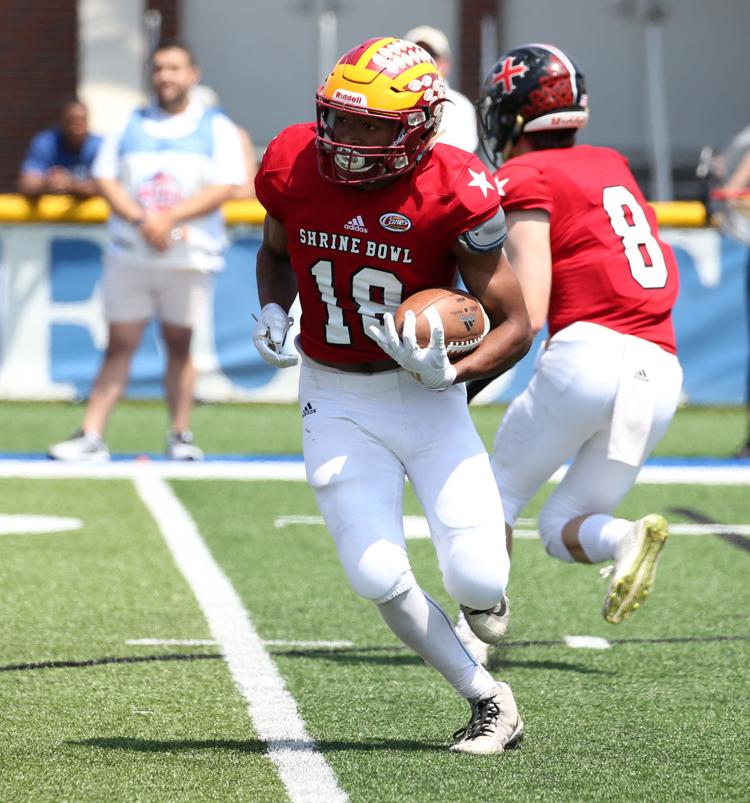 The highlight for Rodgers was his touchdown reception that gave the North a commanding lead in the fourth quarter. He caught a swing pass out of the backfield and waltzed into the end zone from 12 yards out to put the North ahead by 15 with about six minutes left.
"It was bittersweet," Rodgers said. "It's my last game ever for football, but I'm glad it ended this way."
The 5-foot-11, 175-pound running back was a three-sport standout for Roncalli, starting at guard on the Class B runner-up basketball team and playing catcher, shortstop and center field in baseball.
Even with all his success in high school football, Rodgers admitted it was "a little nerve-racking" when the team gathered eight days before Saturday's game to begin its preparations.
His unfamiliarity with his teammates was the main reason for his nerves. But by the time the North team was celebrating its victory, he said, the group had developed a comfort level with each other.
The experience was a special opportunity and one he won't forget.
"We came together throughout this week in a pretty short span of time," Rodgers said. "(My success) was all thanks to the guys up front and the whole team for working hard throughout the week."
Rodgers will now focus his attention on baseball. He hit better than .400 all four years at Roncalli and will continue playing at Barton Community College in Great Bend, Kansas.
He received an offer to play baseball at Nebraska his junior year, but that opportunity "kinda got lost somewhere," he said. He didn't receive any other offers from four-year universities, he added.
"I feel like going juco will help me get more noticed and help me move on from those two years," Rodgers said. "It motivates me, and I think I can play at the highest level in the future."