The World-Herald's All-Nebraska selections have a strong record when it comes to finding success after high school.
Several from the last five years have gone on to play at high-major college programs. Included in that group are all-conference selections, record breakers, award winners and even some that went on to play professionally.
The World-Herald's All-Nebraska teams for the 2017-18 season will be announced Sunday, and if history is any indication, some of those players will go on to shine too.
So let's take a look back at all of the picks since 2013, and highlight what they've accomplished since earning All-Nebraska recognition.
Included with each player is their high school, college/prep school/professional team and the years in which they were selected All-Nebraska.
BOYS
Ayo Akinwole, Papillion-La Vista, UNO (2017): Akinwole played in all 31 games and started four as a true freshman. He averaged 3.4 points, 1.8 rebounds and 1.4 assists in 15.5 minutes of action.
Teddy Allen, Boys Town, West Virginia (2017): Allen contributed as a true freshman to a Mountaineers team that reached the Sweet 16. He played in 35 games off the bench, averaging 7.0 points and 2.7 rebounds in 11.9 minutes per game. He also shot 46.7 percent from the field.
Aguek Arop, Omaha South, The Skill Factory (2016, 2017): Arop chose to spend a postgraduate year at The Skill Factory, a basketball-focused prep school near Atlanta. He has not yet committed to a college but reportedly has multiple Division I scholarship offers.
Ed Chang, Papillion-La Vista, Washington commit (2016, 2017): After committing to Washington last summer, Chang left Omaha to spend his senior year at Garfield High School in Seattle. He has not yet signed with Washington, and there's been speculation he could reclassify to 2019.
Kanon Koster, Kearney (2017): As a senior, Koster averaged 22.7 points and 7.1 rebounds and helped the Bearcats reach the state tournament. Kearney lost in the first round to Bellevue West. In February, Koster broke Kearney's career scoring record, which was set by Tanner Engel in the 1990s. Koster recently received a Division I scholarship offer from McNeese State.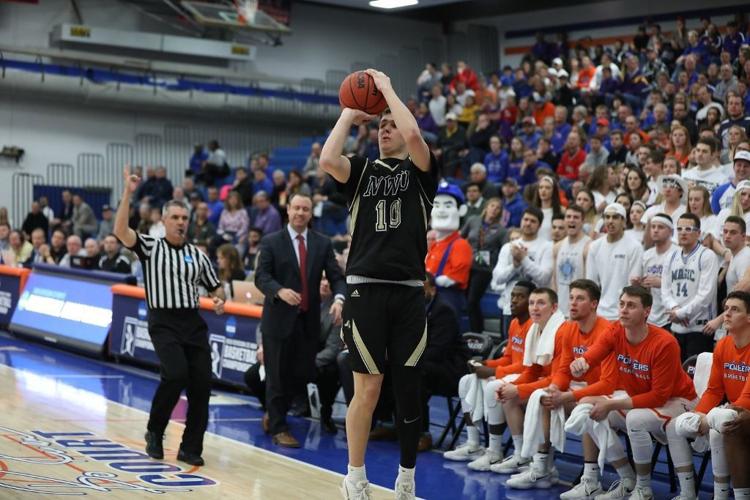 Nate Schimonitz, Omaha Creighton Prep, Nebraska Wesleyan (2016): Schimonitz helped lead the Prairie Wolves to the school's first NCAA Division III national championship. Schimonitz finished with 15 points and six assists in the championship win over Wisconsin-Oshkosh. The sophomore made the game-winning shot and scored 27 points in the Elite Eight win against Wisconsin-Platteville. Schimonitz averaged 17.0 points and 5.2 assists per game, while shooting 50.5 percent from the field.
Caleal Walker, Omaha South, Colby Community College (2016): Walker started 25 games for the Trojans during the 2016-17 season, averaging almost 12 points and four rebounds per game. Walker wasn't listed on Colby's roster for the 2017-18 season.
Ryan Williams, Fremont, Midland (2016): Williams averaged 17.2 points and 6.8 rebounds per game as a sophomore and shot 49.7 percent from 3-point range.
Adam Dykman, Fremont Bergan, Augustana (2015): After two seasons at South Dakota State, Dykman transferred to Division II Augustana, where he started all 30 games this past season, averaging 10.9 points and 5.7 rebounds per game.
Tyler Hagedorn, Norfolk, South Dakota (2015): Hagedorn entered the starting lineup this past season with starts in all 34 of USD's games. He led the Coyotes with 28 blocks and ranked second in scoring (13.0 points per game) and rebounding (5.9).
Malik Hluchoweckyj, Bellevue West, Emporia State (2014, 2015): The Bowling Green transfer played in all 28 games for Emporia State last season with nine starts. He averaged 5.4 points, 2.0 rebounds and 1.3 assists per game.
Drew Homa, Omaha Creighton Prep (2015): Homa is not playing collegiate basketball.
Justin Patton, Omaha North, Minnesota Timberwolves (2015): The 2017 Big East freshman of the year became Creighton's fourth first-round NBA draft pick when he was selected 16th overall. He spent most of his first professional season in the G League, averaging 12.7 points, 5.4 rebounds and 1.4 blocks in 38 games for the Iowa Wolves. Patton was called up to Minnesota's active roster in late March for the rest of the season.
Mitchell Hahn, Fremont, UNO (2014): Hahn battled injuries during his junior season, appearing in just 15 games, but he had a team-high 7.1 rebounds per game and ranked second in scoring (11.7). Hahn made the Summit League all-newcomer team in 2017, his first on the court for UNO after transferring from Holy Cross.
Kevin Metoyer, Omaha Westside, Benedictine (2014): After stops at Northeast Community College and Division II Regis University, Metoyer landed at NAIA Benedictine College for his senior season, posting a team-high 13.3 points and 4.6 assists per game.
Khyri Thomas, Omaha Benson, Creighton (2014): Thomas was second-team all-conference this season, averaging 15.1 points per game and shooting 53.8 percent from the floor. He was also named the Big East's defensive player of the year. Thomas submitted paperwork to the NBA undergraduate draft advisory committee in March.
Tre'Shawn Thurman, Omaha Central, Nevada (2014): Thurman had to sit out this past season after transferring to Nevada from UNO, where he scored 1,164 points and recorded 624 rebounds in three seasons as a Maverick.
Akoy Agau, Omaha Central, SMU (2011, 2012, 2013): After playing at Louisville and Georgetown, Agau transferred to SMU for his senior season. Agau helped lead the Mustangs to a 17-16 record, while averaging 5.0 points and 3.6 rebounds in 16.1 minutes per game.
Brett Dougherty, Papillion-La Vista, Northwest Missouri State (2013): Dougherty led the Bearcats to a 27-4 record in his senior season. He averaged 10.2 points, 3.4 rebounds and shot 62.1 percent from the field. Northwest Missouri State's season ended in the first round of the NCAA Central Region tournament.
Tra-Deon Hollins, Omaha Central, Fort Wayne Mad Ants (2013): The 21st overall pick in the G League draft, Hollins helped lead Fort Wayne to the playoffs in his first professional season. He's played in 41 games with eight starts, averaging 3.9 points, 4.7 assists, 2.4 rebounds and 2.2 steals in 17.6 minutes per game.
Connor Lusso, Millard West, Truman State (2013): Lusso played in 29 games as a junior for the Bulldogs, averaging 2.3 points and 2.2 rebounds. Truman State finished 20-11, losing in the NCAA Division II Midwest Regional quarterfinals.
Cam Williams, Omaha South, Metropolitan State University of Denver (2013): With stops at Eastern Kentucky and North Platte Community College, Williams spent his senior year at Division II Metro State. There he had a team-high 21.5 points and 48 steals, earning first-team all-conference honors.
GIRLS
Chloe Dworak, Lincoln Christian, Creighton walk-on commit (2017): Dworak helped lead the Crusaders to the semifinals of the state tournament this year, averaging 17.1 points, 4.4 assists and 2.4 steals per game. As a junior, Dworak led Lincoln Christian to the Class C-1 state title to cap a 26-1 season.
McKenna Minter, Lincoln Northeast (2017): Minter was a first-team All-Nebraska selection as a freshman after helping Northeast reach the state tournament with an average of 17.5 points per game. Minter's sophomore season ended because of a torn ACL. 
McKenna Sims, South Sioux City (2017): Sims averaged almost 17 points per game as a junior, helping lead South Sioux City to its second straight state championship game this year. She had 19 points, seven rebounds, six steals and five assists in the loss to Elkhorn. Sims holds Division I scholarship offers from UNO, North Dakota and North Dakota State.
Quinn Weidemann, Omaha Westside, Wyoming signee (2016, 2017): The recently-crowned Gatorade player of the year averaged 20 points per game this past season and finished her career with a school-record 1,891 points. She helped lead the Warriors to 28 wins and a state title as a senior.
Jaden Wrightsell, Omaha Northwest, Tennessee State (2017): Wrightsell started 14 games as a true freshman, averaging 4.9 points and 4.8 rebounds per game. She recorded her first career double-double with 13 points and 10 rebounds against Southeast Missouri on Dec. 30.
Chloe Akin-Otiko, Bellevue West, Kansas track (2016): Akin-Otiko runs the 400 meters and is a member of the Jayhawks' 4x400 relay team. KU finished fifth at last year's Big 12 outdoor meet.
Grace Barry, Lincoln East, UNK (2016): Barry has spent her first two seasons as a reserve point guard for the Lopers, with career averages of 3.2 points, 2.0 assists and 1.8 rebounds per game.
Rylie Cascio Jensen, Fremont, South Dakota State (2016): Cascio Jensen transferred to SDSU after one season at Nebraska. She played in all 33 games as a reserve guard for the Jackrabbits last season, averaging 4.0 points, 2.0 rebounds and 1.9 assists in 15.4 minutes per game.
Skyler Snider, Kearney, Daytona State (2016): After playing in 22 games as a true freshman at Seton Hall, Snider opted to transfer to Daytona State, a junior college in Florida.
Jaycee Bradley, Norfolk, South Dakota (2015): Bradley has started 64 of USD's 68 games over the last two years and helped the Coyotes reach the NIT quarterfinals this past season. She ranked third on the team with 10.5 points per game while also averaging 3.2 rebounds and 2.0 assists. As a sophomore she ranked fourth in USD history with 86 made 3-pointers in a single season. She has made 43 percent of her 3-pointers during her career.
Jay Bridgeman, Omaha Westside, UNO (2015): After appearing in 30 games as a redshirt freshman, Bridgeman played in 12 and started two this past season. She has averaged 4.5 points and 2.8 rebounds during her UNO career.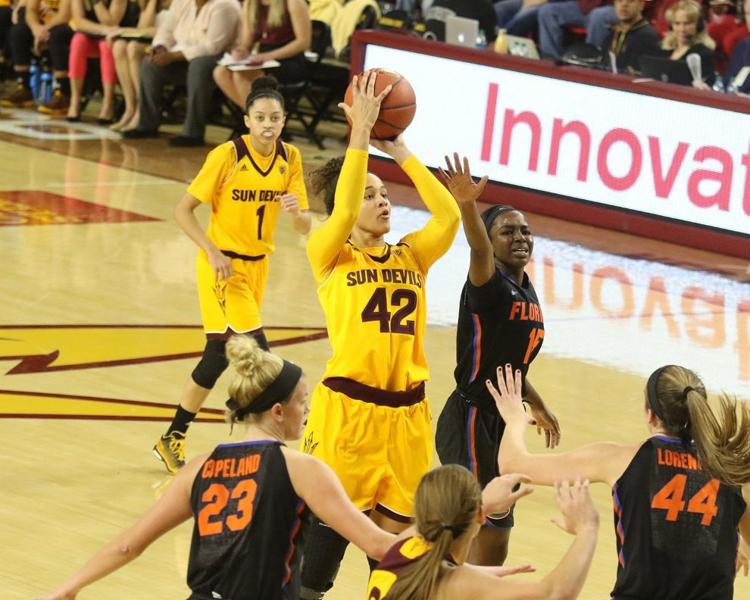 Kianna Ibis, Omaha Benson, Arizona State (2013, 2014, 2015): Ibis entered the starting lineup this past season and earned first-team All-Pac 12 recognition. She helped lead the Sun Devils to the second round of the NCAA tournament, averaging a team-high 12.9 points per game with 5.1 rebounds.
Jessica Shepard, Lincoln Southeast/Fremont, Notre Dame (2013, 2014, 2015): After two roller-coaster seasons at Nebraska, Shepard landed at Notre Dame, where she helped the Irish reach this year's Final Four. Shepard earned first-team All-ACC recognition, led the team in rebounding (8.1 per game) and ranked second in scoring (15.6). Her 56.1 percent field-goal shooting topped the ACC.
Maddie Simon, Lincoln Pius X, Nebraska (2014, 2015): Simon's junior year was her most productive as a Husker, helping lead NU to the NCAA tournament. She started 27 games and ranked second on the team in scoring (10.1 points per game) and rebounding (5.3).
McKenzie Brown, Grand Island Northwest, UNK (2013, 2014): Brown started 109 of 111 games during her four-year career with the Lopers. She holds the school record for career 3-pointers (249), and her 1,350 career points rank 12th in school history. She averaged 12.2 points, 4.1 rebounds and 1.2 assists per game during her career.
Chatrice White, Shelby-Rising City, Florida State (2014): White was the ACC sixth player of the year in 2017 — her first season at Florida State after transferring from Illinois — then entered the starting lineup during her senior year. She started 31 of FSU's 33 games this season, helping the Seminoles reach the second round of the NCAA tournament. She averaged 9.0 points and a team-high 7.7 rebounds per game.
Alexa Kastanek, Lincoln Southeast, Iowa (2013): Kastanek played in 133 career games with 23 starts during her four-year Iowa career, which ended after the 2016-17 season. She had career averages of 4.6 points, 1.5 assists and 1.5 rebounds.
Lauren Works, Lincoln Southwest, Creighton (2013): Works played in 129 games with 29 starts during her four-year Creighton career, which ended after the 2016-17 season. She had career averages of 5.7 points, 2.5 rebounds and 1.3 assists.