At 100 years old, a vacant Omaha building that once was the state's biggest Buick dealership is about to get a makeover that should help recharge a static downtown corner.
Future guests at 1901 Howard St. will be different from the curious car-hunting crowds of yesteryear, though.
After a proposed $14 million rehabilitation, the property is expected to attract lawyers and courthouse frequenters who would lease pieces of office space on two of the four floors.
Others at the nearly 50,000-square-foot building would be professionals working for the sole business tenant on the top floor. Yet others could be diners seeking a trendy meal at a future ground-floor restaurant and coffee shop.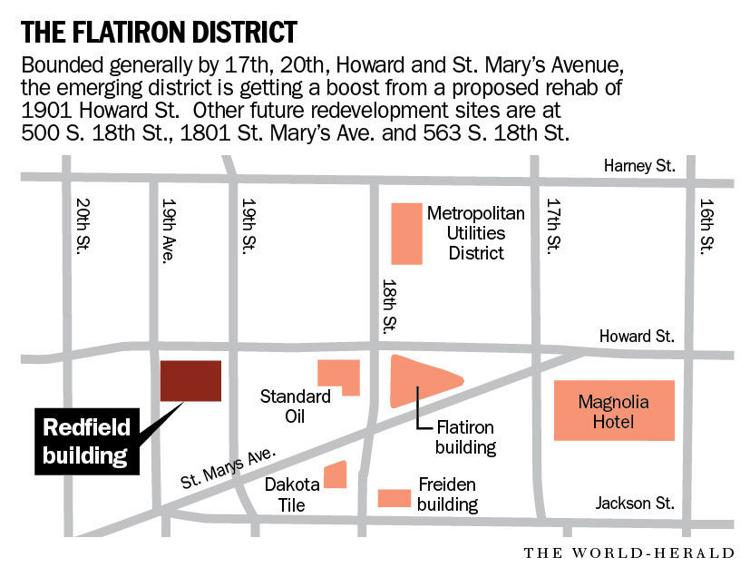 Indeed, if all goes as proposed, the Redfield & Co. structure now under new ownership would become a bustling work and restaurant site anchoring the western edge of an emerging Flatiron District.
The revived Redfield (so named after the printing business that used to operate there) also would bring more historic flair to that redeveloping section of downtown. The building is in line for national historic status based on its contribution to Omaha's automobile industry.
New owners aim to restore original features including huge glass windows, tulip-shaped pillars, decorative showroom tile and exterior Terra cotta.
A huge freight elevator that at one time reportedly was the only one of its kind west of Chicago can't legally transport people, but architects plan to turn its shaft into cool conference spaces.
"For a lot of reasons, this building stood out — the architectural style, the views, the location," said Neeraj Agarwal, one of the new owners and developer of the project.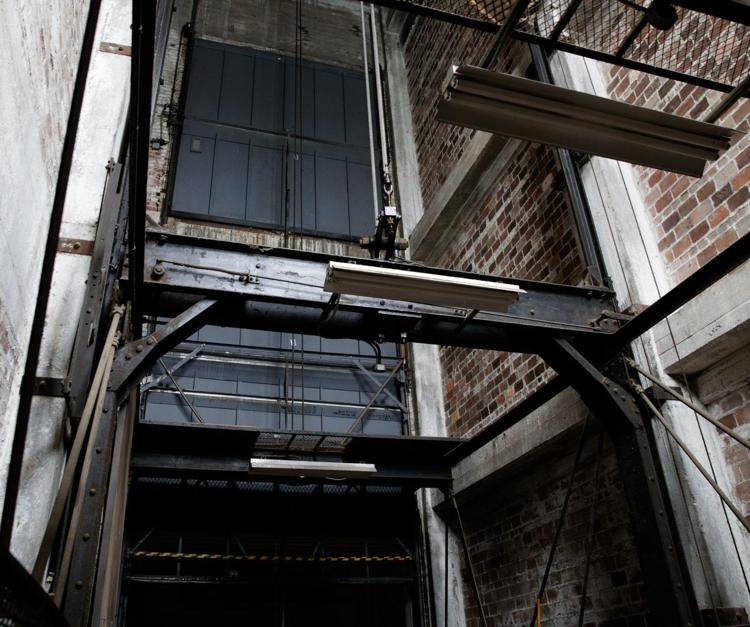 Among the lures, he said, are other real estate projects envisioned for the area, one of the oldest sections of town that includes the iconic triangular Flatiron building.
At 18th and Jackson Streets, for instance, the century-old Freiden property is undergoing a $2.38 million conversion into micro apartments and ground-floor retailers. The tiny housing is to open this summer.
A Flatiron District development group led by Royce Maynard of Dicon Corp. also has purchased a half-dozen other properties around 18th Street and St. Mary's Avenue. Plans still are in the making, but the group envisions apartments, shops and restaurants in still-to-be-rehabbed old buildings or in new buildings yet to be built on parking lots.
Maynard's interest in the area intensified about five years ago when his company rehabilitated the Flatiron building at 1722 St. Mary's Ave., where the Flatiron Cafe has operated for nearly 25 years.
Another neighborhood game-changer occurred just last week when the Omaha City Council's vote pushed forward the controversial Douglas County courthouse annex and juvenile justice center to be built nearby at 18th and Harney Streets.
Some area merchants have expressed worry that a youth jail would stymie commercial and housing development and deter shoppers. But Agarwal sees that $114 million juvenile justice project as a big plus for the Redfield rehab project and overall area.
As planned, the county is to erect an eight-story tower and renovate the current Metropolitan Utilities District headquarters into space for juvenile courts and related services, attorneys and juvenile probation. A four-story juvenile detention center would connect to the courthouse.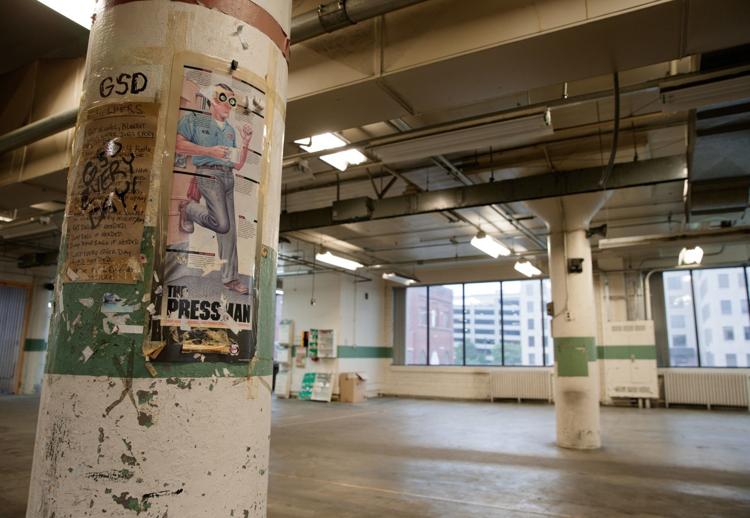 "Any new investment in the area is good," said Agarwal, who also is a partner in Clarity development. He said Clarity will lead the Redfield redevelopment and seek approval from the city for up to $2 million in tax increment financing.
An adjacent building (435 S. 20th St.) that came with the $2.55 million Redfield purchase is to become an 80-stall parking structure for tenants.
Others involved in the project include Omaha-based AO architects Randall Palandri, Joseph Saniuk and Nicole Malone and the Historic Resources Group's Melissa Gengler.
Members of the development team took The World-Herald on a tour of the facility that, according to Gengler, was surrounded in its heyday by a Hudson dealer, hotels, a public library and county courthouse.
In addition to the Nebraska Buick Auto Co. and Redfield printing, 1901 Howard at various times during the past century also housed businesses related to vacuum cleaners, radios and air conditioners and was even a temporary home to Western Electric Co. It essentially has been vacant since Redfield moved west in 2016.
Over the years, dropped ceilings, carpet, walls and energy-saving efforts altered nostalgic elements the redevelopment team now hopes to restore when possible.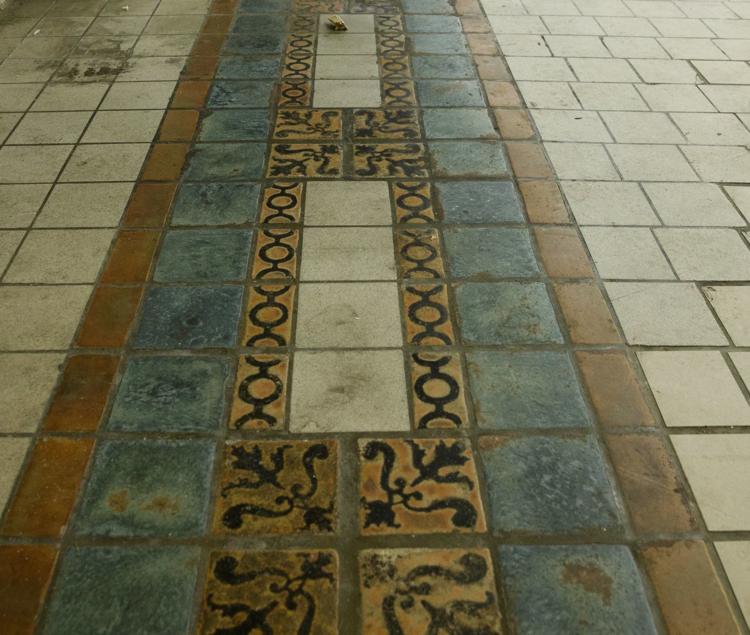 On the first floor — which early on served as the main Buick showroom — developers plan to clean and expose original decorative floor and wall tile. They plan to lease the entrance space to a coffee shop/cafe. A glass wall would separate that from a larger restaurant.
Both the second and third floors — where trucks, tractors and auto parts once were displayed — would become various sizes of offices managed by the ownership group.
Under their concept, solo practitioners or small firms would rent desks or offices on a daily or annual basis, and get certain communal perks such as use of a conference room. Agarwal said target tenants are attorneys who need quick access to the courthouse.
The top floor — where vehicles were repaired and painted — is to become home to a single law firm, financial services or other business, Agarwal said. As of now, no tenants have been secured, he said.
Palandri of AO said his firm explored, but deemed unfeasible, the possibility of housing at the structure. Besides, Agarwal said, there would be plenty of housing in future phases of the Flatiron District.
Agarwal said the Redfield ownership group is in discussion with Maynard about possible involvement in other segments of the broader district plan.
If all goes as planned, Agarwal said the revamped Redfield would open in late 2020.
Palandri said it's not often a developer finds a historic building as solid as the Redfield, and his firm is excited for the restoration. "It's very well put together, just needs a little life breathed into it."
Sign up for our Money headlines newsletter
Get the latest development, jobs and retail news, delivered straight to your inbox every day.