American National Bank is starting construction of a permanent office on Saddle Creek Road after nearly a quarter-century of patience in a location of competing interests.
The building, to open next year with the bank and new-to-Omaha retail boutiques, also signals the apparent death of a one-time proposal to redirect the four-lane arterial street to the west and create a grassy, flood-preventing valley that would link the University of Nebraska Medical Center campus to an expanse of land for future growth.
Moving Saddle Creek is "improbable," said Ken Hansen, UNMC's associate vice chancellor for facilities, "unless somebody comes along with about $40 million. We looked at the pie-in-the-sky dreams of maybe relocating it. The cost has been prohibitive to do that."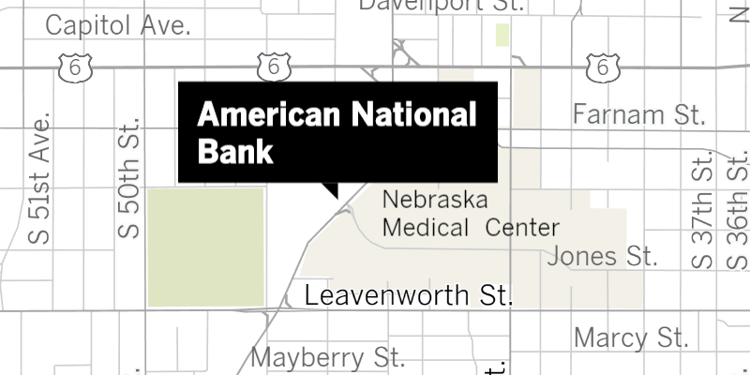 In the next year or two, he said, UNMC may revisit its plans for using the land it owns west of Saddle Creek and south of Dodge Street. Possible changes include turning Saddle Creek — which covers a real creek — into a divided boulevard with improvements that would control water runoff.
"I think as we're looking forward, it's really looking at the infrastructure to see what you can do cost-effectively to assist in some of the flooding that has occurred, and traffic," Hansen said. "We want to work hand in hand with the city on doing any of that. We are just not at a point to move forward quickly on it."
This week American National broke ground on a 10,000-square-foot building at 520 S. Saddle Creek Road, straight west of the UNMC campus. Paul Beller, vice president for MCL Construction, said the building could be completed by September 2019.
The bank bought the property in 1995, parked two trailers there and staffed them as a branch office in anticipation of a permanent building, said John Kotouc, executive co-chairman of the bank.
But with UNMC's interest in expanding its campus to the west, across Saddle Creek, the bank's building plans went on hold, even after winning City Planning Board approval in 2013. "There's a lot of competing interests here," Kotouc said.
UNMC bought property adjacent to the bank's lot, including the former Omaha Steel Castings plant next door. Removal of the steel plant's structures and environmental cleanup is nearing completion, Hansen said.
Discussions continued with the City of Omaha, which controls street right of way and urban planning.
Sign up for World-Herald news alerts
Be the first to know when news happens. Get the latest breaking headlines sent straight to your inbox.
The economy hit a recession and then rebounded. On the east side of its campus, UNMC built the Stanley M. Truhlsen Eye Institute, the Center for Drug Discovery and Lozier Center for Pharmacy Sciences and Education, the Lauritzen Outpatient Center, the Fritch Surgery Center and the Fred & Pamela Buffett Cancer Center. The Davis Global Center for Advanced Interprofessional Learning will open next July.
The bank trailers remained while officials from the bank and UNMC talked, eventually reaching agreements. The bank operation moved to another temporary location at 45th and Leavenworth Streets while the Saddle Creek lot was cleared for the start of construction.
Hansen said American National's officers were "very good to work with," patient with the twists and turns of planning for the area and placing the new bank building far enough away from Saddle Creek in case the street is widened.
"They worked with us to make sure they designed it so it all fits in, if and when any of that happens," Hansen said.
John Sova, president of RDG Planning & Design, said the brick-and-masonry construction meets UNMC's wish for a design that is compatible with buildings elsewhere in the area, such as the Blackstone District at 40th and Farnam Streets.
The Metro Credit Union office just to the north at 415 S. Saddle Creek Road serves thousands of members connected to UNMC, said Mike McDermott, president and CEO. Employees of the medical center and Clarkson Hospital were the credit union's founding members and still make up its core membership.
"We could easily end up moving," McDermott said. "But we are going to have a presence in the area. Right now we're very convenient, and we've got to maintain that. We want to do whatever we need to help the medical center expand."
Among the possible changes, subject to planning and city approval: Emile Street, which cuts across the UNMC campus from the east and dead-ends at Saddle Creek, would be extended to the west and north, connecting to 46th Street, which dead-ends at Farnam Street.
Hansen said UNMC has talked with a potential developer about the land, but nothing is firm.
"At present, we've decided to hold off on that a little bit, just strictly because of the challenges we've had with the University of Nebraska budget," Hansen said, plus the work taking place elsewhere on the campus.
On the property today, UNMC's hospital partner, the Nebraska Medical Center, and the VA Medical Center, about a mile and a half away, are sharing a parking area just north of the bank site. The VA hospital is building a new medical facility and shuttling staff members back and forth.
Hansen said UNMC doesn't have immediate needs for the property. Any project also would depend on where UNMC stands on other projects and on budget challenges, he said.
"On the positive side, I think we're at a point where we can really start looking at what we can do," he said. "What that is, we don't know."
Check out 42 stories that built, defined and characterized Nebraska
The World-Herald has gone back through the archives and uncovered stories that define not only the Omaha area, but the entire State of Nebraska.