Editor's note: This story was originally published on Nov. 23
COUNCIL BLUFFS — The ghost of Geoffrey the giraffe still haunts the parking lots of Oak View Mall in west Omaha, Best Buy near Crossroads, Petsmart in north Lincoln and the Walmart Supercenter at Lake Manawa.
Bluffs Walmart shopper Krystle Fredrickson, 33, is one of many who drive past the shells of former Toys R Us stores on their way to buy toys at one of the merchants filling the retailer's void.
To her and many buying gifts for children this year, a long-necked piece feels like it's missing from the first Christmas shopping season in decades without the toy store that became an important stop for families.
Fredrickson, of Glenwood, Iowa, said her family visited Toys R Us most years to figure out what her daughter, 9, and son, 5, wanted for Christmas. They made lists, she said, then often bought the toys at Walmart or Target.
"The prices are hard to beat," she said Tuesday in the Walmart toy aisle, barely a football field from a former Toys R Us. She watched as her son Logan fingered small surprise packs of toys to guess what was inside.
New Jersey-based Toys R Us, in its last full year of operation, 2017, represented about 14 percent of the $20.7 billion annual U.S. toy market, said Steve Pasierb, president and CEO of the Toy Association, a national trade group.
More retailers than you'd think are fighting for parts of Geoffrey's pie, he said. Walmart added more toys to its shelves, the company confirmed. Target added more toy aisles. Kohl's, J.C. Penney and Michael's boosted selections.
Local stores as diverse as Nebraska Furniture Mart, Party City, Costco, Sam's Club and Hy-Vee now offer toys in new places, and smaller, specialized local toy stores, including Omaha's Fat Brain Toys, are stepping into the breach.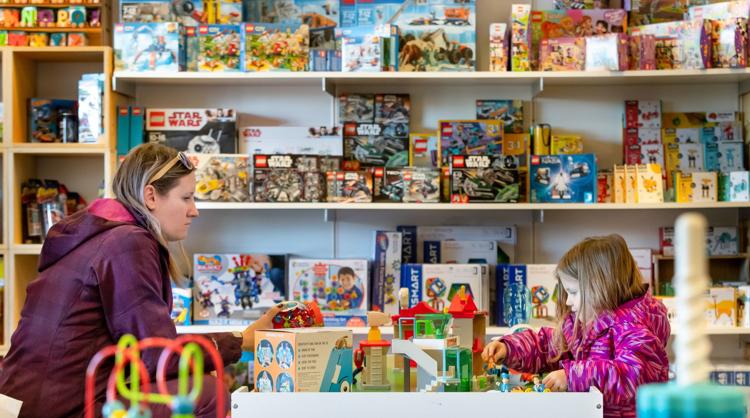 The Furniture Mart this year added six to eight aisles of toys to its electronics store, in part to pursue some of Toys R Us' business, but also to give customers one place to get more of their gifts, said Scott Baker, the store's director.
Online retailer Amazon is taking a retro approach to addressing kids' wants, producing a 70-page toy catalog this year that reminds parents and grandparents of the former doorstops from Sears and J.C. Penney.
It's no mystery why so many companies are competing for the toy business, Creighton University economist Ernie Goss said: Parents and grandparents, aunts and uncles are still buying toys, and they'll buy them somewhere.
Marketing, retail and economic experts from Creighton, the University of Nebraska at Omaha and the University of Nebraska-Lincoln explained how toy customers' retail shopping habits and tastes are changing.
Younger parents appear to be buying fewer toys, they said, spending more on experiences, including restaurant meals and vacations. But the toy market remains robust, they said, hardly slowed by tariffs on some Chinese goods.
A lot of Toys R Us business is headed to big box stores and specialty stores, said Rob Simon, associate professor of practice in marketing at UNL. And much is headed online, said Yanhui Zhao, an assistant marketing professor at UNO.
Westroads Mall shopper Shawnie Maloney, 35, of Omaha, said she bought a lot of toys at Toys R Us over the years. She now splits her spending among J.C. Penney, Walmart, Kohl's and Gordman's, she said, based on the best deals.
She and many shoppers The World-Herald interviewed this week said they plan to buy a larger portion of toys online this year, whether through the website of a local business, a big box store or another online retailer.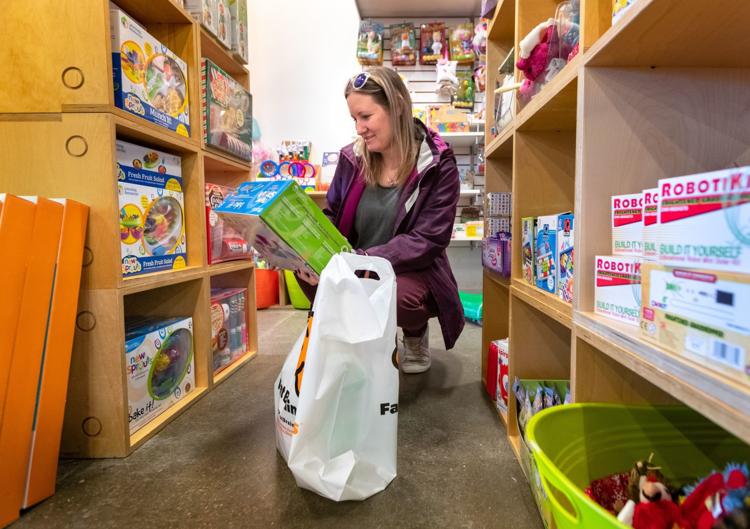 Fellow Westroads shopper Tara Hladky, 40, of Omaha, said online shopping is just easier than trying to go to several stores with her kids, ages 3 and 18 months. They're fine with whatever adults pick out for them, she said.
Maloney said she started online shopping last year and liked it. She said she will do more as her kids, ages 4, 10 and 16, age out of toys. For now, she said, her youngest still wants to see and touch the toys on their wish lists.
That preference dovetails the research of deals website RetailMeNot, which found in a survey that nearly 9 out of 10 Americans shopping for toys this season still plan to do so in stores, as USA Today reported.
More broadly, the number of Thanksgiving weekend shoppers should roughly match last year's results, with more than 164 million customers, the National Retail Federation predicts. Holiday shoppers will spend an average of $420 between Thanksgiving and Cyber Monday, Deloitte predicts. And single-day sales on Cyber Monday could surpass Black Friday's tally, the firm found.
In Omaha on Wednesday, more than 20 people were browsing Fat Brain's Village Pointe store, driven, in part, by a November-only deal offering grandparents 15 percent off of toy purchases on Wednesdays.
The need to experience toys to know if they're worth buying still sends Oak View Mall shopper Steve Dietz, 47, of Omaha, to toy stores, including the seasonal Go! Calendars, Games & Toys store in the mall, he said.
It's "a little odd" to start a holiday season without Toys R Us, the father of a 3-year-old girl said as she played on padded playground equipment in the mall. She just had a birthday, he said, so it's hard to tell what she'll want.
Only that her parents are likely to end up buying something at a toy store, he said, perhaps at the mall, and perhaps at an educational toy store out near Lakeside, the Lakeshore Learning Store.
Fellow Oak View shopper Kelli Belt, 38, of Omaha, said she'll leave the toys to grandma and grandpa, focusing her limited budget on making sure her 3-year-old boy has clothes that fit.
Those relatives used to shop at Toys R Us, she said. Now, she said, "they'll be hunting for anything that lights up," probably at a store they were already planning to visit.
Fat Brain shopper Kaitlin DeSoe, 31, stopped by the store as she often does with her daughter Charlotte, 3. Mom shopped while Charlotte played with a kitchen playset and plastic food, then moved onto some tinker toys.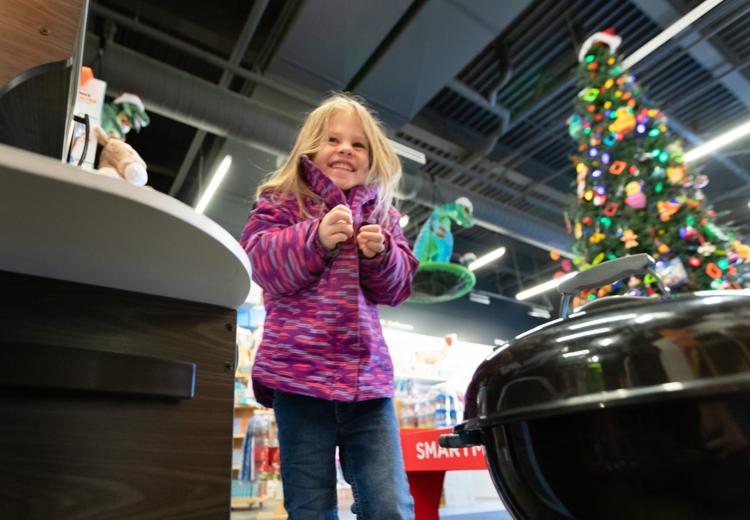 DeSoe, of Omaha, said she used to do a lot of shopping at Toys R Us for her family and for the Toys for Tots program. Now, she spends more on local stores like Fat Brain and a little more at Target, she said.
She loves the variety that the store offers, from educational toys to kitchen lookalikes, and she said she appreciates the time toy store staffers take to ask about ages and interests and help steer her to the right toy.
Asked what she likes about visiting toy stores, Charlotte, a young woman of few words, said plenty before darting off: "I like everything."