Born in Nebraska 73 years ago, Valmont Industries has since expanded to 87 sites on six continents and does business in 100 nations.
But the Omaha-based company's latest planned venture will move its headquarters essentially just across West Dodge Road.
You'll recognize the soon-to-be-constructed global base in the new Heartwood Preserve by the 23 flags out front representing countries where Valmont has facilities.
You'll also find parts of the actual headquarters to be Valmont-made — reflecting a product lineup far more wide ranging than the farm irrigation equipment upon which the company was built.
Sign up for our Money headlines newsletter
Get the latest development, jobs and retail news, delivered straight to your inbox every day.
Take the poles flying those flags. They, along with decorative wooden poles dotting the property, will be produced by Valmont. (The company also makes poles for traffic signals, stadium lights, overhead highway signs, cellphone structures and more.)
That artful perforated metal that will cover some exterior walls also is a Valmont brand. The architectural screen's primary purpose is shade but can be cut into designs.
And those earthy green roofs sprouting native plant life? They're an extension of the company's mission to conserve water, says President and Chief Executive Stephen Kaniewski.
"It wasn't because sustainability became cool that we're doing that," Kaniewski said, noting Valmont's longtime motto: Conserving Resources; Improving Life.
"We want the building to be very representative of conserving resources and improving the life of, in this case, our employees."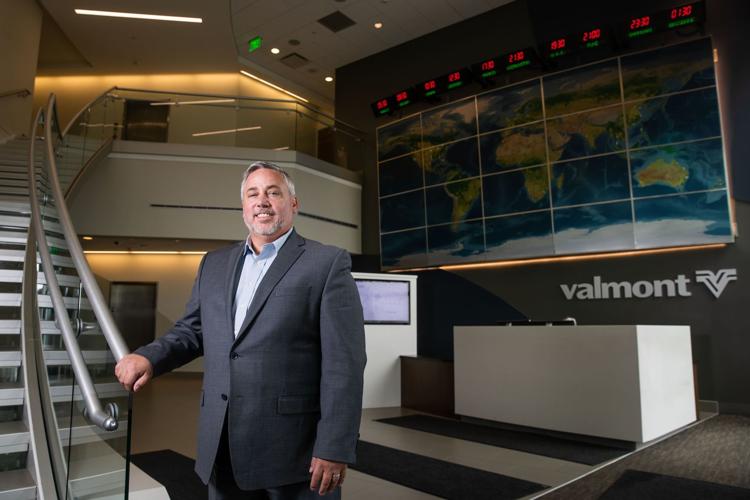 Armed with a fresh CEO (Kaniewski is just the fourth in company history) and more innovations in the pipeline, Valmont is set to begin its next chapter on a 6-acre piece of the Heartwood redevelopment, which some foresee as the new downtown of west Omaha.
Site preparation for the three-story structure is to begin immediately, said Jay Noddle of Noddle Cos., which will own and lease the building 25 years to Valmont. Opening is projected for early 2021.
Noddle estimated the development cost of the H-shaped Valmont project to be $50 million. Valmont declined to say what it might invest inside.
Buoyed by a diverse brand with staying power, Kaniewski said his company is on course this year to reach $3 billion in sales. That's down from $3.3 billion in 2013 but up from last year's $2.76 billion and $1.9 billion a decade before that.
Further growth projections of between 5% and 10% annually in revenue and a desire to centralize its leadership team led Valmont executives to seek more space than the company has at the First National Business Park structure it's rented for two decades near 140th Street and West Dodge Road. The lease there expires in 2021, and the multi-tenant property offered no viable expansion option.
The planned headquarters, just a quick drive away south of 150th and West Dodge, is about 50 percent larger and will be occupied by 450 to 500 employees, Kaniewski said. That's up from the 110 currently at the corporate offices.
Valmont wanted to keep its brain center in Omaha and near its current address, which is accessible to more employees than downtown, Kaniewski said.
"Our desire has always been to stay in the Omaha community," he said. "Our roots here run very deep."
Statewide, the company employs 2,200 in seven communities, which is about 20% of the overall workforce.
The current count of about 10,300 employees is a 40% jump from a decade earlier.
Kaniewski expects to add "a couple hundred" more corporate and administrative workers over the next five years. He said that's in addition to any new production hires.
Today's Valmont has come a long way from the farm machine shop in Valley, Nebraska, that founder Robert B. Daugherty bought in 1946 with his $5,000 life savings.
A few years after that investment, Daugherty purchased licensing rights from inventor Frank Zybach to manufacture center pivot irrigation equipment. As Valmont puts it in company literature, the center pivot "revolutionized" agriculture.
Valmont eventually branched out from irrigation. Here's how Kaniewski describes the evolution:
"You make a tube for pipe, and eventually someone says, 'Well, if I just stood it up and bent it a little, that's a light pole.' "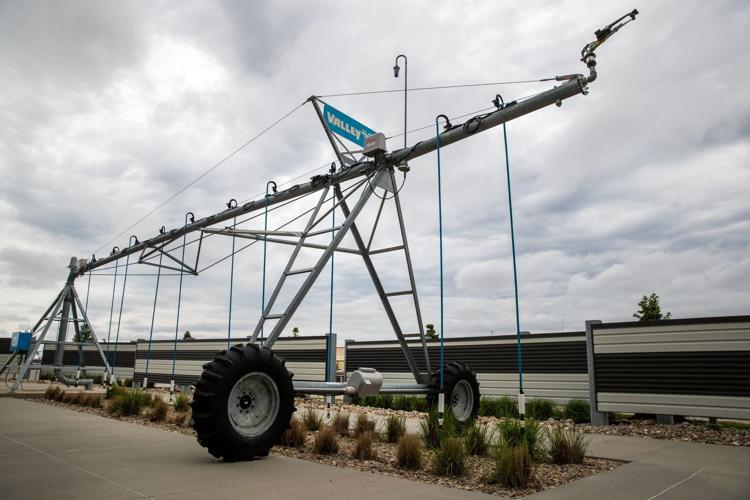 From the pole morphed a cellphone tower and utility structures. "All of that needs to be galvanized," and one local facility grew to 37 worldwide.
Kaniewski said Valmont products fit together because they were built upon core capabilities. "And the nice thing is, we're in agriculture and infrastructure — two things that people will always need."
The company touches countless people in ways they likely aren't even aware. In addition to its poles that bring power and light and irrigation systems that help feed communities, Valmont's cellphone structures help connect people and its coating services prolong use of bridges and other infrastructure.
Valmont has grown lately by adding products and expanding into international markets. Just last year, it bought a camouflage company that disguises cellular towers as, say, a pine tree or cacti.
It acquired an outfit that helps solar panels collect energy better. More recently, Valmont has partnered with an Israeli firm to bring artificial intelligence to center pivot irrigation.
"It will be a giant field robot," Kaniewski said of the autonomous tool that would treat and manage crops.
Kaniewski, who took the helm in 2018, said he's stepped on the pedal with eight acquisitions in just over a year. He said his team pushed through "a lot of noise" in the business world last year: tariffs, strikes in Brazil, rising steel prices and tax reform. And local flooding inundated the Valley plant this spring.
"The fact we could get this place up in a week, after an unprecedented flood ... is a testament to how good our teams are," he said.
Valmont's variety of career paths and international reach have helped retain talent, Kaniewski said. "Not too many businesses in town can say, 'Oh, by the way, I have to go to Sudan tomorrow to visit a farm and next week I'll be in Kazakhstan and the next week I'll be in South Africa.' "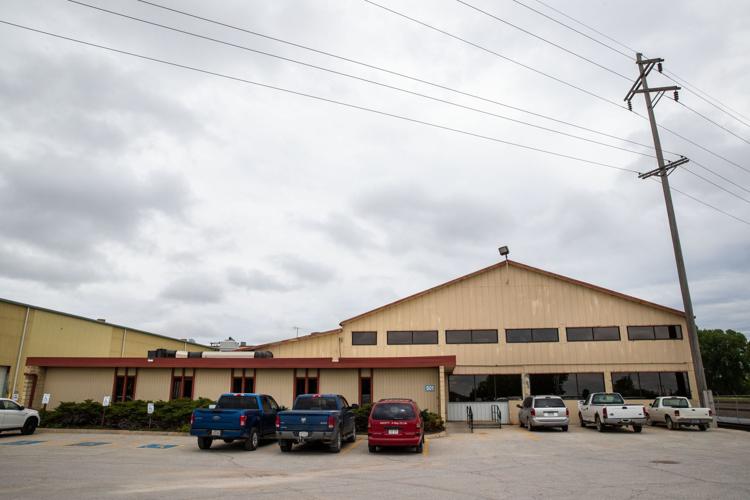 He expects the new corporate offices to boost recruitment. Employees will have access to the mix of stores, restaurants, residential options, trails, ponds and entertainment venues planned for the broader 500-acre Heartwood Preserve, formerly called the West Farm (near Boys Town).
Other businesses also have started or announced new buildings in the development. Among them is Omaha-based Carson Group's six-story glass facility and Applied Underwriters, which will anchor the south end of Heartwood Preserve.
Others working on the Valmont project include Kiewit, HDR, Lamp Rynearson, Holland Basham Architects and CBRE/Mega, all local.
In addition to its new headquarters lease, Valmont plans to invest in renovations at area facilities, including the Valley campus where it was born.
Kaniewski expects the Heartwood Preserve headquarters to be a showcase stop for government dignitaries and worldwide delegations the company frequently hosts.
"We want them to see that if you're working with us, you're working with a solid, international, well-represented company that happens to be based in Omaha."