Construction crews have arrived. Dirt is flying. Ground preparation is well underway for the new global headquarters of Kiewit Corp. — even before all key property owners have cleared the path for progress.
Some buildings on and around the land claimed for the Fortune 500 company's north downtown Omaha base have already been demolished. A man still living next to one when it fell said the trembling was such that pictures on his wall crashed to the ground.
Indeed, developers of the newly designated Builder's District that will ultimately stretch a dozen city blocks and feature Kiewit as an anchor are busy carving out their footprint. And the revival expected to bring more than $300 million in investment is ramping up at a pace stunning some longtime residents and merchants.
Many interviewed for this story are stoked; others aren't so thrilled about the future. Some whose land is critical to the redevelopment effort remain planted without an agreement on a price for their property — a predicament that could trigger the city's power of eminent domain to force them out.
Brothers John and Bob Pascarella, who run the Happy Bar on the corner of 16th and California Streets, are among those balking at relocating. Their family founded the business in 1953.
The cash-only tavern they call an old-school neighborhood watering hole was their grandfather's baby before he handed it over to their dad, who, in turn, groomed his boys. The Pascarellas also own an attached old hotel that they rent out to apartment-dwellers, a few of whom have lived there for years and call the Happy Bar crew their family.
"We were here when no one else wanted to be, and now that things are changing, we're just a little fish," Bob Pascarella said. "We don't want to be bought out."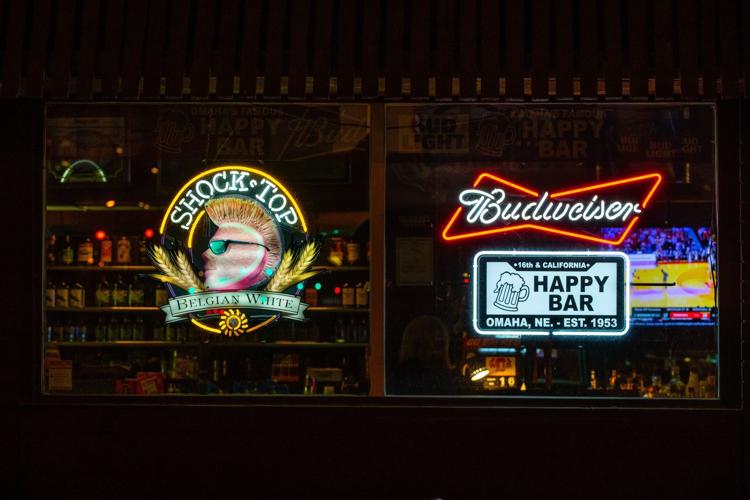 Ready or not, city officials have given the green light to spend up to $20 million in public funds to acquire properties needed to pull off a vision highlighted by Kiewit's roughly 200,000-square-foot headquarters, which will house up to 650 workers.
The construction giant recently erected a separate training facility across the street from the proposed headquarters. Next to that training center is the new Cambria Hotel and the relatively new 1415 @ The Yard apartment complex.
Overall, the loosely L-shaped Builder's District boundaries contain parts of downtown from 14th to 22nd Streets and from Cuming to Cass Streets. Within that area, partners foresee several additional new office, retail and apartment structures rising over the next decade or so.
As early as this year, Noddle Cos. plans to start construction of a five-story office building, to be leased to multiple tenants, across Mike Fahey Street from the proposed Kiewit headquarters.
That Noddle project is on the block bounded by 15th, 16th, Mike Fahey and California Streets, currently occupied by a Sol's Jewelry and Loan warehouse, a First National Bank parking lot and the Pascarellas' Happy Bar. Jay Noddle, whose company is also the master developer of the district, calls the clearing of that block essential to the area's transformation.
Noddle said some smaller properties on the fringe of the district, such as the C.W. Boxing Club and Pettit's Pastry , are not as central and therefore aren't, for now, subjects of ongoing buyout negotiations.
Sign up for our Money headlines newsletter
Get the latest development, jobs and retail news, delivered straight to your inbox every day.
Partners in the effort to create the Builder's District include the City of Omaha, Creighton University, Union Pacific, First National Bank and Kiewit, who see it as a catalyst for further growth that would support an expanding Creighton and nearby city jewels, including the home stadium of the College World Series and the CHI Health Center.
Tim Barry, an artist and managing partner of Hot Shops Art Center, is among the longtime business owners who welcome the changes in the neighborhood.
"It's about time," said Barry, who helped bring Hot Shops to 13th and Nicholas Streets 20 years ago. Back then, he recalled, First National Tower was just a hole in the ground. TD Ameritrade Park and the city convention center joined the neighborhood, but businesses and merchants were slower to follow.
"Now we're on our second explosion," he said, also citing the nearby Millwork District forming north of Cuming Street and anchored by the Ashton warehouse, which is being rehabilitated for tech companies including Flywheel.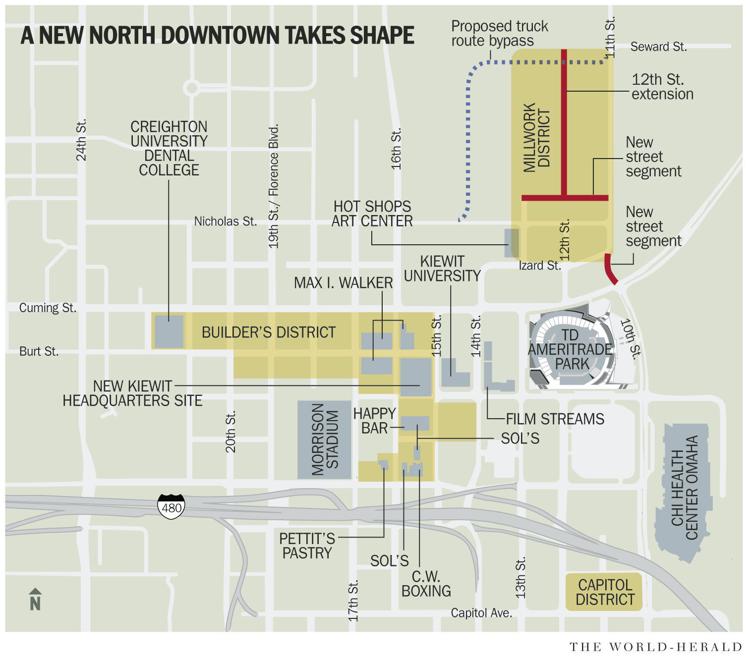 Future Forward, yet another effort north of Cuming, started a few years ago with the aim of creating a "makerhood" district that would be inviting to artists and creative types. That Peter Kiewit Foundation-led project involved buying up old industrial properties and warehouses to rent them out at a discount.
A challenge for Hot Shops and small businesses, Barry said, are the higher property tax bills that are expected with new development. But he said that's overshadowed by his excitement for north downtown revival.
Rally Coffee Co. is one of the newcomers to the neighborhood, opening in the middle of last year in the former Blue Line Coffee space.
Owner Ian Wiese said he's interested to see how the area's vibe changes when the two differing districts, one a couple blocks west of his coffee shop and the other a couple blocks north, emerge.
The stretch of businesses including Rally Coffee, Urban Outfitters and Film Streams isn't inside either district's boundaries.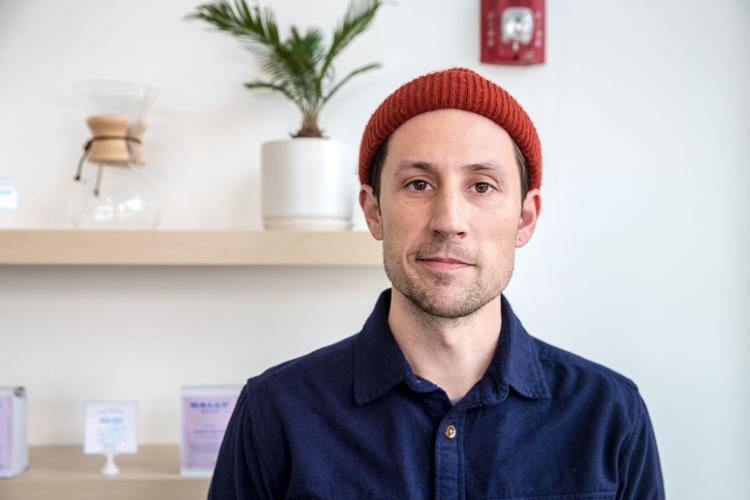 Wiese said he envisions the Builder's District having a more corporate feel, while the Millwork District will draw a more entrepreneurial and small-business-friendly demographic.
"North downtown is being chopped up into micro-districts in an area that's not defined now," he said. "Where does that put this block? I have no idea. We'll be a gray zone. It'll be interesting to see what happens."
Bret Schnittgrund, owner of The Session Room bar and grill, likes what he has seen so far in the developing Builder's District.
"I think it's great," he said. "North downtown is getting bigger and better every day. It's going to be awesome."
He speaks from the perspective of a business owner who already moved out of the path of the Kiewit headquarters. The Session Room relocated to the ground level of a trendy apartment building, taking three glass-enclosed bays at 14th and Cuming Streets.
Schnittgrund said he and his wife, Cindy, were at first "shocked" to hear that the bar would have to relocate. In the end, he said, the move benefited them and their landlord.
"People can see us better now," he said, adding that the bar has already booked a dozen Kiewit-hosted parties through September. "We like it."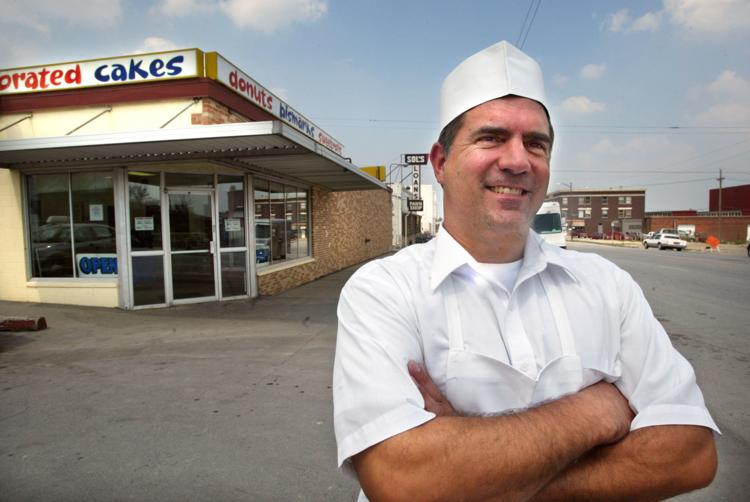 Mark Pettit, owner of Pettit's Pastry at 16th and Cass Streets, said he's not worried about the future of his business, although it's technically in the Builder's District. He said he hasn't been approached by the project developers.
"I think they'll keep us around," he said. "We draw a lot of people downtown. We have a lot of people who come in and say their grandparents used to bring them down or their mom and dad brought them down. They're keeping the tradition going."
Pettit's is celebrating 65 years of business this month. Pettit said that, if anything, the redevelopment of north downtown and more foot traffic will benefit his bakery.
Carl Washington is founder of the C.W. Boxing Club at 15th and Cass Streets, which is also in the district. He said he's long expected the area around the club to develop. His club, which offers a boxing program, plus a music studio and mentoring program, draws about 50 kids each evening.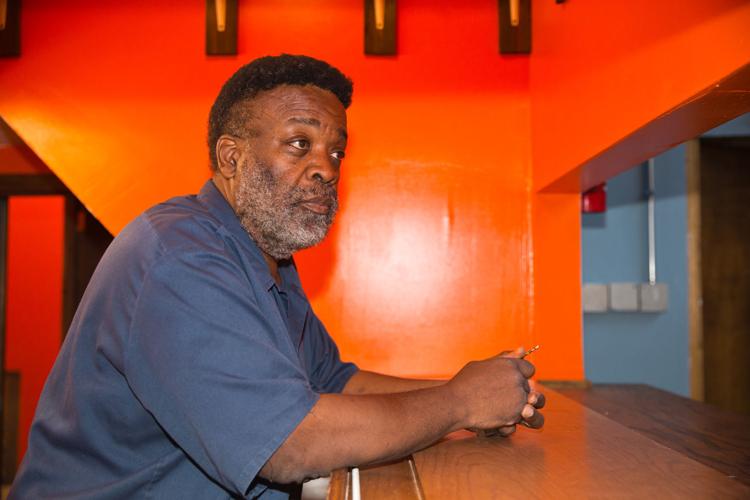 Though he's fielded a couple of informal inquiries about the club's property, neither he nor the businesses on either side of him have had any solid offers, he said.
"I'm interested in staying (here), but it all depends," Washington said.
He said any decision would go through the club's board of directors.
Larger property owners in the district, such as Sol's Jewelry and Loan and Max I. Walker, are being actively pursued by the developers of the district.
The owner of Sol's, which has sizable parcels on two different blocks, didn't return calls from The World-Herald.
Rob Walker, president of the family dry-cleaning business, said he's had positive conversations with Noddle but has yet to reach an agreement to move the business, which he calls a "silent giant."
The Max I. Walker operation, which cleans about 135,000 pounds of garments a week, is spread among three north downtown buildings — one of which sits on the site of the future Kiewit global campus.
While removal of that warehouse is integral, Noddle said, it's far enough away from the actual headquarters office building that its presence, for now, isn't impeding ground preparation.

Rob Walker said he anticipates an eventual outcome that will be good for his employees and the Builder's District.
John Pascarella of the Happy Bar said he has also had pleasant conversations with agents of the district who want to buy the bar and a couple of adjoining structures that were built more than 100 years ago.
But for the Pascarellas, relocating is not that easy, they said. John is 53; Bob is 56. Both have worked at that spot all their lives. Their 77-year-old mother, Charlotte, still comes to visit them as they tend bar.
John doubts that the bar, as they know it, would survive elsewhere, although he recognizes that the decision is out of his hands. In fact, a structure next to their row of properties was torn down within the past few weeks. Stu Mangoo, who lives in a Pascarella apartment, said the vibrations left him picking up pictures that had fallen.
"This is a shock to our system," John said. "It's kind of like a death in the family, a bad dream."