Traces of immigrant enclaves live on south of downtown Omaha: the Sons of Italy hall; the Ethnic Sandwich Shop; the Bohemian Cafe ghost sign at 13th and William Streets.
But redevelopment projects continue to transform neighborhoods rooted in ethnic identity into homes for a new and different population.
One Omaha developer is planning another batch of row houses near 12th and Briggs Streets that will attract buyers able to pay around $300,000. That site is just a stone's throw from Clarity Development's still-rising 36-unit South Hill Rowhouses, and only blocks away from a separate cluster of old houses that Clarity has rehabilitated and rents out for now.
Other real estate companies are scooping up nearby properties in the same urban pockets, and an increasing number of individuals have bought single parcels on which to build family residences.
Take Omahan Scyrus Keys, who is transforming a 127-year-old storefront structure into a hip place where children also feel at home.
The residential projects are part of the newest growth in one of the oldest areas of town — an area rich in hills and history tied to Italian and Czech immigrants who started settlements there in an earlier century.
Proximity to the trendy downtown core has been driving redevelopment efforts in the area for a few years. Now the residential part of that development is picking up and helping to rebuild a diverse and young population in aging neighborhoods extending past downtown.
"There's so much happening, it's hard to keep up," said designer Eddy Santamaria, who is helping Keys turn the old B&W Starters and Alternators shop into a home along the 13th Street corridor.
To be sure, neighborhoods south of downtown have long been occupied by families and merchants. Many aging structures are in bad shape, though, and some are empty.
Investors including PJ Morgan Real Estate have started to redevelop commercial chunks, such as one including the Bohemian Cafe and surrounding storefronts, to reactivate bustle that had dwindled since the heyday of ethnic parades and merchants crowding the corridor anchored by the 13th and William corner.
An update on that intersection: A barbershop is poised to fill one of three sections to be carved out of the Bohemian Cafe; a couple of storefronts to the south have been claimed by a soon-to-move-in office and retail tenant. Coming to the east side of 13th Street will be a salon, an Archetype Coffee shop and a few places to eat.
The former Maryland Theatre, also on the east side, at 1425 S. 13th St., is undergoing a massive restoration for possible entertainment-related use, but a tenant has yet to be secured. P.J. Morgan, a former mayor and current Douglas County Board member, said he'd like to see a bank in the mix, too.
"We're being very selective, for the good of the neighborhood," Morgan said.
Of more than 33,000 square feet of commercial space the Morgan company is redeveloping, about 7,000 square feet have yet to be claimed, said leasing agent Colleen Mason.
She said a $10,000 public art grant is expected to perk up the alleyways around those properties and enhance safety. City Hall is looking at ways to slow down cars and increase pedestrian traffic.
Andrea Kathol is among newcomers to the former Bohemian Cafe neighborhood. She just moved her personal residence and office to a renovated work-live space above where the three ground-level retailers will be.
As owner of Field Day Development consulting firm, Kathol helps revitalize similar projects and wanted to be involved in the area's new growth.
"I enjoy old buildings and their character and wanted to live in a place like this," she said. "It's putting money where my mouth is."
A wave of change along nearby 10th Street started a few years ago with the opening of such structures as the new Blue Barn Theatre, at Pacific Street on the periphery of downtown. The Blue Barn is next to a newly constructed building with a trendy restaurant and loft apartments. Next to that is a former postal annex that's supposed to open as early as next year as a public market.
Farther south on the corridor, BlueStone Development has announced plans for a housing community of more than 200 new rental units around a proposed elementary school northeast of 10th and Hickory Streets.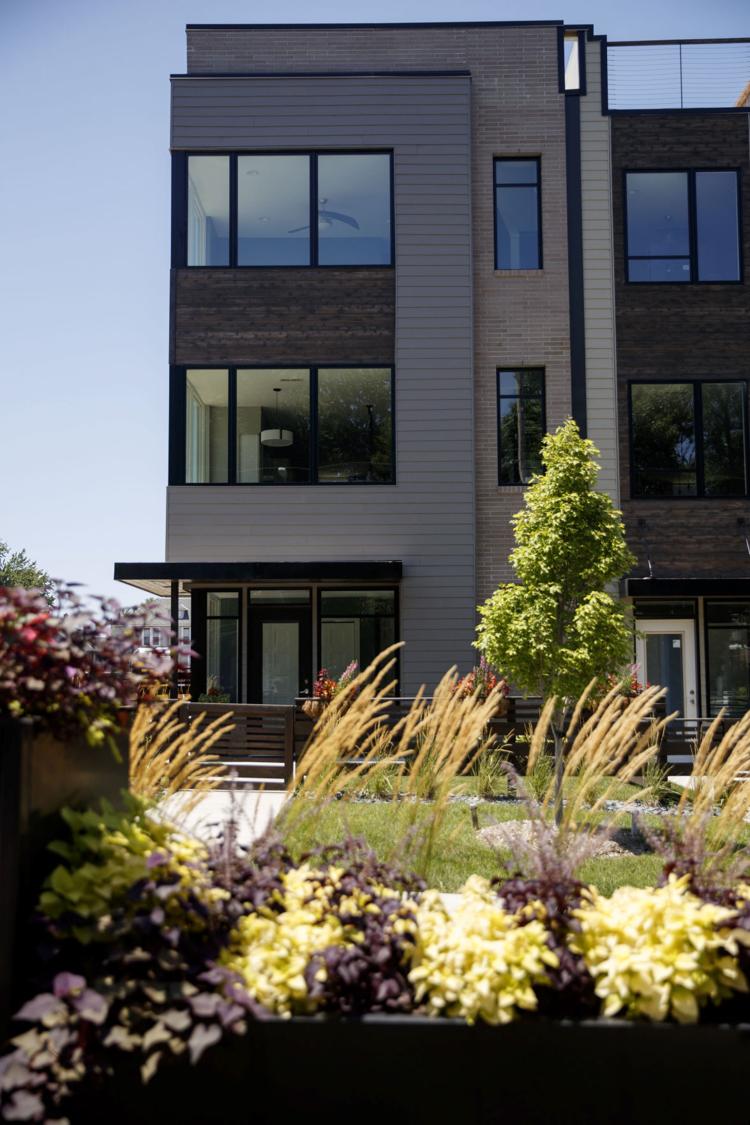 In between, north of William Street, is Clarity's South Hill Rowhouses, which sell for between $250,000 and $400,000. President Tom McLeay said he and his team were so confident in continued revival that they made plans to launch a similar batch of three-story residences with garages and rooftop decks.
Clarity already cleared that 12th and Briggs site of previous homes. If all goes as the developer hopes, the six new row house units could be ready next summer.
Clarity has not disclosed future plans for several dozen other parcels — lots, commercial buildings and older houses — it has acquired around William Street mostly between 12th and 14th Streets. He said he'll gauge market demand, but thinks there is growing interest for housing in the area that has an old residential feel yet still is close to downtown action and jobs.
"The area has such great neighborhood history and pride that has been there for 100-some-odd years," McLeay said.
He said that about 80 percent of Clarity's finished row houses have been sold.
McLeay said he's witnessing a spinoff effect: Vacant lots and old houses around newer projects are selling to individuals as well as developers, and a more active neighborhood of both renters and homeowners is starting to re-emerge.
County records show that a house behind South Hill along 11th Street sold earlier this year to a medical professional. The old residence has been razed, making room for a new one. Next door, two other small houses recently changed ownership and were renovated.
Local restaurateur Charlie Yin finished an architecturally modern house for his family on 11th Street, next to South Hill.
Tom Allisma, a restaurateur and architect by trade, is building a three-story residence with two rooftop decks near 13th and Pacific Streets, kitty-corner from the U.S. Post Office.
The recently married Allisma said he and wife, Ashley, plan to raise a family. They like the urban lifestyle but couldn't find the right space in the Old Market.
"That corner lot has probably one of the best views of the skyline. That was a driving force," Allisma said. He declined to provide the amount of his investment.
Allisma, president of Flagship Restaurant Group, hopes to be in the new house next year. He is excited to see other redevelopment momentum but hopes for public improvements including a solution to bad drainage in the 13th Street underpass between his home and downtown.
In the broader picture, McLeay believes revival of the 10th and 13th Streets corridors can help connect and "bring back" nearby urban business strips such as the historic Vinton Street corridor. New residential growth typically follows.
Stephanie Rader, a Clarity leasing agent who works in the area and used to live on 14th Street, said she's witnessed a domino effect of improvements. "People start investing more in their own property."
Keys is a 2006 Central High graduate rehabilitating the 1890-era B&W building at 1232 S. 13th St. He said he loves downtown, but not the real estate prices.
He spotted the shuttered auto parts shop, a short bike ride from the Old Market, and enlisted help from Santamaria of Contrivium Design + Urbanism. Keys said he is aiming to create a home that would be suitable for his own kids, ages 7 and 4. It'll have lots of privacy and outdoor spaces, skylights, a rooftop deck and four-car garage.
The entertainer-promoter who later ventured into real estate said he'll likely sell the residence once it's done because it has become an expensive venture and is too big for his needs.
He doesn't anticipate a problem finding a buyer.
"People are, like, 'Wow, that'd be a great place to live.' "