Mark Jepson understands why apartment developers and dwellers are drawn to the urban core — his real estate company jumped on that wave, too.
Just last week, Commercial Investment Properties, where Jepson is managing director of growth initiatives, celebrated the opening of the 153-unit Conrad at 36th and Jones Streets. The midtown Omaha apartments offer fun social features such as fire pits, grills and a swimming pool that turns to a hot tub in the winter.
Despite the popularity of urban living, Jepson said the Lincoln-based CIP also sees demand for the suburbs. It currently is building 173 new apartments in the Falling Waters neighborhood near 195th and Harrison Streets. "We're grateful the cycle has continued to evolve and there's still good growth in all markets," Jepson said.
CIP is among developers that believe there's unquenched appetite for apartments in both urban and suburban settings. Indeed, requests to construct new apartments in the Omaha metropolitan area have accelerated — with the number of permits issued in the first eight months of this year already surpassing the number issued during all of 2016, according to data from planning departments and the Greater Omaha Chamber of Commerce.
That puts 2017 as the second year in a row that multifamily building permits have climbed in a nine-county area dominated by Douglas and Sarpy Counties. As of August, 1,612 permits were issued for apartment construction, compared with 1,565 for all of last year. In 2015, 1,292 permits were issued and the year before that, 1,650. (That building permit data doesn't include new apartments added to inventory through conversion of old office or commercial structures.)
Jepson said CIP customers are "demanding we serve multiple segments," and the Nebraska-grown company subsequently is expanding its portfolio not only in the Omaha area but also in Lincoln and the Minneapolis and Des Moines areas.
The second-generation company that constructs and manages real estate has more than 200 employees, and offices in Omaha, Lincoln and Bloomington, Minnesota. Its roots trace to 1965, when Jerry Schleich and his wife, Louise, purchased Austin Realty Co., a Lincoln residential brokerage operation, and 20 years later changed the name to Commercial Investment Properties.
Sons Tom Schleich (now chief executive) and John Schleich (chairman) helped launch development of large apartment communities such as the 143-unit Stony Ridge apartments in Lincoln. They bought the business from their parents in 1992; two other siblings, David and Kathryn, also are investors. Meanwhile, the residential brokerage division grew to more than 300 agents before it was sold in 2003.
In all, Jepson said, CIP has developed and still manages more than 6,000 apartments as well as single-family subdivisions, office and hospitality properties. It expanded outside Nebraska into the Minneapolis and Des Moines areas about three years ago, and aims to grow overall by 10 percent a year for at least the next five years.
Omaha's Conrad opened in stages through August and currently is about 40 percent full — a pace that property manager Sarah Monaghan described as good.
Jepson said the company is happy with The Conrad but is returning its focus to suburban apartment development, which he said generally draws more of a Generation X and older crowd versus a millennial-heavy population at urban properties.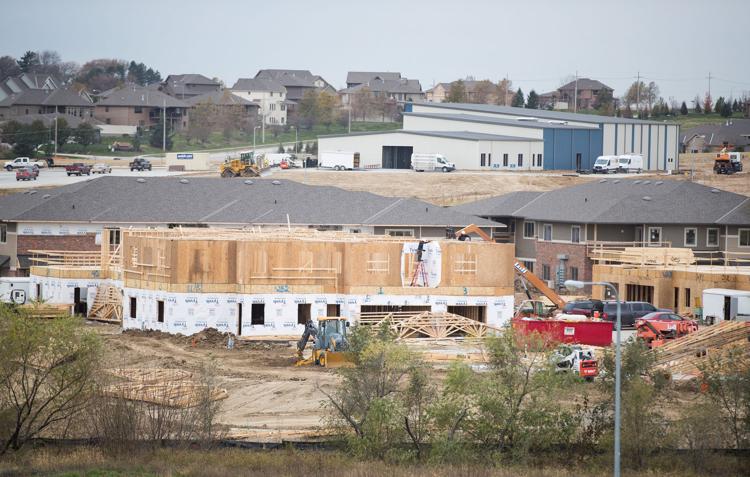 He said urban and suburban developments each come with different challenges. To make way for The Conrad, CIP had to acquire more than a dozen properties from multiple owners.
Also, Jepson said, growing competition in the area requires The Conrad to go "above and beyond" in providing an "experience" beyond just a modern dwelling. The Conrad, where rents range from $745 to $1,700, contains various "connecting spaces" such as the courtyard park and lobby area (with kitchen, TV and game tables) intended to build a sense of "community."
The property manager holds clubhouse events celebrating, for example, the season finale of "The Bachelorette."
Dason Wente, CIP senior property manager, said the suburban Villas at Falling Waters apartments, which are rising on raw land near 195th and Harrison Streets, are more sprawling, with outdoor trails and privacy features. Across its 13 acres will be 17 buildings, each with about 10 townhouse-style units.
Like The Conrad, The Villas at Falling Waters will have a pool and 24-hour fitness area with a yoga and stationary cycling studio. Unlike The Conrad, the residents of the villas will be surrounded by recently built single-family subdivisions.
Jepson notes similarities between CIP's urban and suburban projects in that the company chooses suburban settings within walk of entertainment and commercial activity — on the fringe of growing areas the company is not pioneering. "I see that as kind of a hybrid."
He said CIP would consider another urban project if it "makes sense" and land could be assembled.
Jepson and Wente believe an increasing number of people in different life cycles — from millennials to baby boomers to families waiting for a house to be built — have been pulled to the apartment lifestyle, which allows for more mobility and less maintenance.
"People want to be in a good neighborhood and a great space that supports their lifestyle," Jepson said. "They want options."
Sign up for World-Herald news alerts
Be the first to know when news happens. Get the latest breaking headlines sent straight to your inbox.