It still galls Marie Sedlacek that she and others didn't do more decades ago to stop Grace University from demolishing pieces of Omaha's Little Italy history.
She said neighborhood groups weren't as vocal then, and a dozen big houses south of downtown were razed as the school created its more suburban-style campus.
But sweeping change again is afoot — with the same and even more surrounding property poised for another wave of redevelopment. The financially embattled Grace just closed and has sold about 15 acres of buildings and land to Omaha Public Schools and developers Bluestone and Urban Village.
This time, Sedlacek, who has an architectural background, is not standing still. She's part of a rare local revolt that has a group of area residents galvanizing under a seasoned urban planner's guidance to create a proactive guide for how their home turf is transformed.
Buoyed financially by philanthropist Nancy Mammel, who owns property in the area, the Historic 10th Street Neighborhood vision group hired former Omaha city planning director Marty Shukert. They've been meeting off and on since April in coffee houses, community rooms, and over pizza and meatballs at an Italian steakhouse.
"It's history," Sedlacek said of the area, where her family roots go back to the 1950s. "I just hate to see us get steamrolled by anybody from the outside."
Shukert, a principal of RDG Planning & Design, calls the 10th Street initiative uncommon locally in that it's driven by a coalition of citizens versus a government or business entity. Fueling intrigue is the target area's history, proximity to downtown, diverse population and mixed housing stock — all of which have made it one of urban Omaha's hottest magnets for development.
The group's area of focus spans from downtown to Bancroft Street (near the zoo), Sixth to 12th Streets, and has 10th Street as its spine. Leaders say that between 100 and 150 people have participated in a survey and brainstorming sessions.
Said Shukert: "It's the idea of several neighborhood groups more or less unified to say we're facing both threat and possibility, so let's manage this by doing a plan, rather than be managed by the change."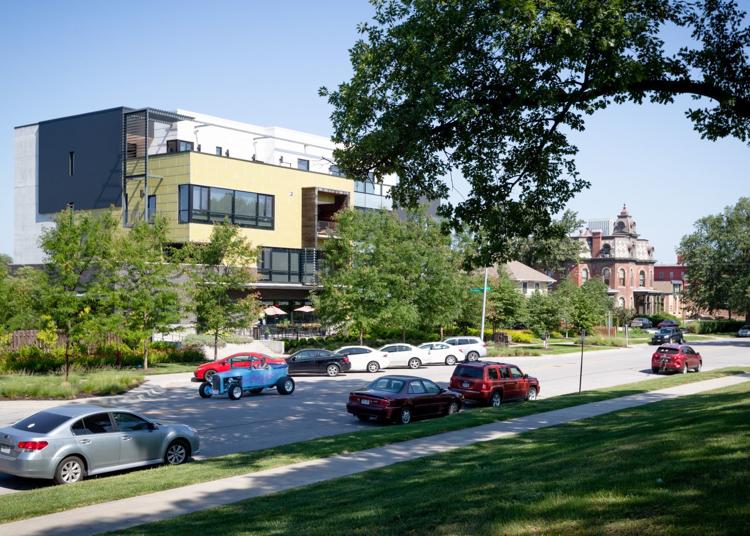 To be sure, their ideas face plenty of hurdles. Private developers and OPS own and control much of the parcels in the group's focus. And while neighborly input or opposition is considered, city officials typically give the green light to developers as long as projects meet city zoning and master plan regulations.
City Planning Director Dave Fanslau noted that a plan for the 10th Street area growth already exists. Adopted by the City Council in 2010 and amended in 2012, he said it followed an involved process with neighborhood input.
The city-sanctioned plan encourages multiple-family housing and apartments on and around the Grace site. Fanslau said his team wasn't invited to participate in the Historic 10th Street process as of yet, and he is unaware of its details.
Still, the initiative has caught the eye of other neighborhood organizations, which say it could spark more resident-driven plans demanding a greater say in urban redevelopment.
"Groups are watching," said Mike McGuire, president of Deer Park Neighborhood Association and leader of an umbrella group of South Omaha neighborhood groups called SONA. "Those paying attention will learn things and eventually you'll start to see other resident-driven neighborhood planning processes take shape."
Whether the plan gets traction or buy-in from necessary entities is the big question, said McGuire and others.
Several developers interviewed said they appreciate hearing neighborhood input, which often leads to improved construction projects, yet they also have to consider a profit yield.
Christian Christensen of Bluestone, which owns nearly five acres of still-to-be-redeveloped property in the study area, said he thinks it's great that neighbors care about their community. He declined to discuss details of his venture until after he starts design work next year.
However, he did say his new housing would be rental — and likely a style blend of two projects Bluestone developed in the past, the Towns at Little Italy and Rows at SoMa. He said earlier that roughly 230 units would fit on Bluestone's U-shaped land around the proposed OPS elementary school site that borders 10th Street and stretches east two blocks between Pine and Worthington Streets.
That much rental housing appears to clash with the 10th Street group's vision favoring owner-occupied dwellings on most of the land around the future school. (The group's plan does call for apartment structures at the commercial intersection of 10th and Hickory and at Ninth and William, by the apartment complex being rehabilitated by Urban Village.)
"The city leadership wants more density, but this is a historical neighborhood," said Mammel, who said frustration led her to help the effort. "I'm alarmed about the cheap development going on in this city, and it will hurt us in the long run."
In the end, leaders of the 10th Street area group said they recognize that there will be give and take with developers and OPS. OPS did not return calls for comment. Urban Village and Bluestone said the 10th Street group hadn't yet reviewed its plan with the developers. Alfie Cascio said he was open to a multilevel mixed-use building the 10th Street group has suggested for a parking lot across from his family restaurant.
Neighbors are not saying developers should not build, or should build only single-family housing, Shukert said. "The question is, how do you preserve the integrity and character of the neighborhood while moving forward?"
Jeff Jorgensen, another 10th Street group leader, said members of the neighborhood group hope to meet soon with city officials about possible ways to slow traffic in pedestrian-heavy areas along 10th Street. They also plan to talk to developers who own property in the study area.
Jorgensen and Sedlacek foresee the group building momentum. Many participants are tied to the area for the long run.
They include people such as Mary and Charlie Venditte, who grew up and started their family in the area. They moved west, but now are retired and rehabilitating a house in the Little Italy area.
They include merchants such as Alfie Cascio, who recently moved with his wife to a house near the restaurant his family has owned for generations.
Tin Tran, a medical doctor, is of the younger generation. His family has outgrown its Little Italy townhouse but wants to stay close and plans to build a house.
Shukert said the Trans represent a household type that near-downtown neighborhoods should cater to as they try to replenish the population.
"A big priority should be building housing in and around downtown for aging millennials who are starting families," he said.
Changing Omaha: More than 50 stories of local development projects in the works
An ongoing list of some our development stories from 2018, with the most-recent stories at the top.