The locals want to give Mosquito Hill a good swat.
They see the public space at Sixth and Pine Streets — officially called Dahlman Park but nicknamed after the pest — mostly as a derelict part of an otherwise increasingly popular area south of downtown.
While neighbors didn't set out to revamp the secluded park, doing so emerged as one of several priorities during a recent survey and related meetings hosted by people who live in and near the Little Italy neighborhood.
The driving reason behind the series of ongoing meetings is to sway future transformation of parcels recently vacated by Grace University. But the "visioning" process also took a broader look at the area bounded by Pacific, Bancroft, Sixth and 12th Streets.
Generally, participants want to see a mix of uses liven up the 10th Street spine. The group's vision favors lower density housing on quieter streets and more home ownership. Dahlman Park, dubbed long ago by local residents as Mosquito Hill, would turn into a safer place that draws more families, less mischief.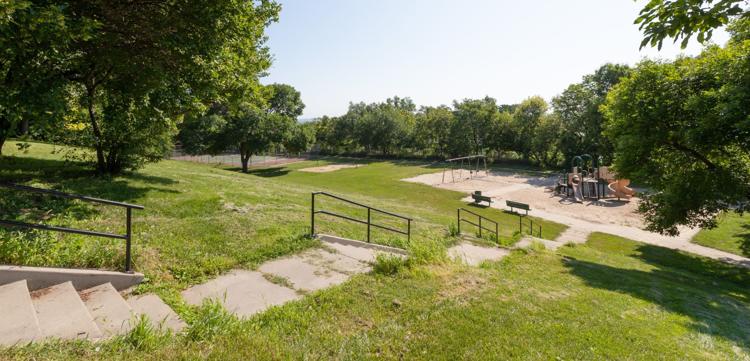 A couple of visits last week revealed no one at the park, which is bordered by a cliff and hilly terrain. The playground was worn, and an otherwise scenic view toward the riverfront was blocked by overgrown weeds.
No price tag or funding sources have been identified, and, indeed, much stands in the way. For one, private developers and the Omaha Public Schools own much of the former Grace property. City parks and planning officials haven't yet been asked to weigh in. Still, neighbors drew up their wish list.
"No plan is ever fully implemented," said Marty Shukert of RDG Planning & Design, the group's hired consultant. "But there is no deal unless there is a vision or idea to focus on."
When it comes to changing Dahlman Park, Shukert said, the City of Omaha as well as philanthropic and private funding sources likely would have to step up.
The group laid out three park options. The most drastic would build about 15 new houses, some along a park promenade and others facing Sixth Street. Homes would be surrounded by walking paths, a terraced amphitheater, a multi-use field, a water fountain and a whiffle ball stadium.
Modifying a park's intended use as public recreational space, however, would be an uphill battle.
Deputy Omaha Attorney Michelle Peters said Nebraska Supreme Court cases have supported that public parkland can't be re-purposed for private use (such as housing) unless there is special legislative action.
Shukert said that while the park's overhaul could be complicated, he thinks that a case could be made that change is for the public good.
Among other ideas put forth by the group:
Push for a more pedestrian-friendly 10th Street with bike lanes painted green in conflict zones; refuge medians at key spots and bump-outs at key intersections.
Encourage construction of a multi-use, seven-level structure on a 10th and Hickory Streets surface parking lot owned by Cascio's restaurant and Bluestone. It would contain apartments, parking, a rooftop deck and ground-level retail space.
Recommend that OPS's proposed school near 10th and Pine Streets maintain the existing green lawn and be built far enough back to preserve a landmark tree. The group proposes that Eighth Street be slightly realigned for parking, and that OPS also re-use the existing Grace gymnasium and keep its school to three stories.
Encourage Bluestone to build varied styles of housing around the future school, including owner-occupied town houses along Pine Street between Eighth and Ninth with contained front and backyards suitable for young families.
Encourage Bluestone to fill the street east of the proposed school with owner-occupied homes featuring front facades and alley-loaded garages that connect to a main living area by an indoor gallery.
Suggest Bluestone construction of a three-story apartment building near Ninth and William Streets that tapers to two levels nearest single-family blocks. Duplexes could be built just to the south facing Worthington Street; and a grassy walkway should remain between Worthington and William Streets.
Push for a curbless corridor of "shared space" for slow-moving traffic and pedestrians along Ninth Street in front of the former St. Catherine Hospital. That corridor would tie into the walkway between William and Worthington Streets. The former hospital, at 1311 S. Ninth St. (most recently Grace offices and dorms), has been purchased by Urban Village Development, and the plan accepts its future conversion into 167 apartments. Asbestos removal has started.