Nebraska business leaders have been sounding the alarm on the state's shortage of skilled workers, seeking to get politicians to do more to help the state attract the workforce it needs to grow.
But there's something CEOs themselves can do to pull in more workers: pay higher wages. And it appears that if Omaha's employers want to be competitive in the job market, they may need to do that.
Across an array of skilled, high-demand job fields from software app developer to auto mechanic, average wages for workers in the Omaha metro area generally lag what's paid in other major metro areas in the region, a World-Herald analysis has found.
In fact, according to the latest federal data, Des Moines, Kansas City and Oklahoma City — the three cities that Omaha's chamber of commerce considers to be the metro area's biggest economic rivals — all typically pay more, especially when taking into account varying cost of living in the metro areas.
Of 16 job fields included in the analysis, Omaha's relative pay lagged Des Moines' in 12 of the fields, Kansas City's in 11 and Oklahoma City's in 13.
On average across the 16 fields, Omaha's pay was $6,000 per worker less than in Des Moines and Oklahoma City. That's enough for a family to take a trip to Hawaii or put a sizable down payment on a new SUV.
---
Lagging the competition
The Omaha metro's average wage across an array of competitive, in-demand job fields lags that of its regional competitors, particularly its three closest rivals: Des Moines, Kansas City and Oklahoma City. Below are the average of the mean wages paid in 16 high-demand, high-skill job fields, adjusted for cost-of-living differences between the metro areas.
Source: Compiled from U.S. Burea of Labor Statistics data.
---
The prospect of competitor cities offering up more attractive wages represents a challenge Omaha businesses may have to address to get the labor force they need.
Indeed, officials with the Greater Omaha Chamber have initiated such discussions with the chamber's board and members. The chamber's message is that higher wages may be necessary to attract workers during the current "global talent war" — not an easy conversation to have or fact to face.
"We are low," said Mike Cassling, chairman of the Nebraska Tech Collaborative, an Aksarben Foundation initiative seeking to address the state's shortage of tech workers. Cassling, CEO of health equipment sales firm CQuence Health Group, attributes Omaha's lagging wages to the fact they haven't been adjusted to account for increases in the metro area's cost of living.
That said, higher wages alone won't solve the tech crunch, Cassling said. It's a worldwide issue, tied to demographic changes like the retirement of the U.S. baby boom generation and an increasingly complex and technical world. And the problem's so big the state needs to continue to tackle it on all fronts, Cassling said.
"(Wages) need to be addressed, absolutely," he said. "But that does not fix our problem."
Recruiting talent is everything for a fast-growing tech company like Sojern, a digital travel marketing company that was launched in Omaha in 2007. Sojern has hired 54 new workers in Omaha just since January, growing its workforce to 200 in the city and nearly 600 around the world.
Part of the firm's pitch to workers is that Omaha has been developing into an exciting tech hub in its own right, with fellow local startups like Buildertrend and Flywheel as well as the presence of major national players like PayPal, Google and Facebook.
"You don't have to go to Chicago or Kansas City or Austin," said Brent Brummer, Sojern's vice president of business strategy and operations.
But Brummer said Sojern also recognizes that pay is important — not just for recruiting new workers, but also in retaining existing talent. That's why the company this year hired a compensation manager whose job is to make sure the pay the company offers is both competitive nationally and fair internally.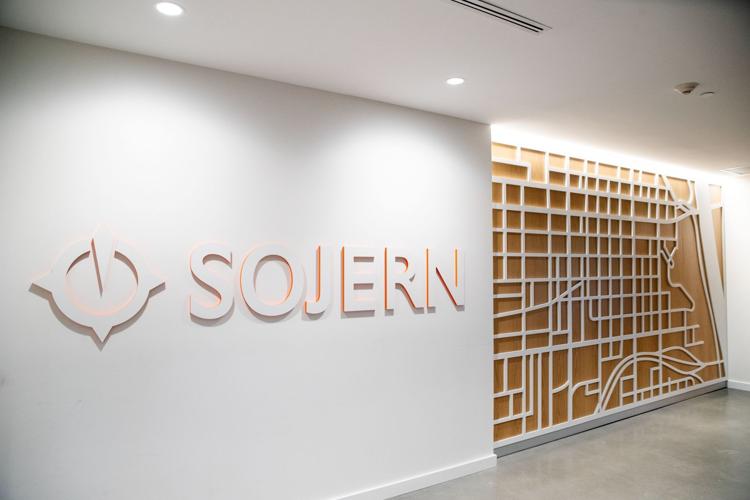 "One of the best recruiting strategies is to focus on your existing employees and make sure your retention rates are where they need to be," Brummer said.
Earlier this year, business leaders in Nebraska expressed concerns about their struggles to find skilled workers, saying the issue was reaching crisis levels. At times, they said, they've had to fill good-paying jobs in locations outside Nebraska, potentially costing the state thousands of lucrative jobs.
They called on the state to do more to keep high school graduates from leaving Nebraska, connect them to careers, step up training of underemployed workers and sell out-of-state workers on making their lives in Nebraska. Similar strategies were advocated this summer by Blueprint Nebraska, a 10-year economic development strategy developed by leaders from both the state's public and private sectors.
But employers also clearly have a role to play in luring workers through the wages they offer. To see how competitive the Omaha metro area's employers are on that front, The World-Herald examined pay for "H3" workers — those in high-demand, high-tech and high-paying job fields.
The analysis looked at federal wage data from May 2018 for 16 of the metro area's largest H3 occupations, including management positions, business support roles like auditors and accountants, computer specialists, nurses and more blue-collar professions like electricians and plumbers.
Wages were compared with those in three metro areas the Omaha chamber considers competitors (Des Moines, Kansas City and Oklahoma City) as well as three others the chamber calls peers (Louisville, Colorado Springs and Salt Lake City).
The figures showed that Omaha's rank among the seven metro areas varied widely, depending on the job. For example, Omaha paid the highest average wage in construction management. But its average wages to carpenters ranked last.
Most often, Omaha ranked in the middle or below. And the average of its pay across the 16 occupations ranked fifth, trailing Colorado Springs, Kansas City, Des Moines and Salt Lake City and ahead of only Louisville and Oklahoma City.
The picture got worse when the figures were adjusted for cost of living differences in the metro areas.
For years, Omaha's low cost of living was a powerful weapon in the fight to lure both jobs and workers. As recently as 2013, Omaha's cost of living was the fourth-lowest among the country's largest metro areas and below that of its regional competitors. That meant even if pay in Omaha was somewhat lower, the dollars could still stretch further.
However, due to a sharp increase in housing costs over the past decade, Omaha's cost-of-living advantage has eroded. Compared with its closest regional competitors, living in Omaha is now 5% more expensive than in Des Moines, more than 10% pricier than in Oklahoma City, and roughly equal to Kansas City. More than half the cost advantage Omaha held over the U.S. average is gone now, too.
When the 2018 pay data is adjusted for cost of living, Omaha's wage average across the 16 fields still ranked fifth in the group. But it trailed all three of Omaha's closest rivals, as low-cost Oklahoma City jumped to the top of the list, joining Des Moines and Kansas City to rank 1-2-3.
Conversely, Omaha's pay was roughly equal to No. 6 Louisville and only clearly ahead of Salt Lake City, which has the highest cost of living among the competitors. In 11 of the 16 occupations, Omaha's pay ranked in the bottom half of the comparison group.
Looking beyond just H3 jobs, Omaha's cost-of-living-adjusted pay ranked fifth across all occupations, with Des Moines, Oklahoma City and Kansas City ranking 1-2-3, respectively.
---
Cost of living in some major metros
How does Omaha compare to other large metro areas across the United States? The map below shows the cost of living in 2018 compared to the national average.
---
"For whatever reason, we are not paying as much as some of our competitor cities are," said David Drozd, a demographer from the University of Nebraska at Omaha's Center for Public Affairs Research, who reviewed the data. "No employer wants their bottom line hurt by higher wage costs. But in some sense, in this competitive workforce environment, they can't afford not to do it."
Omaha's ranking in H3 pay stood in stark contrast to where it was a decade ago, when Omaha's cost of living was the lowest in the group. In 2009, Omaha's average pay in the 16 occupations ranked No. 2 of the seven metro areas, trailing only Colorado Springs. Of the 16 occupations back then, Omaha's pay topped Des Moines in 9, Kansas City in 11 and Oklahoma City in 15.
Compared with the nation, Omaha's average pay across the 16 fields was slightly above the U.S. average in 2009. Now it lags by 8%.
The contrasting figures from 2009 and 2018 suggest that wages in Omaha simply have not been adjusted upward to reflect the metro area's rising cost of living.
---
10 years ago
Across the same fields in 2009, the Omaha metro's relative wages ranked higher than most of its regional rivals. It appears wages in Omaha have not been adjusted to reflect increases in the cost of living since that time. Below is the average of the mean wage paid in 16 high-demand, high-skill job fields, adjusted for cost-of-living differences between the metro areas in 2009.
Source: Compiled from U.S. Burea of Labor Statistics data.
---
"The old mantra 'We don't have to pay as much because the cost of living is less' is no longer valid for Omaha," Cassling said. "I do think some of that mentality is still here."
But that's not the only reason for the slippage in Omaha's standing. Even without taking into account cost-of-living changes, Omaha's average wage increase across the 16 H3 fields since 2009 was the lowest among the seven metro areas.
Drozd said the apparent wage gap revealed by the numbers is a concern when it comes to both attracting and retaining workers, particularly for those with no children or family ties "who can just as easily take a job in Kansas City as here."
Rebecca Stavick of Do Space, the digital library and technology hub that Omaha philanthropists established to increase public access to technology, said if Omaha is serious about making the city a nationally competitive hub for tech, it will need to offer nationally competitive pay for tech workers.
"It only makes sense," she said.
Dusty Davidson, co-founder of WordPress hosting firm Flywheel, said he found the numbers "super interesting."
Davidson said as far as he knows, the wages his firm has been offering have been "market plus." But he said that after Flywheel's recent acquisition by another firm in Austin, his company has been seeking to become more sophisticated and data-driven in its decisions on pay.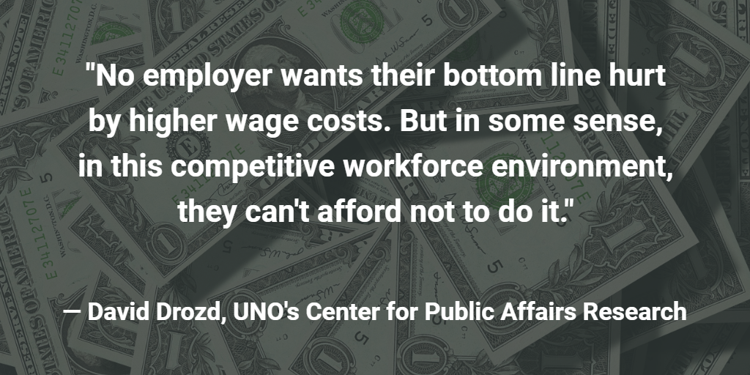 "It's more important than ever to be empirical about how we think about salaries across regions to maintain as equitable treatment as possible for Flywheelers," he said.
Two economists said if Omaha's wages are lagging, the problem should ultimately become self-correcting. In the end, the businesses will pay what they must to attract and keep the workers they require.
"The companies know what they need to do in terms of salary," said Creighton University's Ernie Goss. "The don't need an economist or bureaucrat to tell them."
Eric Thompson, a University of Nebraska-Lincoln economist who monitors Omaha's market conditions for the Omaha chamber, said firms will raise pay if it makes business sense for them to do so. "You don't need to jawbone them into doing it," he said.
David Brown, CEO of the Greater Omaha Chamber of Commerce, said he expects upward pressure on wages as Omaha competes on a national and global level for talent.
But he said simply paying more isn't enough. Employers also need to pay attention to workplace practices, including providing flexible scheduling that appeals to families, offering professional development opportunities and recognizing employee achievement.
Sign up for The World-Herald's afternoon updates
Receive a summary of the day's popular and trending stories from Omaha.com.
"A competitive salary clearly is a driver in a person's decision to accept or stay in a position, but not the only one," Brown said.
Bryan Slone, president of the Nebraska Chamber of Commerce and Industry, agreed that workers care about wages, but he said they're also looking for quality of life. That's where Omaha and Nebraska have an advantage over markets where workers might make more money but then spend an hour commuting at the start and end of each day.
"You have to pay a competitive wage — it doesn't have to be the top wage — you have to sell the culture of your company, and the quality of life advantage that Nebraska has," Slone said. "You put those things together, and you can compete in the national market for the best talent."
Cassling is likewise bullish on Omaha's ability to draw tech workers if it offers competitive pay and drives awareness of the great tech opportunities and attractive lifestyle available here.
"We totally can compete," he said.
Brummer said Sojern is doing all it can to attract the workers it needs. That includes providing "a cool work environment" at its new offices near 180th and Burke, featuring a casual dress code, open work spaces, shuffleboard tables and meals catered in.
"We are constantly trying to get our employees to think of total rewards," Brummer said. "That has been powerful for us in keeping people happy and making them feel we are competitive."
But Sojern also understands that shuffleboard tables don't pay the rent. That's why pay is a focus, too. The company uses its compensation manager and benchmarking tools to help ensure pay is competitive "with surrounding markets that could be potentially pulling our workforce away," Brummer said.
Sojern must be doing something right. Brummer said its employee retention rates in Omaha are the best of any of 13 markets globally in which the company operates. Sojern likes the quality of the new graduates it's recruiting from local colleges, too.
Combining competitive wages with the other advantages Omaha offers, Brummer is confident the company will be able to continue to thrive here.
"We have big plans for Omaha," he said. "We think Omaha is a differentiator for us."
Omaha wages lag across many occupations
Across 16 high-demand, high-skill job fields, average wages paid in the Omaha metro often lag those of its regional competitors, especially when adjusted for cost of living.
General and Operations Manager
Medical and Health Services Managers
Computer Systems Analysts
Software Developers, Applications
Computer User Support Specialists
Plumbers, Pipefitters and Steamfitters
Automotive Service Technicians and Mechanics
Heavy and Tractor-Trailer Truck Drivers