A small independent bookstore — opening this week by a daughter carrying on a family tradition — helps tell the latest twist in the saga of a once-dying Omaha corridor.
Shelly Mutum's store at 2508 Farnam St., called The Next Chapter, is coming to a resurging stretch just west of downtown that's about to get a spot on the National Register of Historic Places.
Launching the business was a sort of destiny for Mutum, whose parents owned and ran Prairie Books and Gifts in Hastings, Nebraska, for more than 40 years.
With her mom hitting age 75 (her dad died four years ago), Mutum faced a pivotal decision of whether to take over the store she grew up in or stay at her Omaha job managing a law office.
She did neither, instead choosing to start her own local version of the family business.
"It was always my dream and passion to carry that on," said Mutum.
She forged ahead despite threats, including the rise of electronic books and Amazon cornering the market.
Mutum is optimistic and foresees a comeback for comfy brick-and-mortar bookstores that offer an "experience" — a place to relax around colorful novels and like-minded folks. A place where a parent and child together can feel and turn the page of a book. A place to share thoughts about a favorite novel with a real, live salesperson.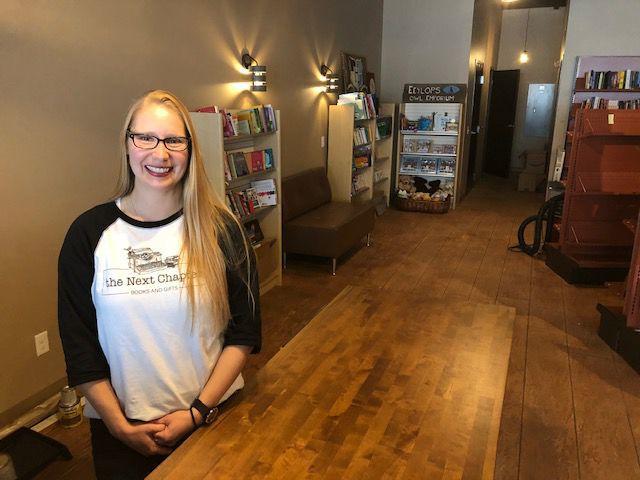 Her decision became final after finding the "perfect" setting in a 1,700-square-foot bay next to a coffee and dessert shop that had just expanded and added morning yoga classes.
The Next Chapter bookstore and Zen Coffee Co. are among a trio of retailers in the rehabbed and converted Smoke Pit BBQ joint, now called Farnam 25. Developers of the commercial strip are Adam Watson of Omaha and Stephen Elken and Michael Opatowski of Denver.
Voodoo Taco, the third business, opened a couple of weeks ago in a bay that was envisioned as a sushi bar until that arrangement fell through.
The merchants are helping to fill holes along a stretch of the Farnam corridor that in its heyday a century ago was known as Auto Row.
As the city grew westward, the artery had become a pass-through zone. But that is changing as residents and developers in recent years have started reviving older urban areas.
Across the street from the bookstore, for example, the owner of the new five-story Holiday Inn Express plans later this winter to open a 1980s-themed bar on the street level of the $18 million hotel. That 3,000-square foot space is to have arcade games and food offerings, said Kirti Trivedi of Anant Enterprises.
"There's enough foot traffic now in the area," Trivedi said.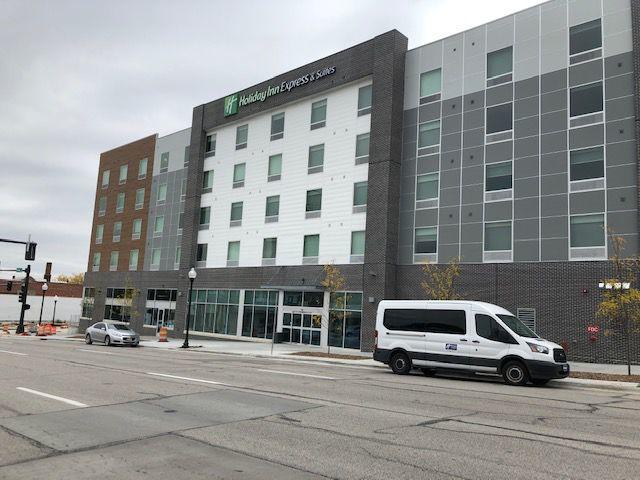 Anant built the 100-room hotel on the dust of an old convenience store and gas station. Just west, the historic Hupmobile warehouse that underwent a $3.5 million renovation has filled up its eight loft-style, market-rate apartments.
In 2020, Trivedi said, Anant will move its nearly 20 employees who handle hotel and construction management from their current downtown headquarters to the Hupmobile's ground level.
Even a century-old business that stayed on the corridor, All Makes office equipment, has grown, modernized and today sees more walk-in traffic.
Here's an update on some of the area's other recent developments:
A new brewery and restaurant pub is to open next spring on a street-level bay of the Farnam Hill Lofts at 26th and Farnam, said Tom McLeay of Clarity Development. He said the tenant plans to make an announcement soon, but said the operation is to be headed by experienced brewers.
The initial 20 market-rate apartments leased up "instantly" in the Farnam Hill Lofts, the two-building, 60,000-square-foot redevelopment that includes Populus work offices. GreenSlate and Clarity development companies spearheaded that rehab project. Construction just finished up on the final four units.
The Populus coworking area is about half-full since opening about two months ago, says founder Micah Yost. When fully occupied, the startup could bring hundreds of entrepreneurs and small-business professionals to its converted warehouse space. Current tenants range from the single entrepreneur to an international, Colombia-based software development company that houses a small Omaha contingent there.
A strip of old buildings, 2570-2578 Harney St., was just purchased by McLeay and Mike Peter, principals of Clarity Development. The partnership plans to rehabilitate the brick structures, which include skylights, into office and retail space.
At the fitness-centric Even Hotel, another Anant project northeast of 24th and Farnam, the developer has turned all three street-level commercial bays into permanent event and banquet space. The 6,000-square-foot space had been available for retailers, but Trivedi said an "overwhelming" number of requests to use as event space sealed its fate.
The application for historic status for the area is winding its way to approval. While some of the individual buildings already are deemed historic, the broader designation would encompass the area generally from 24th Street west to the Interstate, Douglas Street to Dewey Avenue. A new merchant group is calling the area Farnam Hill.
Sign up for our Money headlines newsletter
Get the latest development, jobs and retail news, delivered straight to your inbox every day.
Mutum, at age 42, gets emotional talking about reviving her family tradition there.
Though her dad, the late Bernie Tushaus, was also a professor, he helped her mom, Jane, run their store. Family vacations were spent at book conventions, said Mutum, who also has two sisters and a brother. She's decorating one wall of the new store with a collage of photos showing her with authors she's met over the years.
Many of the shelves were salvaged from the family's Hastings store, which shut down this summer. The front counter is made of recycled barn wood and other nostalgic pieces from her past.
Though Mutum knows she's taking a "leap," she sees promise on the stretch of Farnam Hill that's getting its second wind.
"I just had to do it," said Mutum. "I couldn't let it go."
Changing Omaha: More than 50 stories of local development projects in the works
An ongoing list of some our development stories from 2018, with the most-recent stories at the top.