Business is big at Creighton University, and a $20 million investment in the university's business building will make it bigger.
Creighton and other universities in the Midwest are expanding their business colleges or building anew because of the influx of students who are interested in that subject. National statistics indicate business gradually has become the most popular bachelor's degree program of all.
Enrollment in undergraduate business programs at Creighton has grown from 648 students in 2010 to 1,129 last fall, or 74 percent.
Sign up for our Money headlines newsletter
Get the latest development, jobs and retail news, delivered straight to your inbox every day.
Creighton will carve out more room for the Heider College of Business through its renovation of the Harper Center and will make numerous other changes. The building will brighten up with more glass and gain a warmer feel with wood and carpet. Small spaces, some open and some enclosed, will encourage students in groups of two to six to work together.
Scott Heider, the catalyst behind the Heider Foundation's lead gift for the Creighton project, said those who have planned this development want to excite students and faculty members. It's not about increasing enrollment, Heider said, as much as it's about offering a dynamic business program.
Business nationwide jumped from the third most popular undergraduate degree program in 1970-71, behind education and social sciences including history, to the most popular in 2015-2016, the most recent year for which national statistics are available.
"I think there are so many employment opportunities in the area of business" that it's hard to pass up, said Anthony Hendrickson, dean of Creighton's Heider College of Business.
Sydney Rand, a finance major from Le Mars, Iowa, said the Harper Center is a good place in which to study and attend class. But she's eager to see what the changes produce.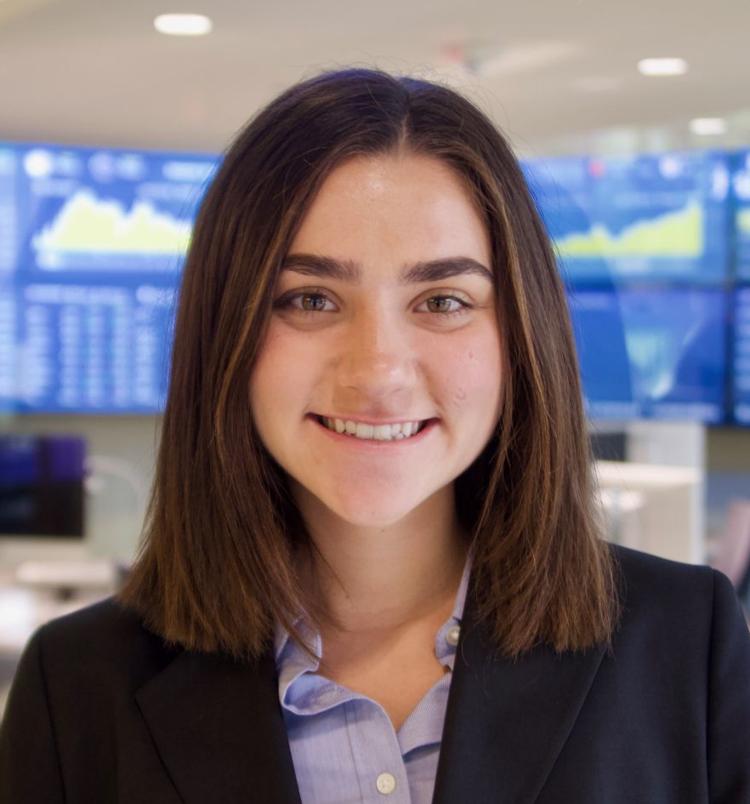 "I'm really excited about that," said Rand, who will be a junior in the fall. She said she would welcome more small meeting spots and study areas, which will help make the place more of a hub for business students and others.
Creighton expects the project to start this summer and conclude in late 2020.
Universities need more and better space to accommodate their business students and professors.
The University of Nebraska-Lincoln two years ago finished its privately funded $84 million Howard L. Hawks Hall. Iowa State University this year has started a $28 million expansion, partially backed by donors, to its Gerdin Business Building. The University of Nebraska at Omaha plans a donor-paid $17 million expansion to Mammel Hall, which houses the UNO College of Business Administration.
Creighton will refresh the Harper Center to give more room to the Heider College of Business. The late Charles Heider was key to improvements at the Harper Center six years ago, when the business college was placed there.
"We call this Phase Two," said his son, Scott Heider. 
Phase Two will change the interior of the Harper Center considerably. The main entrance from the south side will have a different look. The long hallway to the north will narrow, opening more room for meeting spaces, or "huddle rooms."
The project will fashion 20 of those small collaboration areas out of space created by reducing the width of hallways throughout the building and through the relocation of some of the tenants. The health and counseling center will move elsewhere on campus, as will the Schlegel Center for Service and Justice.
Four new classrooms will go up and 15 new offices for faculty members will be built in the Harper Center for the Heider College of Business.
Hendrickson said business students today are entrepreneurial and want places where they can work out ideas together.
He said the college aspires to be the best at providing "real world" experiences. It does so, the dean said, through professors who have experience in the business world, the opportunity to choose from thousands of internships, and the fact that students run the Apple Store in the Harper Center.
He said there also is more emphasis in business today on soft social skills such as communication, teamwork and empathy. Creighton's business college promotes this through leadership and service programs, Hendrickson said, among other things.
LED lights inside windows on the south side will highlight the facility. "The building will glow," Heider said.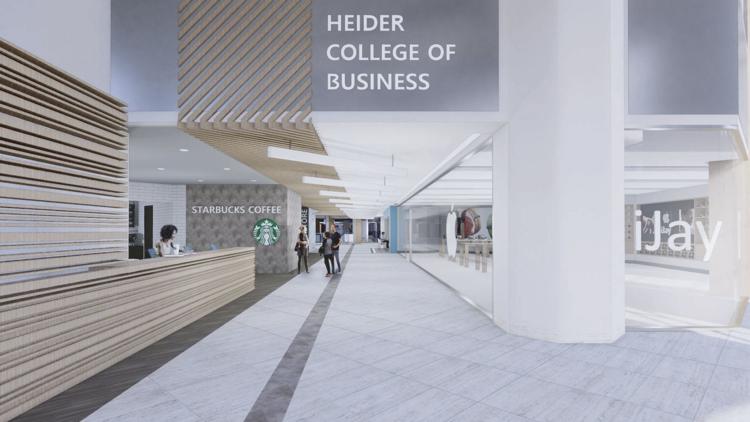 Tim Holland of Holland Basham Architects went to Georgetown University and other schools for ideas on elements and designs of new or renovated business school buildings. Holland said he knew that "warming up the space" at the Heider College was vital.
Georgetown's business school has an atrium and common space, Holland said, that has become a hub for students and professors. Creighton has a central atrium with natural light, and by placing a gathering area there, it, too, should become a draw, Holland said.
Without adding levels or erecting a new wing, the Creighton business college will gain 42,000 square feet, Holland said. The college will add that by using space more efficiently and by moving into spots left by relocated programs.
A chapel also will be placed in the renovated Harper Center. The building, Heider said, "has to be Creighton through and through." Art pieces will include a large globe sculpture outside the east entrance. A plaza there will replace the visitor drop-off area.
The Rev. Daniel Hendrickson, president of Creighton, said half of Creighton's business graduates stay in the Omaha area for their first jobs.
That's a "brain gain" for the city, said Hendrickson, who is no relation to the business dean.
The $20 million for the improvement project, the president said, is "really a gift, I think, for the city, also."
Heider played down any suggestion that the project is directed toward competing with the public business colleges in Nebraska. Eighty percent of the students in the Creighton business program are from outside the state, he said. The state-owned schools are far more likely to serve a high percentage of in-state students, he said.
"This is a very different population" from that of UNL, he said. He sees the Creighton business college as "additive," he said, not competitive.
Changing Omaha: More than 50 stories of local development projects in the works
An ongoing list of some our development stories from 2018, with the most-recent stories at the top.