It'll take years until they see the results, but Nucor Detailing Center is willing to wait.
The Norfolk company is partnering with Norfolk Junior High School and four other area schools to expose seventh- and eighth-graders to manufacturing and IT-related fields and machinery.
The long-term goal? To have more people consider careers in manufacturing and IT, like those available at Nucor. The shorter-term goal? Introduce students to the field early so they are more likely to choose relevant classes in high school and college programs.
"We found that the workforce in that area and interest in those careers was declining, while we were increasing our need for more employees," said Derek Kowalski, Nucor Detailing Center's manager.
Nucor was granted $125,000 from the state last summer to create the partnership.
The grant is part of the Developing Youth Talent Initiative, a program proposed by Gov. Pete Ricketts and started in 2015 to help meet Nebraska's need for skilled workers. The program has reached more than 7,000 students and 23 school districts, according to the Governor's Office.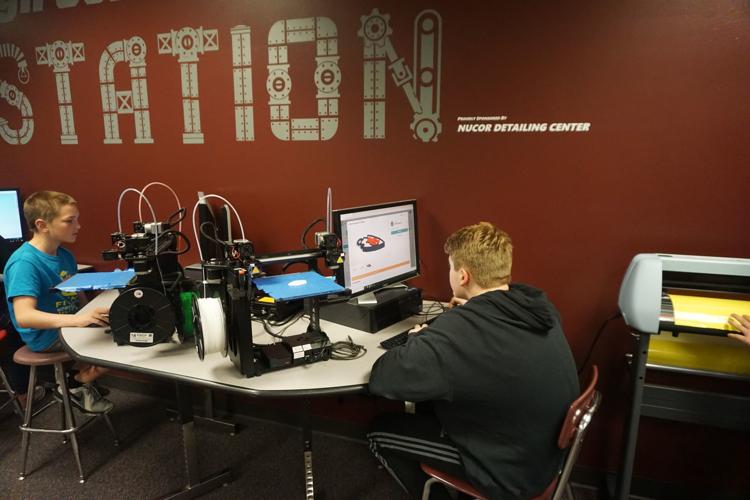 The Manufacturing Institute estimates that there will be 2.4 million unfilled manufacturing positions in the U.S. between 2018 and 2028. Its says there will be about 2.7 million openings due to retirement and nearly another 2 million because of natural growth.
With the help of Nebraska's private-public partnership, Norfolk Junior High School converted a computer lab into its "Creation Station." It includes five 3D printers, two vinyl cutters, a laser engraver, two CNC machines and an embroidery machine. A 3D scanner is available at Nucor. The steel company also created a trailer with equipment that rotates among Battle Creek, Madison, Pierce and Stanton.
About a quarter of teachers have been able to take advantage of the new technology at Norfolk Junior High School, Principal Jennifer Robinson said, and more want to in the future.
Students used the laser engraver to create phone stands. A business class used vinyl cutters to create logos for a "Shark Tank" project. The 3D printers have been used to created mini American flags for veterans and model cars — and one student used it to create a door stop for a teacher who needed it.
Students in a family and consumer science class used the embroidery machine to make lanyards — and the wrestling coach used it to make beanies with the Norfolk Panther logo. An art teacher reduced her number of clay projects from three to one because of the machines.
"We're really taking off and using it throughout the entire school," Robinson said. "(Students) are really wanting to get in here and utilize it as much as they can."
The grant program has also had an impact on Omaha. In 2016, Dream It Do It Nebraska received the grant. The group describes itself as "a statewide partnership between business, education, government and labor addressing the skills gap in advanced manufacturing and related businesses."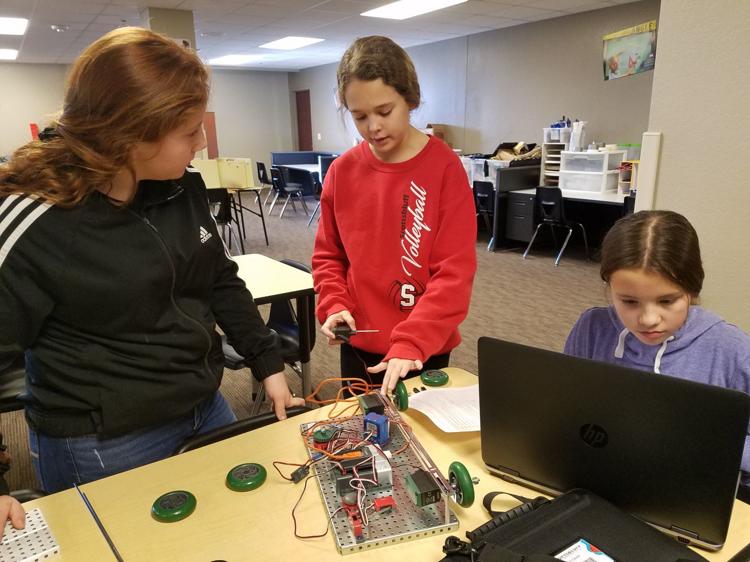 It helped create the Metro Area Mobile Manufacturing Expo, known as the M3E trailer. It travels to schools and has given more than 1,500 middle school students the opportunity to work with manufacturing equipment, said Ken Spellman, Omaha Public Schools coordinator of career education.
The trailer includes a 3D printer, robotic arm, virtual welder and corresponding curriculum, Spellman said. He said the trailer spends one or two days at each school and has visited about five schools per year. It's available to schools and events outside OPS as well.
Ricketts proposed an expansion of the $250,000 program in January's State of the State address by an additional $1.25 million.
"With the right opportunities, the next generation of Nebraskans can find a pathway that gives them the career they need to stay in Nebraska and enjoy the good life," Ricketts said in the address.
That disappoints Justin Olson, Nucor's recruiter.
"If this could duplicate everywhere, just imagine the lives that would get the opportunity to see other opportunities that before they didn't think they could do," Olson said.
Ricketts says he'll keep working to expand the program.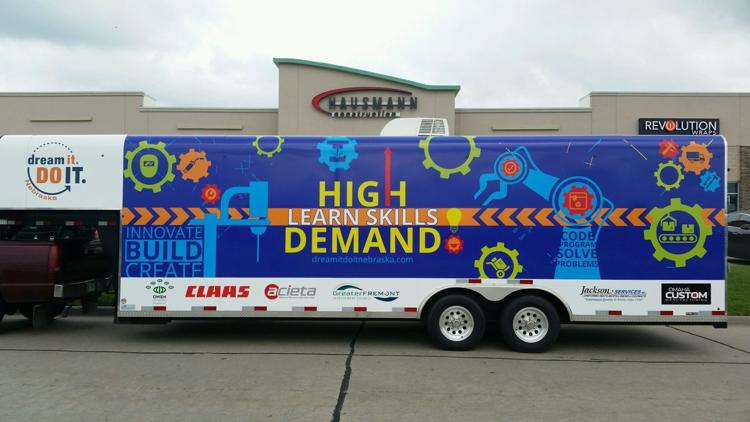 "The Developing Youth Talent Initiative has been a big success and has connected thousands of young Nebraskans to great opportunities," he said in a statement. "We'll keep pushing to grow the program, so more students can have the same exposure to great paying careers in IT and manufacturing."
Nucor invests about 20 hours each week in schools. Because the students are at least five years away from entering the workforce, Nucor will have to wait for the return on its machinery and time. But Olson, one of two employees who works with students on hands-on projects, said initial feedback is encouraging.
In a survey before the program began, students were equally likely to be interested or disinterested in manufacturing careers, with about 29% each. But later in the school year, 37% of students said they were interested in a manufacturing career and 27% remained uninterested, according to Olson.
The grant has been given to nine companies or consortiums since the program began four years ago. The Department of Economic Development is reviewing 2019 applicants, and there will be at least two recipients.
Not all programs saw immediate results in surveys.
Sign up for The World-Herald's afternoon updates
Receive a summary of the day's popular and trending stories from Omaha.com.
Aulick Industries in Scottsbluff helped create four new classes with the grant — IT, health and two related to manufacturing — at Bluffs Middle School though a nonprofit, "Project Lead the Way." Each eighth- grader tours Aulick as well.
Anne Schmall, who teaches robotics and drafting at Bluffs Middle School, said her eyes tell a different story. Thursday, students enjoyed racing robotic cars they created in one of the new classes. Friday the top cars from each class raced to determine an overall champion.
Jeanne McKerrigan, Aulick's CFO who helped write the grant application, said programs similar to the Developing Youth Talent Initiative have already been shown to be successful. The trailer manufacturer employs about five interns, which McKerrigan said is more than it typically has.
"They're starting to realize that there's other jobs out there," Schmall said. "If you really like that hands-on stuff, where you get to build and move and do, there's obviously really amazing careers out there that they can go in to."