Omaha retiree Carolyn Peery keeps years of her Omaha Public Power District electric bills in a crisp manila folder, organized by month.
Her income is fixed, so she tracks every penny she spends. She says with a smile that she can live for two weeks on a single Baker's roasted chicken.
Peery, 73, doesn't have cable. She turns off the lights. She runs the heat at 69 degrees, except when she gets a chill. Then, she'll splurge for 70.
For her and her gray cat, Lovey, this January's $5-a-month increase in fixed fees on her electric bill will cause her to tighten her grocery budget and, perhaps, stop paying for the unit where she stores old furniture.
It's the fourth and final similar fee increase since 2016. Over that span, Peery's electric bills have climbed from about $50 a month to more than $70.
"When you can pay your bill, $20 is nothing," she said. "When you can't pay your bill, and you can't make arrangements to pay, $20 is everything."
The utility's goal was to ensure that more of its customers cover the costs of delivering power to them, regardless of how much power they use. Management also said it hoped to make OPPD's revenue stream more predictable, generating steadier revenue in the spring and fall, when people use less power.
Officials pledged that most residential customers wouldn't pay more under the changes.
OPPD specifically mentioned that average customers, those who were paying electric bills of $80 to $125 a month, should not pay more.
Advocates for seniors and the poor argued at the time that the changes would disproportionately hurt low-income, low energy users.
And conservationists, including some of the 78 OPPD customers who supply at least some of their own power, said the utility would be harming them, too.
All three groups were right, a World-Herald examination of OPPD data confirms.
OPPD's monthly fixed fees have increased from $10.25 in early 2016 to $30 this month. This amount is charged no matter how much power is used.
Even so, average monthly bills per customer are down slightly, from $105.77 in early 2016 to a projected $102.61 in 2019, according to OPPD data.
The average OPPD residential customer, one using about 850 kilowatt hours per month of electricity, is paying about $0.32 less a month.
But customers using less power than average, those using about 500 kilowatt hours per month, are paying $7.69 more, up roughly 12 percent.
And homeowners and renters using above-average power, those using about 1,200 kilowatt hours per month, are paying about $7.95 less, down roughly 6 percent.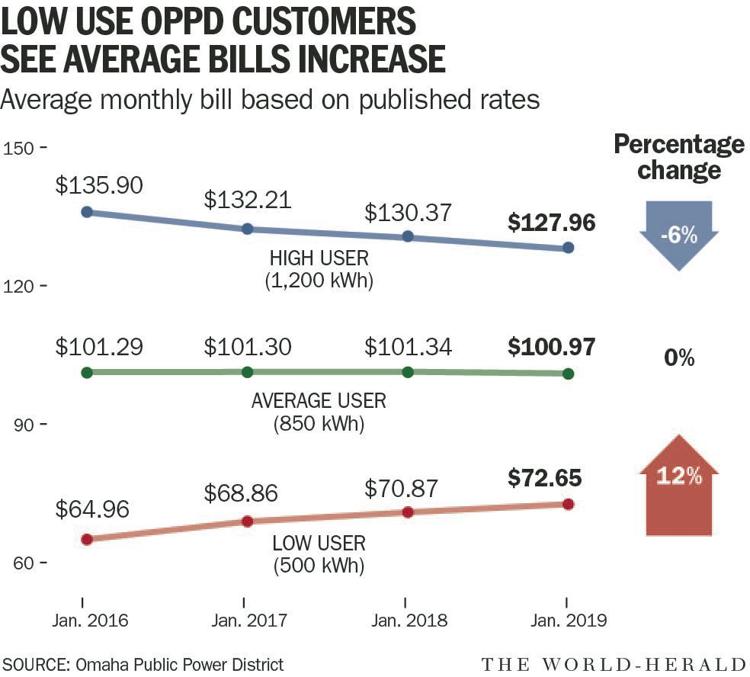 "Generally speaking we have seen and are seeing what we expected to see," said Brad Underwood, OPPD's director of financial planning and analysis.
That's not a good thing for seniors like Peery or the people seeking help from Tonya Ward's small Omaha energy assistance nonprofit Energy Rescue Inc.
Ward says a bill increase of $5 to $7 can make a significant difference for families like hers that she says get by on hundreds of dollars a month.
"I have had a lot of calls for help," said Ward, who testified against the change in 2015 and said more people are being hurt than OPPD knows.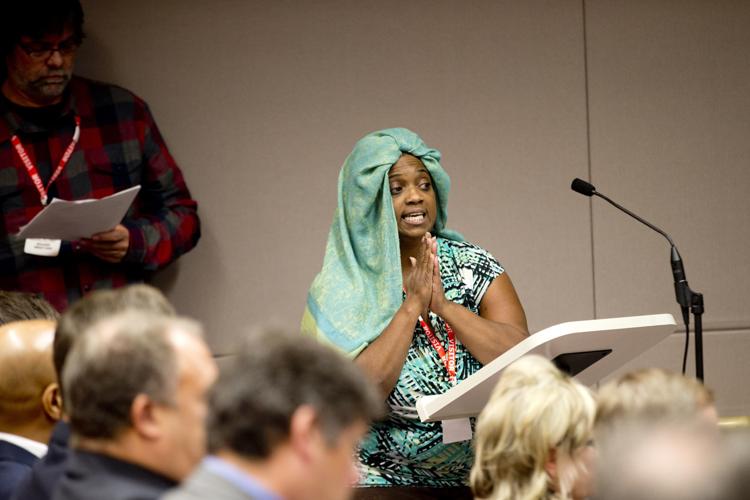 The number of people having their electricity disconnected by OPPD was down sharply in 2017, the most recent available year, from 18,431 in 2014 to 9,779 in 2017. The district is working with more customers on designing payment plans before they risk a shut-off, district spokeswoman Jodi Baker said.
OPPD created a program to ease the transition to the new fee structure for low-income, low energy users. The number of applicants who received aid fell in 2018 to 11,439, from a high in 2017 of 12,150. The 2019 OPPD budget sets aside $518,000 for the program.
Meanwhile, the number of OPPD residential customer accounts that qualify for the Nebraska Low Income Home Energy Assistance Program was down slightly from 13,623 in 2016 to 13,155 in 2018. That dovetails with flattening calls for energy assistance to the United Way of the Midlands.
Digging deeper into the OPPD billing data gets complicated, given the annual variables that affect electricity use. Those factors include weather and appliances that are getting more efficient. Revenue from residential electricity sales have varied based on weather and other variables. Households are using less power, with OPPD's average energy sales per residential customer down about 6 percent.
David Corbin, chair of the Nebraska Sierra Club, is one of those customers using less power. He went through the work to make his home more energy efficient, new windows, better insulation.
Like Peery, nearly half of his $60 to $70 monthly electric bill goes to fixed fees.
Conservationist Craig Moody, who joined the OPPD board after the vote on fee and rate changes, says he is concerned that OPPD is encouraging people to use more power instead of less, which he says is wrong.
He said he would like OPPD to explore a tiered fee structure, one similar to what the Lincoln Electric System uses. Lincoln charges different fixed fees for customers based on how much power they use. Customers who use more power pay more in fees. Customers who use less power pay less in fees.
OPPD officials, in response to a World-Herald request, said the utility lacked the time to analyze the 11 million monthly bills from 2016 to 2019 to see exactly how many of its customers were paying more or less.
The utility's average revenue per kilowatt hour appears set to rise slightly from $11.45 in 2016 to a projected $11.49 in 2019. It dipped to about $11.20 per kilowatt hour in 2018.
Eric Williams, a newly elected member of the OPPD board and one of five new faces on the eight-member board since that 2015 vote, says he and others plan to press the utility for clearer answers on this score.
"I think that all five of the new board members were pretty open during our campaigns that the high fixed fee structure is something that's hurting a lot of people," he said. "We would like to take another look at it."
One option, he said, may be revisiting OPPD's Strategic Directive 2 on rates this spring, to see whether the goal of being affordable is being met.