In its heyday, the Fairmont Creamery in downtown Omaha was the hub of a Fortune 500 operation churning out tons of butter, eggs, other dairy products and snack foods.
But today, under different ownership, only about 20 percent of the cavernous 12th and Jones Streets plant that dates back to 1898 is actually used by its meat-processing business. Soon the 50 or so people who work there will move to more efficient digs elsewhere in the city.
That puts up for grabs one of the Old Market area's last original brick warehouses still used for industrial purposes.
While the fate of the nearly 132,000-square-foot structure is up to a buyer, many foresee its future as trendy loft apartments on top of street-level retail shops.
Indeed, a rendering by Alley Poyner Macchietto Architecture lays out the possibility of a 99-unit mixed-use complex with more than 24,000 square feet of retail space with deck areas and tables along what now are industrial loading docks.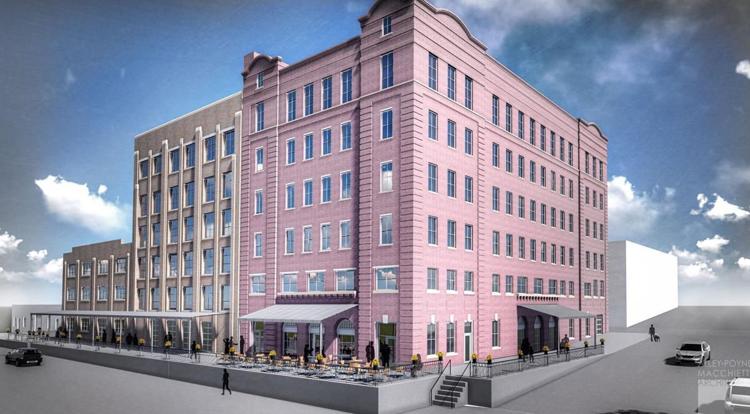 Separately, the City of Omaha has crafted a proposed Jones Street improvement plan that would, among other upgrades, redo the brick road between 11th and 13th Streets.
The scenario is bittersweet for Rich Needham, who has helped manage the plant since 1981 and whose family ownership of the creamery property dates back to the 1970s. He said he'll miss some things, but not the stair climbing or seemingly endless repairs.
"I'll miss downtown," Needham said. "I won't miss this building; it's just not an efficient packinghouse."
His family, with help from Omaha's Investors Realty Inc., has put the facility — made up of three connected parts constructed between 1898 and 1943 — on the market for $2.6 million. (The sale does not include the Fairmont antique store at 12th and Jackson Streets, which is owned by someone else.)
The Needhams, under Needham Inc. and Old Market Cold Storage, for decades ran and owned the operation that processed meat for clients such as the United States military and fast-casual Philly cheese steak restaurant chain PepperJax.
A few years ago, though, the family sold the business and leased space to Glenn Valley Foods, a company founded by Gary Rohwer, who also founded (but recently sold) PepperJax.
Rohwer plans, in October, to move the Glenn Valley Foods production to the former Scooter's headquarters and roasting facility near 68th and J Streets. Needham will remain as vice president of operations; PepperJax remains a main client of Glenn Valley Foods.
The World-Herald this week toured the old creamery plant, finding most of the space vacant or used as storage. One corner had served as a woodworking shop for Needham's dad, Bud. Other isolated areas showed signs of golf ball driving practice and paint-ball battles.
Needham chuckled and said: "Remember, we grew up here."
Up several stairs and behind a door, however, serious business was going on. Assembly lines of workers wearing hair nets and rubber gloves were cutting and packaging meat that would become Philly sandwiches for area restaurantgoers or roast and spare rib dinners for military personnel.
Elsewhere were offices and freezer areas.
Needham said the operation today runs in about 20 percent of the facility's space. He said it was time for a more efficient home.
Photos: Inside the Fairmont Creamery building
Various nooks, sliding barnlike doors, block glass walls and near-hidden stairwells provide a future buyer interesting elements for a possible residential complex, said Ryan Kuehl, who is marketing the property along with colleagues Ryan Zabrowski and RJ Neary of Investors Realty.
Kuehl describes the history-filled creamery as "one of the last large industrial historic rehab projects left" in the Old Market area.
He said that a search of downtown properties between Cuming and Leavenworth Streets showed only one other building larger than 75,000 square feet that was still used for industrial purposes: the Central Supply building at Ninth and Dodge Streets.
With the city's plan to spruce up Jones Street starting in 2020, Kuehl said, much of the industrial traffic around the property should be gone. "It'll make this entire street more pedestrian-friendly."
Recent renovations at neighboring Kaneko, 1111 Jones St., already create a different vibe along the corridor. From the creamery's upper floor windows, one can see the art gallery's improvements, which include a distinctive new atrium.
County records show that the main part of the creamery was built in 1898, with an addition in 1943. An extra 26,000 square feet of basement space (beyond the nearly 132,000 square feet above ground) provides potential parking, said Kuehl, envisioning what could be high-end apartments joining other residential projects trending in downtown Omaha.
Many of those recent and proposed housing projects are ground-up new construction.
Of rehabilitation projects carved out of century-old buildings, Kuehl said: "There just aren't many of these opportunities left."