Omaha Mayor Jean Stothert was so stunned by a $4 million bid to process local recycling that she rejected the October bid and sent the Public Works Department back to the drawing board.
Stothert announced Tuesday that she asked the department to explore new options for processing the aluminum cans, cardboard, newspapers and plastic that Omaha residents set at the curb.
That future may or may not include the city's current recycling processor, Firstar Fiber, the lone bidder to process the city's recycling that asked for more than double what the city expected to pay.
Sign up for World-Herald news alerts
Be the first to know when news happens. Get the latest breaking headlines sent straight to your inbox.
Stothert and the city's finance director say the city budget could probably shoulder adding annual recycling fees of up to about $2 million from 2021 to 2026 without a tax increase.
Firstar's $4 million a year bid, which could cost the city less if the recycling market rebounds and perhaps even make it money, risks stretching beyond that boundary, officials said.
The city got a little good news Tuesday about its budget. The 2019 surplus is now projected to grow to $7 million, but the city warned about the looming costs of a new trash contract and recycling.
"We recognize the changes in the recycling business require us to pay for processing, but this bid is excessively high and would require significant cuts in our 2020 budget," Stothert said.
The mayor said she has asked the Public Works Department to bid out the contract again with new, longer terms. Her move could spur more competition for the bid, including from new trash contractor FCC Environmental.
FCC CEO Inigo Sanz has said his company historically competes for recycling processing contracts once it moves into a market. Company officials have said they didn't bid this year because the contract term was too short for the investment that would be required.
"That's exactly what we want … additional bidders," Stothert said Tuesday. "Firstar Fiber felt like they were the only show in town, that whatever they agreed to in this bid we would have to agree to, and we don't."
Firstar Fiber CEO Dale Gubbels has said the company needs the new contract because the bottom fell out of the international recycling market when China backed off.
He also says the city contract would allow him to make more than $3 million in needed upgrades to his company's sorting plant near 108th and I Streets in Omaha.
He said his bid was in line with the costs and the understanding that the plant would need more capacity to handle an increased load as people recycle more.
Those renovations would allow Firstar to more quickly and efficiently separate garbage that people think can be recycled from materials that actually can be remade and reused, he has said.
"We're obviously disappointed," he told The World-Herald on Tuesday. "We'd like to get this put to bed, because 2021 is coming along pretty quickly."
That's the same rate the city pays the landfill to accept a ton of garbage.
The city would have paid up to $200 a ton for recycling under the rejected bid. That would've placed Omaha near the high end of the recycling market nationally.
Public Works officials estimated that it would pay about $150 a ton under the new contract, with discounts based on how much Omaha's recycling sells for on the open market.
That still would've placed the city above the $110 a ton Firstar is charging many of its commercial customers, based on documents obtained by The World-Herald.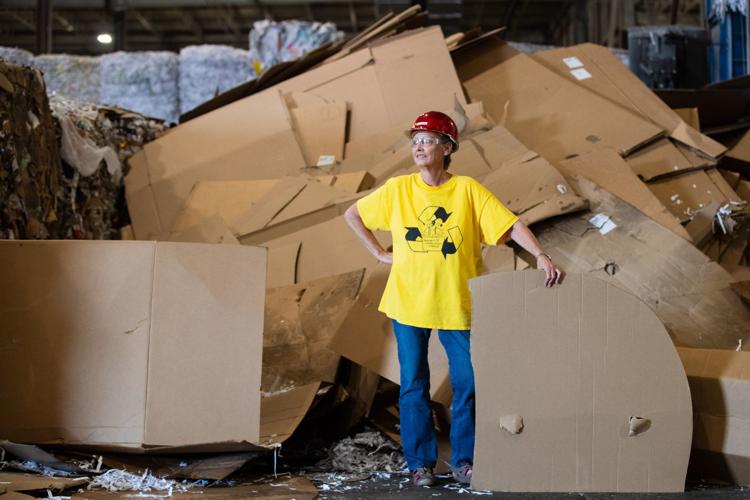 Time is running short because Omaha's next trash contract starts in 2021. It includes covered, 96-gallon recycling carts for residents, which in other cities doubled how much people recycle.
City Councilman Pete Festersen, one of the council's strongest recycling advocates, said he had no problem with the mayor and Public Works Department trying to get a better price and said a longer, 10-year contract would match up better with the city's next trash-hauling contract.
But he said he wants to be sure the city feels some urgency. Firstar's renegotiated rate with Omaha runs out at the end of 2019. Its contract runs through 2020, but the city and Firstar would have to agree on terms or risk the company turning away the city's recycling.
"I want to be assured that there's no interruption in service and no reduction in the types of materials being recycled," Festersen said.
Gubbels said his company is working with Public Works to inform the next request for proposals to reduce risk for those who might bid. He'd like to try again but is not sure they will.
"We're making our best attempt to make it possible for the city and us to manage our way through some challenging times in recycling," he said.
---
Omaha's 10 busiest intersections