When Berkshire Hathaway HomeServices Ambassador Real Estate bought land west of Village Pointe shopping center, there were few neighbors within its immediate sphere.
But as the firm's 105,000-square-foot headquarters rose in 2015, so did Pitch Pizzeria, a restaurant next door with an inviting rooftop bar. Soon came shopping strips and an office building.
Another nearby parcel recently sold for future office use, and crews are working across 180th Street on yet another office structure to open next year.
The activity has stirred excitement around the still-developing pocket south of West Dodge Road near 180th Street — an area targeted earlier for stores and restaurants but turning out now to be a magnet for office users.
Growth, meanwhile, continues within BHHS Ambassador's home, as the firm transforms the rest of its third floor into more agent offices. They'll add to a creative assortment that includes Brian Thomas' spot, where stylish mannequins and eclectic lamps lure passers-by.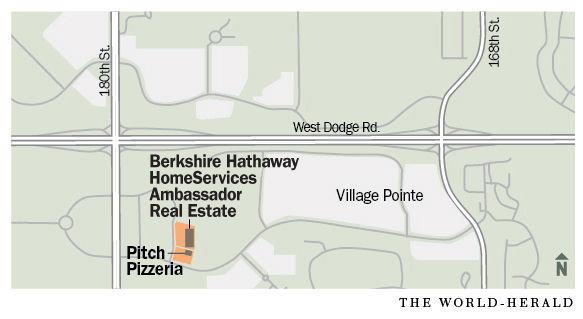 The all-around fervor contributes to a climate that landed Ambassador on Entrepreneur magazine's just-released 2017 list of top U.S. company cultures.
Ambassador, 331 Village Pointe Plaza, was ranked 12th among large companies (more than 100 workers), for creating an "exceptional culture" that drives employee engagement and profit. It was the only Nebraska firm in the top 50 of the large company category.
(Omaha's Fusion Medical Staffing ranked No. 1 among medium-sized firms; Ervin & Smith was 18th among small firms.)
Judges based scores on employee surveys and metrics such as innovation, communication, wellness, performance focus and work environment.
Ambassador President Vince Leisey said he strives for a workplace full of passion and positive attitudes.
"We want our people to want to come to work because they feel energized, encouraged and productive," he said.
On Tuesday, the day Leisey announced the Entrepreneur recognition to his staff, he peppered a sales meeting with a motivational video and information about agent-led workshops aimed at revving business in this housing-supply starved market.
Leisey said he pushes agents to share their secrets to success, something he called unconventional in an industry where, as independent contractors, the agents compete against one another for buyers and sellers. He believes the philosophy benefits everyone in the long run.
"Culture is great, but if you can't help your people grow their business, they're going to leave you — no matter how much fun they're having," said Leisey, who speaks nationally on company culture.
Key to the growth of his firm, Leisey said, was constructing a headquarters big and alluring enough that agents want to be there and learn from one another. Amenities include a fitness area, several lounge areas and outdoor decks.
Leisey wants agents to feel daring and at home. He likes that offices reflect various personalities. Take the Ambassador Briley Team suite, which has a pingpong table for a centerpiece. Or the Omaha Real Estate Group, whose digs sport edgy sliding barn doors, or the Elliott Team corner filled with sunlight and white furniture.
Brian Thomas said the sign on his office (the one with the mannequins and family heirlooms) reads "cruise director" rather than "managing broker" to put people at ease.
Leisey initially set out to build a 60,000-square-foot structure to replace the firm's previous home half that size.
"Thank God I didn't," he said.
Excluding underground parking, the building Ambassador moved into last year has about 80,000 square feet. It's base for about 550 agents, a count up from about 350 five years ago. Two unrelated tenants have spots, as do Ambassador's mortgage and title insurance companies.
Leisey said he "lucked out" in securing the land from the Lerner Co., seemingly just before sales activity around it heated up.
Jay Lerner said his company bought roughly 145 acres south of West Dodge between Village Pointe and 180th Street in 2003 from the Catholic Archdiocese.
Newcomers to that area include: the Advent multitenant office building at 17838 Burke St.; Shoppes at West Village Pointe (a pair of retail-office strips developed by Quantum real estate) at 180th and Burke; and the $93 million Madonna Rehabilitation Hospital that opened last year east of Ambassador.
West of 180th near Burke, developer Ron Cizek's 150,000-square-foot speculative office building is to be completed in 2018. His 14-acre site east of the sprawling Broadmoor Hills apartments has room for a second building.
Boh Kurylo of the Lerner Co. said a five-acre parcel south of Ambassador recently sold to a developer aiming for a multistory office building. About 20 acres of the Lerner land remain for sale, and Kurylo expects hotels or offices in those areas.
That's a different mix than the retail-heavy use Lerner had envisioned before that retail market went soft.
Said Kurylo: "The next thing we knew, the office thing just exploded. It became a bit of a feeding frenzy out there for a while, with everybody trying to get a spot."
For workers like Christina Reinig, at Ambassador for 11 years, being in an "up and coming" development area improves the work day.
Businesses trade discounts with one another, she said. There's easy access to major roads.
"I'm running to Best Buy now," Reinig said. "So convenient — it doesn't get any better than this."