It might not be your typical weekend excursion: a peek inside a new mortuary.
But owners of Heafey Hoffmann Dworak & Cutler say community interest has been so high that they wanted to provide a public opportunity to view the just-finished complex.
The 26,000-square-foot funeral chapel at 78th Street and West Center Road replaces, on the same spot, the 1980 version destroyed in a fire in January 2016.
"For 20 months we've had people asking," said co-owner Bill Cutler. "It's unbelievable the support we've had from the community, everybody."
People attending open houses Saturday and Sunday will find a familiar feel in a bigger and more high-tech structure.
As visitors enter a lobby area that has 18-foot ceilings and is about four times the size of its predecessor, they'll be greeted by a receptionist and a huge stained-glass backdrop.
One of the mortuary owners saw the 7-foot-by-11-foot stained glass at an Omaha business that was relocating. He bought it because the window resembled one destroyed in the fire.
The colorful glass can be backlit, and a grand chandelier in the foyer also stays on at night, illuminating the lobby, said interior designer Mark Bourne of Smith Bourne & Associates.
Outside, Bourne said, brick and Indiana limestone are an attempt to match the old facade.
» A sound-proof wall that separates two main viewing rooms can fold up into the ceiling to create one giant parlor.
» Rooms are larger, and those used for services are equipped with video screens and sound systems. Cutler said the previous mortuary could hold about 500 people for funerals; capacity now is about 1,000.
» A wall off the lobby reflects the outpouring of support following the fire. More than 25 cards colorfully illustrated and written — as only first-graders can — are artfully displayed. The collage is accompanied by a letter from teacher Rose Fitch of Omaha's St. Stephen the Martyr School. Cutler said the children's well-wishes came at a low point, and the funny but heart-warming messages brought the staff to tears.
» The crematory machine will be housed on campus but separately from the main mortuary. Said Cutler: "When your building burns down, and it started with the crematory, we just thought it would be wise."
Cutler said that despite the overall gain of about 8,000 square feet, the mortuary layout remains basically the same. He said there's also about 25 percent more parking.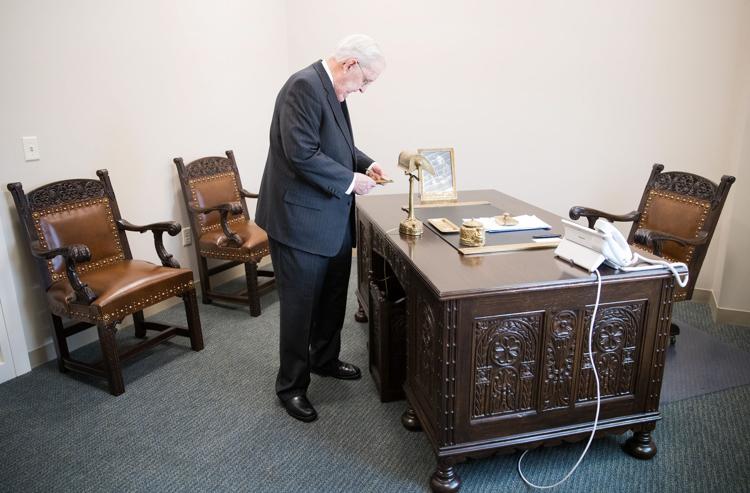 Though most was lost in the fire, owners were able to salvage something of great sentimental value: a century-old desk set that had been handed down from Patrick C. Heafey.
Pulled from the ruins, the hand-carved wooden desk and chairs were refurbished and returned to Heafey's great-nephew, Tom, for his new office.
"I didn't know, after that fire, if it was going to work ," said co-owner Tom Heafey. "It did."
The Omaha Fire Department declared the inferno unintentional. The mortuary and its insurers, according to a lawsuit, are seeking at least $5.75 million from a Pennsylvania company that they claim didn't properly rebuild a cremation machine allegedly at the root of the fire that disrupted some burial services and injured four people.
Among those injured was Cutler, who had gone inside with a firefighter to try to retrieve remains the funeral home had been servicing. A piece of ceiling fell, and the injury required 15 stitches to Cutler's head.
The new mortuary will be open to visitors, and refreshment will be available, Saturday from 2 to 4 p.m. and Sunday, 1 to 4 p.m.
"We just hope it's welcoming and homey," said Cutler.