Nebraska may be best known for huge quantities of corn and beef, but another agricultural commodity is seeing a bumper crop this year: dry edible beans, the kind that go in your chili, burritos and soup.
Nebraska is a top producer of some varieties of these, especially pinto beans and the white-colored great northern bean, and is expected to have its biggest crop of beans in more than 25 years.
"It's simple economics," said bean grower Paul Pieper, who farms in the Panhandle north of Mitchell.
At planting time this spring, he said, beans looked to be more profitable to farmers than corn. Corn, Nebraska's top crop, is seeing prices so low this year some farmers are losing money planting it.
So farmers in areas where beans grow well planted a lot of them — about 40 percent more acres this year than last. And thanks in part to good growing conditions, they expect to see record yields, the U.S. Department of Agriculture said in a report this month.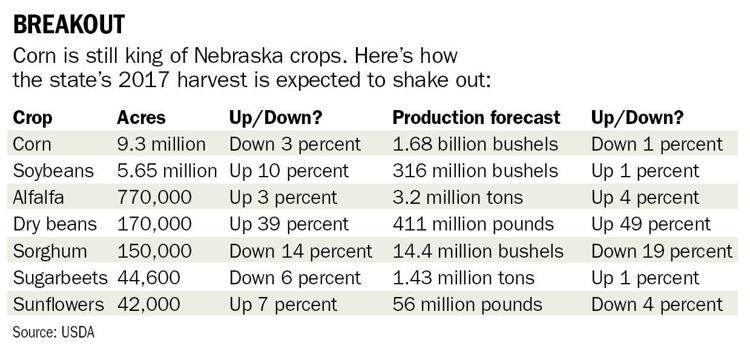 That adds up to a big harvest: an expected 411 million pounds of beans for the state, the most since 1990. Nebraska will be the nation's second-biggest bean producer this year, with about 12 percent of the nation's 3.5 billion-pound crop, behind powerhouse North Dakota, which grows nearly a third of the nation's beans.
(Dry beans, Nebraska's fourth-biggest crop this year in terms of acres planted, are a different species of plant than soybeans, Nebraska's second-biggest crop.)
About a fifth of the nation's dry bean production is exported, and the nation imports less than a fifth of its bean consumption. So if you're eating refried beans, bean dip, chili, stew, minestrone or Grandma's seven-bean salad, you're probably eating beans grown in the U.S. Other top states are Michigan, Minnesota, Washington and Idaho.
Nebraska's production is concentrated in the Panhandle, where the arid climate, with warm days and cool nights, is ideal for beans, said Gary Stone, Extension educator for the University of Nebraska-Lincoln. Only about 1 percent of the state's farms plant dry beans.
Now that it's harvest time, are those farmers seeing the profits they hoped for?
Prices ran about $28 for 100 pounds at planting time, but since then have fallen to $21 for 100 pounds, said Jessica Groskopf, UNL Extension educator focused on ag economics.
That's right around a farmer's cost to grow beans, she and Pieper said. So farmers generally will see a profit for any crop they sold in advance at planting time, but not much profit for the part of their crop they'd be selling now.
"It still looks a little better than corn," though, Pieper said.
As in other areas of agriculture, the bean industry looks to build demand in the U.S. and abroad and is concerned that changes to international free trade agreements could upset relationships with customers.
The typical American consumes about only about seven pounds of dry beans a year, compared to about 58 pounds of beef.
The U.S. Dry Bean Council says growing interest in ethnic foods and in plant-based foods may boost bean consumption.
"Unfortunately, beans aren't sexy," Groskopf said. "We're constantly looking for that new chance to find those consumers who want our product."
Sign up for World-Herald news alerts
Be the first to know when news happens. Get the latest breaking headlines sent straight to your inbox.