A six-story hotel, 118 apartments and an office building are pieces of a plan emerging for the property Mutual of Omaha has been buying and clearing east of its midtown campus.
The insurance giant has tapped Minneapolis-based Ryan Cos. to be master developer for the project site viewed as key to protecting Mutual's backyard and to further fueling midtown revitalization.
"It will improve the walkability, the livability of this part of town," said Ken Cook, who leads Mutual's real estate arm.
Dubbed Turner Park East, the mixed-use development site generally is bounded by Turner Boulevard, Interstate 480, Douglas and Harney Streets. Development is expected to bring more people to Mutual's Midtown Crossing, the $365 million retail and housing area that opened nearly seven years ago next to Mutual's corporate offices.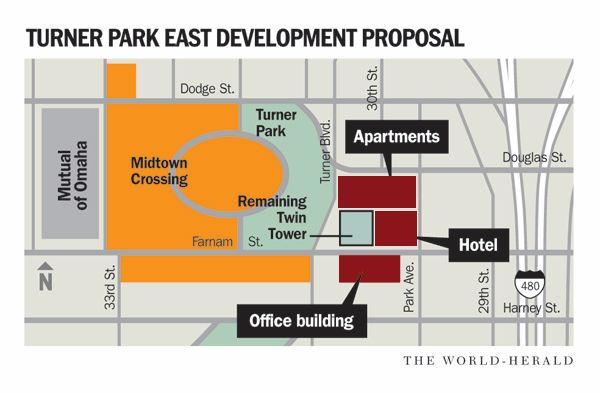 Cook said the added investment should be another lift to surrounding neighborhoods and its own workforce morale.
"Other people seeing the value in midtown validates Mutual's investment in Midtown Crossing," he said.
Many details have yet to be refined and made public. But Brad Schoenfelder, president of Ryan's Midwest region, told The World-Herald that if all goes as hoped, construction could begin in late 2017.
"It's a similar community to others we've worked in," Schoenfelder said of Omaha. "There is a good long-term opportunity for us to continue to develop and serve clients in that market."
Previously in Omaha, Ryan was developer of a Target along West Maple Road and the Whispering Ridge subdivision, Schoenfelder said. Timberland Partners, which is working with Ryan on Turner Park East, developed Omaha's Legacy Crossing and Park West apartments.
Schoenfelder declined to provide a projected cost of its latest initiative. He said Turner Park East would occur in phases, with the more immediate focus on the blocks closest to Mutual's campus.
Upon that area east of Turner Park, a 98-room hotel, 118-unit apartment building and about 350 parking spaces would wrap around the remaining condominium high-rise of the former Twin Towers.
Now referred to as the Condos at 3000 Farnam, the 11-story tower's residents would have to be on board or the proposal won't fly, said Schoenfelder, who has been talking with the property owners about shared easements, parking options and more. (The twin tower to the north was demolished a few years ago.)
Also under the Ryan plan, a 150,000-square-foot Class A office complex would rise south of Farnam across the street from the tower condos and hotel. It is envisioned as a worksite for multiple tenants and would have up to four levels and underground parking.
Together, the hotel, apartment, parking and office components would span about 500,000 square feet, according to plans outlined by Ryan officials.
Schoenfelder said a hotel brand has not been identified, and he offered no information on possible office tenants.
The plan brings some clarity to an effort Mutual began more than three years ago. The World-Herald reported then that Mutual's real estate arm quietly had been buying up a swath of properties on both sides of Farnam Street east of the 15-acre Midtown Crossing development.
The effort turned noisy when Mutual led the charge to demolish the rundown yet landmark-status Clarinda and Page apartments that for a century had occupied the southeast corner of the Farnam Street-Turner Boulevard intersection.
In the end, the Clarinda-Page complex was razed and became part of the broader area assembled by Mutual for new development. Public records show that Mutual has paid more than $7.5 million for stand-alone buildings, lots, storefronts and apartments to be cleared.
Cook said previously that Mutual had hoped for a greater ripple effect from its Midtown Crossing investment and more economic development between its campus and the Interstate. He said company leaders believed that removal of the "obvious barrier" — the task of assembling a critical mass of parcels from various property owners — would help spur someone else to develop an office or commercial enterprise.
Mutual's plan is to sell the land to Ryan at "market value," Cook said.
That contrasts with the way Midtown Crossing was developed. In that case, Mutual hired and paid a fee to a developer to build the project, but the insurance titan retained ownership.
Cook said Mutual chose Ryan because of its reputation as a full-service real estate company that would become owner. He said Ryan has debt and funding capability, and designs, builds and owns or manages facilities over the long term.
"They're putting their dollars at risk in Omaha," Cook said.